In this post, I want to bring attention to three excellent online sources for independent news on the fight for freedom.

1. Druthers.net is both a print and online paper coving anti-lockdown, pro-freedom news in Canada. It's quite good and worth reading.

2. "Reclaim the Net" https://reclaimthenet.org/

"Defend free speech and individual liberty online. Push back against big tech and media gatekeepers."

It covers a variety of stories at have to do with freedom in one way or another. Some of them address the #Plandemic.
For example, this story is from British Columbia, Canada.

https://reclaimthenet.org/bc-businesses-to-call-police-if-people-ignore-vaccine-passport-rules/
British Columbia Premier tells businesses to call police if people ignore vaccine passport rules. And no exceptions are allowed.
By Ken Macon, Issue: August 31, 2021

Last week, the government of British Columbia announced that visitors to concerts, sporting events, movies, restaurants, nightclubs, casinos, and fitness classes would need to show proof of vaccination against the COVID-19 virus.
Furthermore, B.C.'s premier, John Horgan has now told businesses to call the police if customers refuse to comply with the province's upcoming vaccine passport system for COVID-19.
Horgan made the remarks on Friday, amid outspoken resistance from some British Columbians to the new legislation, which is set to take effect on Sept. 13.
The vaccine passport system in the region is more extreme than in others because it doesn't allow for any exceptions – even for medical reasons.
Horgan had this to say to reporters: "We brought forward the B.C. vaccination card at the request of chambers of commerce, the business community, the hospitality sector… this is a tool that they wanted at their disposal so they could demonstrate to their patrons that everyone in their establishment has done everything they could to protect themselves, their families and their community."
A vaccination record of one dose is required at first for eligible British Columbians. By Oct. 24, there will be a requirement for two doses, but it will be necessary to obtain the cards for a variety of recreation and social activities.
The BC proof of vaccination certificate will be necessary for entry into all restaurants, fitness centers, casinos, theaters, box office arenas, tickets for sporting events and concerts across the province thereafter.
In regards to encouraging businesses to inform the police, "With respect to enforcement, it's not unlike with respect to nightclubs or the hospitality sector," Morgan stated.
"If they have difficulty with patrons they call law enforcement, and I expect that's what will happen with respect to the vaccination cards."

Several firms have already pledged to break the initiative, and a Facebook group listing the companies that reject the initiative has over 100,000 followers.

Quebec's vaccine passports have serious privacy flaws, exposing private information
Who could have guessed?
By Ken Macon, August 29, 2021
https://reclaimthenet.org/quebecs-vaccine-passports-have-serious-privacy-flaws/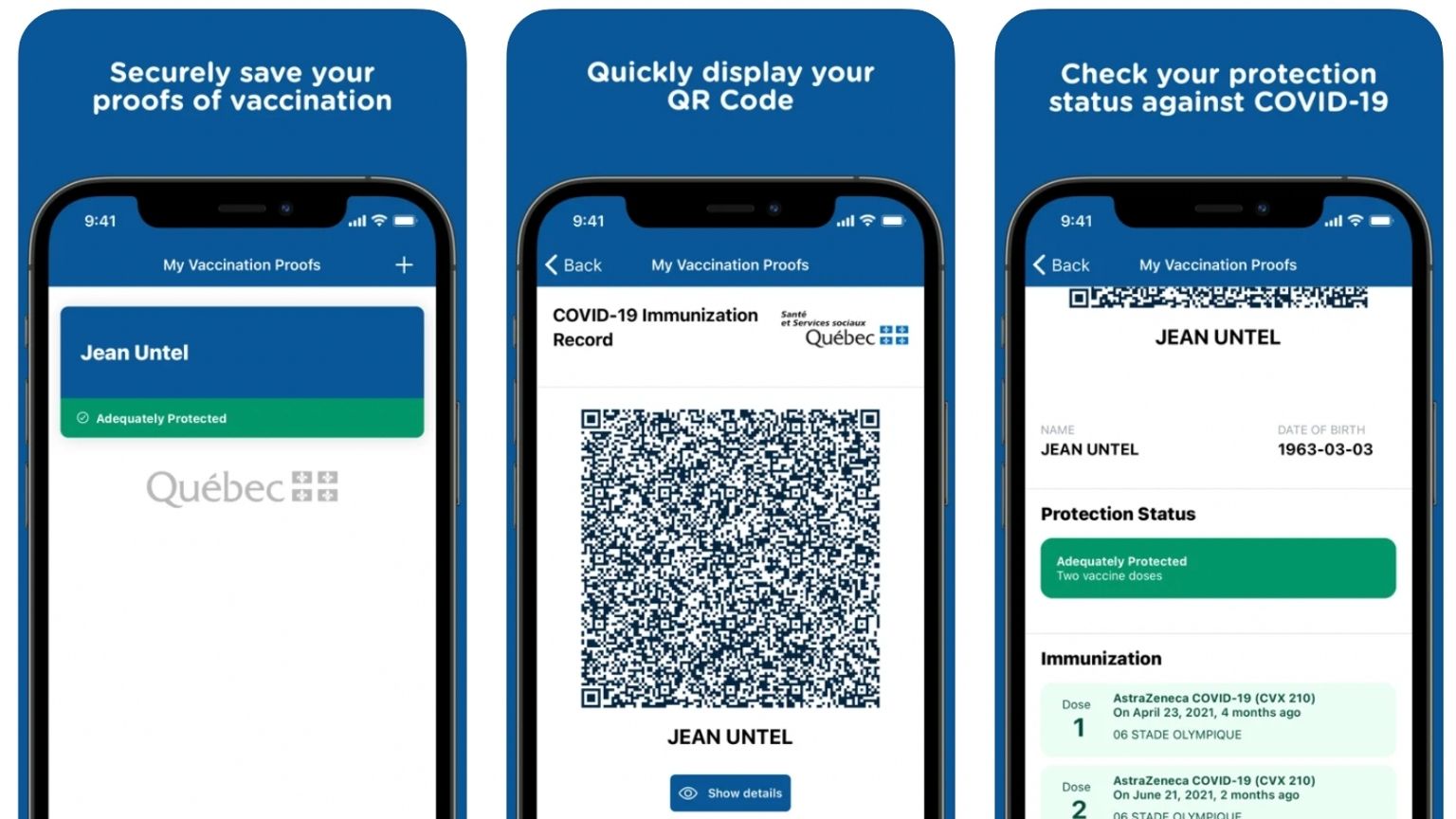 The Security of the QR codes in the Quebec vaccine passport app has been called into question.
In Quebec, residents will be required to produce proof of vaccination starting September 1st when entering businesses considered non-essential by the province, such as pubs, clubs, and restaurants. Vaccinated residents are provided with QR codes by the Health Ministry to prove their vaccination.
Apple devices will be able to run the vaccine passport system in Quebec by using the applications VaxiCode Verif for businesses and VaxiCode for consumers. Android versions are scheduled to arrive later this week.
But even without getting to the civil liberties and privacy issues surrounding the vaccine passports, there's another problem.
Quebec's mobile verification system for vaccine passports has been found to have many security flaws after research by security analysts and hackers.
QR code readers such as VaxiCode Verif check the authenticity of QR codes by scanning the data from the code, including a cryptographic signature. That reader will scan QR codes uploaded to VaxiCode, paper versions of codes, as well as snapshots or PDF files of codes.
A computer programmer heard the provincial minister for digital transformation declare on Tuesday that QR codes "cannot be falsified, modified or copied," and he saw it as a challenge to try to test the security of the app.
It has been reported by CBC that Louis, the programmer in question, was able to manufacture a false vaccination certificate for a nonexistent individual.
He stated, "There's always a flaw, it's just a matter of being patient enough to find it."
It appears that the non-existent proof was able to deceive VaxiCode Verif, the companion application that is designed to help businesses verify documents, after being placed in the app.
The Journal de Montréal also reports that hackers were able to obtain the QR codes of Premier François Legault, Mayor Valérie Plante, Quebec Health Minister Christian Dubé, as well as provincial opposition leaders Dominique Anglade and Gabriel Nadeau-Dubois.
According to the Journal, the hackers also gained access to the vaccination certificate of Éric Caire, the minister in charge of strengthening the security of the vaccination passport system; he is the same minister that stated that the QR codes could not be "falsified."
Caire responded that the province may subsequently make it more difficult to obtain QR codes.
"We will discuss it with the health minister, we will weigh the inconveniences and if we have to make obtaining the QR code more complex, well, we will do it," he said.
"But what I'm saying is, this [added] complexity, it will also be there for people that would want to get it for legitimate reasons. And that would possibly mean limiting the use of the QR code, and that's not what we want."
Regardless of whether someone created a fake QR code, the minister says that they must still produce picture identification before going anywhere that requires a vaccination passport. He did not address, however, whether a fake QR code could be associated with a legitimate name, permitting the person to enter clubs, restaurants, gyms, and other establishments without adequate vaccinations.

3. Rebel News (https://www.rebelnews.com/)

This site has done a tremendous amount of pro-freedom work, including legal representation of people facing fines and violations of their Charter rights, in Canada.

And Rebel News has consistently provided excellent coverage of the transformation of Australia into a police state. It's run by Ezra Levant out of Toronto, a veteran conservative activist.

This is their report on fighting vaccine passports – which have now been enacted in Quebec, Manitoba, and most recently British Columbia, in Canada, much to the dismay of countless people in these provinces.

https://www.rebelnews.com/the_next_civil_liberties_project_fight_vaccine_passports
FIGHT VACCINE PASSPORTS: A new civil liberties project
Ezra Levant outlines the next steps in Rebel News' fight for civil liberties, a new project called 'Fight Vaccine Passports.'
By Rebel News, August 26, 2021
Video: https://rumble.com/embed/vj3kjk/
Vaccine passports are coming to Canada. In fact, they're already here in Manitoba, and very soon they'll be in place in Quebec, too. The government of British Columbia, meanwhile, announced it would be rolling out a vaccine passport soon enough — one that doesn't even allow for medical or religious exemptions.
On last night's episode of The Ezra Levant Show, Ezra outlined the next step in Rebel News' fight for civil liberties: FightVaccinePassports.com.
Explaining the plan for this new project, Ezra said:
We need the best lawyers — who know the law, and the constitution, and how to strategically fight this, and to fight it quickly, with the best chance of winning and setting a precedent and rolling back these vaccine passports. So we need to hire the professionals. Not volunteer lawyers who mean well but aren't proven winners.

I want to hire the legal eagles, senior counsel, who know what they're doing. And I don't want volunteers, because I want lawyers who are going to put everything else aside and make this their central priority for the foreseeable future.
To see the full plan, visit FightVaccinePassports.com. On that website you can sign our petition against vaccine passports, tell us your story of forced vaccination and help fund our legal efforts.