"This is not about freedom or personal choice" – Joe Biden

Friend,
I told you Biden didn't care about you.
He doesn't care about you or your freedoms. He just mandated the Covid vaccine for 80 MILLION Americans. The last time I checked, we live in a FREE Country.
The Left is working overtime to CONTROL you. First, they wanted to mandate MASKS, and now they're mandating VACCINES – can you believe it?
I think the vaccine is brilliant and I'm very pleased with how quickly we turned it around, despite the Trump haters who said we'd never get it done. However, mandating vaccines is simply UN-AMERICAN.
As if it wasn't obvious, I totally OPPOSE this liberal overreach that requires Americans to be vaccinated. I need my BEST supporters to stand with me right now.
I got vaccinated, but every American has the right to make this decision for themselves. The Biden mandates are wrong – he said he would not do it. He's a hypocrite.
This is America and FREEDOM is an absolute requirement. Are you with me?
My team is sending me a list with the names of every Patriot who publicly stood with me. I'll be looking for your name in 5 minutes.
Add your name IMMEDIATELY to OPPOSE Biden's vaccine mandate and to get on the list of supporters I see.
Thank you,
Donald J. Trump
45th President of the United States


A comment from Think for Yourself

I am still not sure why President Trump thinks that the Covid vaccine is safe or a good thing, or why he listened to Fauci — but in any case, he is right about the USA being a free country and that Americans should have freedom of medical choice and informed consent. The recent mandate is an affront to that.

To put it more clearly, the Biden administration — probably at the behest of the CCP – has declared war on 100 million Americans. This is the worst thing the Democrats have ever done, in my view, because more than any other single thing I can think of, it robs millions of people of their constitutional and God-given rights. For the same reason, the lockdowns were also fundamentally wrong.

American, Canada, Australia — the entire world — we are facing Communist and medical tyranny right now. If we do not oppose it and turn it back, humanity will enter into a very dark age of genocide, arrests, famines, gulags, and slavery. It could spell the end of our species. It certainly spells the end of all that makes life worthwhile for most people. The Democrats, working with the Communists, are ushering in a totalitarian society. Some say it is End Times. It certainly feels like it.
My own belief is that Trump erred in going along with Fauci and playing by the rules. What we're up against is real despotism. Communists are mass murderers and liars. They will go to any lengths to deceive and harm humanity for their own ends, and they must be opposed, in defense of human freedom.

Here is an article on what just happened:
Biden Declares War On Unvaccinated Americans, GOP Governors, Orders Far-Reaching New Vaccine Mandates Affecting 100 Million
by Mona Salama, The Floridian, Sept. 9, 2021
https://floridianpress.com/2021/09/biden-declares-war-on-unvaccinated-americans-gop-governors-orders-far-reaching-new-vaccine-mandates-affecting-100-million/
President Biden declared war on nearly 80 million unvaccinated Americans as well as GOP governors, claiming "pandemic politics" actions are undermining efforts as he unveiled the most aggressive and unconstitutional COVID vaccine mandates that will force 100 million federal government workers to get the shots or lose their jobs while using his sweeping power of the office to impose stringent new mandate rules on private sector businesses.
"If we raise our vaccination rate, protect ourselves and others with masking and expanded testing, and identify people who are infected, we can, and we will turn the tide on COVID-19. Many of us are frustrated with the nearly 80 million Americans who are still not vaccinated, even though the vaccine is safe, effective, and free," Biden said before announcing the broad new mandates in prepared remarks from the State Dining Room of the White House.
"This is a pandemic of the unvaccinated. We still have nearly 80 million Americans who have failed to get the shot. And to make matters worse, there are elected officials actively working to undermine the fight against COVID-19. Instead of encouraging people to get vaccinated and mask up, they're ordering mobile morgues for the unvaccinated dying from COVID in their communities. This is totally unacceptable," Biden added, not mentioning which officials by their name, but it was obvious he was specifically lashing his remarks towards Florida governor Ron DeSantis based on previous clashes. The president took a swipe at Florida hospitals acquiring mobile morgues in order to place the dead bodies of victims who died from the COVID variant.
Striving to restore his humiliated presidential image over his hastily and botched handling of the Afghanistan withdrawal, Biden expressed his frustration towards the 80 million Americans, stoking division by pitting the vaccinated against the unvaccinated for political exploitation. As he repeatedly demonizing those who still haven't taken the jab, Biden vowed as president he would only protect those who have gotten vaccinated.
"My job as president is to protect all Americans. We cannot allow these actions to stand in the way of protecting the large majority of Americans who have done their part and want to get back to life as normal," Biden declared, as he accused the unvaccinated of apparently abusing the "patience" of those who listened to his fearmongering demands.
"And my message to unvaccinated Americans is this: What more is there to wait for? What more do you need to see? We've made vaccinations free, safe, and convenient. We've been patient, but our patience is wearing thin. And your refusal has cost all of us," Biden said.
The president accusing the unvaccinated of "caus[ing] a lot of damage," in their refusal to get inoculated and widely placing the blame on them for "overcrowd[ing] our hospitals, overrunning the emergency rooms and intensive care units, leaving no room for someone with a heart attack, or pancreatitis, or cancer."
Biden dismissed concerns about infringing on one's own personal freedom to decide, alleging without any scientific proof that the unvaccinated are the biggest threat than the Taliban to those who are vaccinated but appeared to admit that the vaccines aren't effective in helping to curb the spread of the virus.
"This is not about freedom or personal choice," Biden stated. "It's about protecting yourself and those around you, the people you work with, the people you care about, the people you love. My job as president is to protect all Americans. We're going to protect vaccinated workers from unvaccinated co-workers. We're going to reduce the spread of COVID-19 by increasing the share of the workforce that is vaccinated in businesses all across America."
Along with launching attacks on the unvaccinated Americans, Biden sought to continue his feud with DeSantis and Abbott, two GOP governors who have loudly defied calls for mask and vaccine mandates. He threatened to use his "power as president to get them out of the way" if they continue to undermine his mandate efforts, not explaining what legal justification he has to override state governments on this issue.
Since being sworn in, Biden has focused his role as president on the pandemic while largely ignoring other dire issues plaguing the nation, including the border crisis, inflation, labor shortage despite over 10 million claiming unemployment during the first six months of his presidency. On July 4th, Biden declared "independence" from the virus following a dramatic decline in cases and deaths. But now Biden is backpedaling and attempting to save face as cases fueled by the more contagious Delta variant have skyrocketed, and the administration has struggled to chart a clear course through the crisis.
The new measures are an escalation of Biden's action he implemented in late July that required federal workers to sign forms certifying they have been vaccinated or comply with new guidelines involving mandatory masking in the office, weekly testing, and social distancing. The more stringent new mandates, dubbed "Path out of the Pandemic," outlines his six-part strategy to combat the Delta variant.
Under Biden's new approach, to reach his unattainable goal of vaccinating the whole nation, he will use the sweeping power of the federal government and presidency in ordering private companies to vaccinate workers or face financial penalties. Biden signed an executive order, forcing the Labor Department to issue an emergency order to require all businesses with 100 or more employees to ensure every worker is either fully vaccinated or gets tested at least once a week. Under the Department of Labor, the Occupational Safety and Health Administration will develop an emergency regulation requiring companies with 100 or more employees to require staff to be vaccinated or tested weekly and give paid time off to get inoculated. Any business that violates the new rule will face substantial fines, up to $14,000.
Following the president's unconstitutional and divisive speech, the Republican National Committee (RNC) announced plans to file a lawsuit against the Biden administration.
"Joe Biden told Americans when he was elected that he would not impose vaccine mandates," RNC chairwoman Ronna McDaniel said in a statement. "He lied. Now small businesses, workers, and families across the country will pay the price. Like many Americans, I am pro-vaccine and anti-mandate. Many small businesses and workers do not have the money or legal resources to fight Biden's unconstitutional actions and authoritarian decrees, but when his decree goes into effect, the RNC will sue the administration to protect Americans and their liberties."

_________________________
Joe Biden's mandatory vaccine order may lead America straight to another Civil War
by, Robert Bridge, RT News, Sept. 10, 2021
https://www.rt.com/op-ed/534531-biden-mandatory-vaccine-civil-war/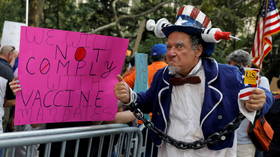 In a massive overreach of government power, Joe Biden said federal and private employers must require their workforce to get vaccinated – or else. This move from the Democrat who once preached 'unity' could lead to national ruin.
Despite pledging in the past that he would never force Americans to roll up their sleeves for a mandatory vaccine, that is exactly what President Joe Biden announced this week to a nation already sick and tired of masks, lockdowns and political infighting. Worse, the US leader stoked divisions inside of the country, where many fear the rise of a medical-style apartheid, by singling out the unvaccinated for blame.
"We've been patient," the 78-year-old Democrat lectured, carefully reciting his tele-prompted words. "But our patience is wearing thin, and your refusal has cost all of us." The unvaccinated among us "can cause a lot of damage, and they are." 
Biden's mandate would force companies with more than 100 workers to get vaccinated or test for the virus weekly – at prohibitive costs to employers. At the same time, the roughly 17 million workers at health facilities that receive federal Medicare or Medicaid will also need to be fully vaccinated.
American conservatives – borrowing a page from the Liberals' pro-abortion playbook that commands 'my body, my choice' – lit up social media with an array of questions, including the much-repeated riddle: 'If the vaccine works so well, and you are protected, [what] matter is it to you if others refuse the shot?' To date, some 80 million Americans remain unvaccinated.
Not a few of these people are demanding to know what happened to the time-proven biological function known as 'natural immunity.' Will those citizens who survived a nasty bout of Covid in the past, and now have the antibodies, still be required to have the vaccination? Dear leader wasn't showing his cards.
Or what about safety of the vaccines, which remains another concern for many Americans? As documented by VAERS (Vaccine Adverse Event Reporting System), thousands of people have experienced "adverse events" after being vaccinated. VAERS received over 7,400 reports of deaths among people who received a Covid-19 jab. It's unclear, though, whether the vaccine was the cause.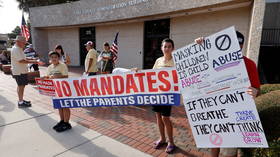 Meanwhile, Big Pharma, which is reaping a bonanza from the pandemic, enjoys total indemnity from any lawsuits that may arise from vaccine-related injuries.
In their ongoing quest for information on such issues, the mainstream media have been carefully selective as to which doctors and what sort of advice their audiences are permitted to hear. And, let's be honest, does anybody really trust a single word that comes out of Tony Fauci's mouth anymore?
Biden's brazen move goes against 'American values,' where personal choice is the defining element of democracy. Thus, it seems that the establishment has only itself to blame for the 'vaccine hesitancy' that many Americans are now experiencing; closing down discussion, while coercing people to take a drug against their will, does little to foster a climate of trust.
Meanwhile, aside from the question of personal health, there is the question of politics – bad politics, to be more precise. First and foremost, Joe Biden blatantly lied to the American people when he promised to never force vaccines on the country. At the same time, he snubbed Congress and the states by empowering the Department of Labor's Occupational Safety and Health Administration (OSHA) to enforce the vaccine mandate – yet another example of Biden abusing the executive office.
The Republicans, who have gone to great lengths to keep their cities and states open for business during the pandemic, are vowing to fight Biden's "unconstitutional" mandate every step of the way, up to and including a likely battle in the Supreme Court.
Former VP Mike Pence even came out of political hibernation to weigh in on the news, saying that "scolding" the American public was "not the American way – and I expect the response they are going to get across the country will prove that."
Despite the Democratic Party's incessant claims that Donald Trump was a "tyrant" and "dictator," the raft of executive orders that Joe Biden has rammed through Washington, DC are enough to make a Caesar blush. Forcing Americans to submit to medical treatment is Biden's personal 'crossing the political Rubicon' – another one of those "you're either with us or against us" type of moments that colored the Bush-era "war on terror."
In this latest chapter of American history, however, the unvaccinated are at risk of standing in for the likes of al-Qaeda and Islamic State. Indeed, given the level of liberal lunacy now infecting every square inch of the America cranium, the unvaccinated could become the targets of a virtue-signaling hate campaign that could easily get out of control, especially when it is considered that there are more guns in America than Americans.
Whatever the case may be, when future historians sit down to write about the America of the early 21st century and its second civil war, September 9 may go down in the history books as the day all hell broke out in earnest.