(1) Documentary: Planet Lockdown
(2) The Experts' "Zero Covid" Plan Was a Total Failure
(3) more Babylon Bee satires of medical tyranny
(4) CLG news reports
(5) Miscellaneous memes graphics and videos
(6) Miscellaneous news and opinion articles
______________________________
(1) Documentary: Planet Lockdown uncensored
Must watch!
(2) The Experts' "Zero Covid" Plan Was a Total Failure
by Ryan McMaken, Mises Institute, Jan. 17, 2022
The Chinese regime is doubling down in its "zero covid" strategy. In recent weeks, new covid cases have been detected in several cities. In a world of the more-contagious omicron variant, this is to be expected.
But what has been the Chinese state's response? It's more of the same. Lockdowns, travel suspensions, and more. NBC reports:
Tianjin, which detected China's first community spread of Omicron on Saturday, is rolling out a second round of mass testing on its 14 million residents on Wednesday. …The outbreak has already spread to Anyang, a city in Henan province some 300 miles (482 kilometers) away, prompting a full lockdown …Tianjin officials said at a news conference Tuesday that all bus services to Beijing had been suspended. … On Wednesday, 425 flights were canceled at Tianjin Binhai International Airport, accounting for 95% of all scheduled flights…Tianjin authorities on Sunday ordered citizens not to leave the city unless absolutely necessary. Those who want to leave must present a negative Covid test taken within 48 hours…
It's hard to believe that anyone still believes that covid will go away if government authorities just "lock down harder." But China is hardly the only example of how this delusion can win many adherents among the technocrats and the expert class.
After all, let it not be forgotten that much of the world had adopted a zero covid policy early on, and this absurd policy endured for months. In Europe, of course, millions upon millions of people were virtually locked in their homes for months on end. As Philipp Bagus reported from Spain in spring of 2020, one wasn't allowed to go outside without facing the wrath of state enforcers.
In America, the "experts" frequently spoke out in favor of zero covid, stating that lockdowns could eradicate the disease and that people would have to stay on lockdown until that time. For example, on April 2 of 2020, Anthony Fauci endorsed this idea, stating that social distancing requirements could not be relaxed until there are "essentially no new cases, no deaths for a period of time." Hawaii explicitly embraced zero covid, and adopted a policy in 2020 based on the idea that public schools would never reopen until there was no longer any "community spread" and "no new cases" were detected over a period of four weeks.
Needless to say, those were totally unrealistic goals. They reflected only the plans of technocrats who were more concerned with living out their bizarre fetishes for lockdowns and border closures that with gaining a better grasp of the situation or with respecting basic human rights. Even Australia—an island nation that could perhaps plausibly hope to actually close its borders—has given up on the idea.
In other words, the "experts" in America wanted to recreate Chinese despotism in America. They adopted a lockdown policy that had already long been rejected. Lockdowns were already expected to bring long term side effects, such as surges in mental health problems—some of the worst of it among the young—now being reported by hospitals. The WHO even concluded that lockdowns ought to be rejected because "there is no obvious rationale for this measure."
But perhaps the media and government officials were so successful at sowing panic in the general population in the spring of 2020 that the health technocrats saw their chance to try a new experiment in social engineering that they had previously considered unfeasible.
Fortunately, though, by the middle of 2020, it became clear that lockdowns simply weren't going to be tolerated by much of the general public. Most state and local governments in the US abandoned zero covid rapidly, although the usual totalitarians in the media bemoaned the end of the policy, insisting that the abandonment of lockdowns would drench the non-lockdown jurisdictions in blood. This was predicted for US states like Georgia, and for countries like Sweden—where lockdowns were quickly jettisoned or not imposed at all.
As time went on, it became obvious that the non-lockdown jurisdictions did not fare significantly worse than the locked down ones. Some areas—Sweden, for instance—fared better. Some of the world's harshest lockdown regimes—such as those in Peru, Argentina, the UK, and New York—also had some of the worst rates of deaths per million.
For the zero-covid crowd, reality got in the way.
Neo-Zero Covid: The Pivot to Vaccines
The zero covid mentality endures, however. The second wave of the zero covid mentality came with the idea that with universal vaccination, covid would disappear.
And, of course, once vaccines began to appear, it was hailed as a magic bullet that would ensure that the vaccinated would be unable to spread the disease. This ideology was expressed in a rant by Rachel Maddow who back in March 2020 harangued her viewers with the "fact" that "virus stops with every vaccinated person." She continued: "A vaccinated person gets exposed to the virus, the virus does not infect them, the virus cannot then use that person to go anywhere else."
This was all a complete fabrication. The vaccine never stopped the spread, and with the advent of the omicron variant, it's now apparently the case that the vaccine doesn't even slow the spread. The virus is quickly spreading among vaccinated.
It's no longer possible to even pretend that vaccination prevents transmission. The only argument left to supporters of the vaccine mandate is that vaccines help against serious disease and death. That's excellent, but it has nothing to do with public health because it's clear the unvaccinated aren't the reason the disease has not been eradicated.
And then there is the fact that vaccination has, in part, likely contributed to new covid mutations. This isn't new with covid. The idea that treatments can lead to new mutations is not new, of course, and it's long been known that under a variety of situations, leaky vaccines can produce vaccine resistant mutations.
This is also known to occur in the case of covid. For example, in an article for the Journal of Physical Chemistry (December 2021), the authors note "vaccine-breakthrough or antibody-resistant mutations provide a new mechanism of viral evolution." And specifically on covid, they write how mutations are often more common in places with higher vaccination rates:
we reveal that the occurrence and frequency of vaccine-resistant mutations correlate strongly with the vaccination rates in Europe and America. We anticipate that as a complementary transmission pathway, vaccine-breakthrough or antibody-resistant mutations, like those in Omicron, will become a dominating mechanism of SARS-CoV-2 evolution when most of the world's population is either vaccinated or infected.
This can make things even worse when coupled with other covid mitigation measures. As Vivek Ramaswamy and Apoorva Ramaswamy explained in the Wall Street Journal last week it's simply not realistic to think vaccines can be constantly adjusted to keep up with new variants. And,
Meanwhile, mask mandates and social-distancing measures will have created fertile ground for new variants that evade vaccination even more effectively. Significant antigenic shifts may create new strains that are increasingly difficult to target with vaccines at all. There are no vaccines for many viruses, despite decades of effort to develop them.
That is, vaccination isn't making covid go away. The politically correct version of the narrative also completely denies that the failure of vaccines to prevent the spread is even a significant factor in the spread of new mutations. The purveyors of the narrative still insist that only the unvaccinated have any responsibility in the continued existence of the disease. Consider, for example, a recent mainstream media report quoting a doctor who dutifully repeated the political orthodoxy that "Without a large percentage of people being vaccinated, the virus has been allowed to mutate." Specifically, he further claimed that if "roughly 70% of the population" were vaccinated or naturally infected, this would bring the spread of the disease to a halt through "herd immunity." But—as the doctor now intones in a forlorn voice—that can't be achieved because there hasn't been enough vaccination.
But given his criteria, we should expect places with at least 70% vaccination rates to have halted the spread of disease, right? Not surprisingly, this has not happened. In Portugal, for instance, the fully vaccinated rate—is at 90 percent. In Chile, it's at 87 percent. It's 75 percent in France. So, surely the spread of covid has been stopped in all these places? The answer is no. New cases are raging in Portugal, Chile, and France, with all these countries hitting new highs in recent days.
Whether we're talking about vaccine mandates or lockdowns, it's clear the zero covid strategy has been an abject failure. They're still trying it in some places like China where government propaganda is largely unquestioned and where people practice unquestioning obedience to the regime at a scale that makes the all-too-complacent West look downright rebellious by comparison.
Don't expect the "experts" in any country to give up on their slogans any time soon. But it is clear that reality will eventually catch up with them. Whether or not any respect for human rights remains at the end of it all is another matter.
______________________________
(3) more Babylon Bee satires

10 Surefire Ways To Get Out Of Wearing A Mask When Someone Tells You To

Historians Discover Document From 1776 That Removes All Mandates And Restrictions
[This one reminds me of an old Star Trek episode from the 1960s in which Kirk helps the descendants of the USA rediscover the meaning of individual rights]
Entire Medical Establishment Threatened By Comedian Who Gets High And Talks About MMA And Aliens

School Sends Separate Email To Parents Every Time A Kid Sneezes

And past postings on the Babylon Bee. And here.
(4) CLG news reports
Peter Daszak Worked for CIA, EcoHealth Alliance Is a 'CIA Front Organization' – Report | 20 Jan 2022 | … EcoHealth Alliance President Peter Daszak, who conducted gain of function research at the Wuhan Institute of Virology [allegedly worked] for the Central Intelligence Agency.

Virginia Dems Block Iver, HCQ Treatments for COVID Patients, Order Capitol Police to Throw Citizens Out | 21 Jan 2022 | Virginia State Senate Democrats blocked a bill on Thursday that would have allowed healthcare providers to prescribe Iver and Hydroxy to COVID patients, shutting down a public comment session and ordering Virginia Capitol Police officers to throw citizens out of the room.

Connecticut Gov. Lamont seeks 7th extension of emergency powers and to codify into law 11 executive orders –Surprise request sent to CT legislators shortly after 6 p.m. Friday night | 21 Jan 2022 | In a late letter issued Friday evening, Gov. Ned Lamont … asked the legislature to codify into law 11 executive orders, such as a mask mandate for children in school and COVID-19 safety measures for nursing home visitors. [i.e., Democrats keep supporting more mandates]

CDC: Natural immunity stronger than vaccines alone during delta wave | 21 Jan 2022 | Natural immunity was six times stronger during the delta wave than vaccination, according to a new report from the CDC. The report, published Jan. 19, analyzed COVID outcome data from New York and California, which make up about one in six of the nation's total COVID deaths. The study was done before the Omicron wave and doesn't factor in any information about boosters. It does, however, broadly agree with studies from other countries.

Israel, One of Most Vaccinated Countries in the World, Sets New COVID-19 Case Record | 22 Jan 2022 | The Israeli Ministry of Health announced this week that more than 72,000 people tested positive for the coronavirus, the largest rise in infections since the start of the pandemic.
[This is because Omicron is highly contagious and unaffected by mRNA injections, making them obsolete]

Federal Judge Blocks Biden's Vaccine Mandate for Federal Workers | 21 Jan 2022 | A federal judge in the state of Texas blocked the Biden regime's coronavirus vaccine mandate for federal workers on Friday.

Ireland to End Most Virus Restrictions, Including COVID Passport | 21 Jan 2022 | Almost all coronavirus restrictions in Ireland will end on Saturday, including domestic COVID-19 Certificates, curfews, social distancing, and capacity limits . . . This makes Ireland the second country following England to remove mandatory vaccine passports after they were implemented.

[you can see the same story here: Ireland to Scrap Nearly All Covid Restrictions While Joe Biden and Democrats in the US Push For More Covid Tyranny]

Thousands to March in DC Jan. 23 to Defeat COVID Vaccine Mandates | 19 Jan 2022 | Children's Health Defense (CHD) and its chairman, Robert F. Kennedy, Jr., on Jan. 23 will join organizations and individuals from around the U.S. in Washington, DC, for a "Defeat the Mandates" protest against government mandates. The march, which will celebrate the principles of freedom and liberty upon which our nation was founded, comes in response to nearly two years of increasing governmental overreach in the form of mandates at local, state and federal levels. Participants will include people from all walks of life regardless of political affiliation, race, ideology or vaccination status.
[same story here: Reminder: "Defeat the Mandates" March and Rally in Washington DC – Sunday, Starting at 11:30 ET]
England Ends All COVID Passports, Mask Mandates, Work Restrictions | 20 Jan 2022 | Restrictions including COVID-19 passes, mask mandates, and work-from-home guidance will be removed in England, UK Prime Minister Boris Johnson announced on Wednesday. Johnson also suggested that self-isolation rules may also be thrown out at the end of March as the coronavirus pandemic becomes endemic.
Belgium No Longer Recommending Moderna Vaccine for Those Under 31 Due to Risk of Heart Inflammation | 18 Jan 2022 | The nation of Belgium will no longer be recommending the Moderna COVID-19 vaccine for citizens under the age of 31, after data show that using it for the first or second dose of vaccination may cause heart inflammation such as myocarditis.
25 Federal Agencies Tracking Employees With Religious Exemption Requests | 20 Jan 2022 | At least 25 federal agencies have implemented a system to track religious exemption requests for mandated vaccines, according to a review of Federal Register notices by The Epoch Times . . . 19 agencies were either considering or have already implemented the tracking system.
Nearly Half of Democrats Would Back 'Detention in Designated Facilities' for Unvaccinated – Poll –Many Democrats would support fines for Americans who won't get the COVID-19 vaccine and criminal punishment for vaccine critics – poll. | 19 Jan 2022 | Nearly half of Democrat voters would back measures requiring that the unvaccinated live temporarily in "designated facilities or locations" for refusing the COVID-19 vaccine, a recent poll has found.
[Same story, different publication: Democrats Support Fauci, Quarantine Camps, Fines And Prison Terms For Unvaccinated Similar to this report from Canada: "Poll suggests more than a quarter of Canadians think unvaccinated should be imprisoned" Personally I find this depressing]
______________________________
(5) Miscellaneous memes graphics and videos
Parody of Biden vax mandates (after Soviet style propaganda) torn down by censorious Leftist
Why I Wear My Mask | Welcome to the Masquerade
Why Plandemic Was Censored and Removed!

(6) Miscellaneous news and opinion articles
Will These People Be Charged With Genocide? "In a stunning 46-page legal filing2 to the International Criminal Court on December 6 [2021], an intrepid attorney and seven applicants accused Anthony Fauci, Peter Daszak, Melinda Gates, William Gates III, and twelve others of numerous violations of the Nuremberg Code. These included various crimes against humanity and war crimes as defined by the Rome Statutes, Articles 6, 7, 8, 15, 21, and 53."
The Dirty 16. In all, the 16 defendants named in the legal filing are:
Dr. Anthony Fauci, director of the NIAID
Dr. Peter Daszak, president of EcoHealth Alliance
Bill Gates
Melinda Gates
Albert Bourla, CEO of Pfizer
Stephane Bancel, CEO of Moderna
Pascal Soriot, CEO of AstraZeneca
Alex Gorsky, CEO of Johnson & Johnson
Tedros Adhanhom Ghebreyesus, director-general of the WHO
Boris Johnson, U.K. prime minister
Christopher Whitty, U.K. chief medical adviser
Matthew Hancock, former U.K. secretary of state for Health and Social Care
Medicines and Healthcare, current U.K. secretary of state for Health and Social Care
June Raine, U.K. chief executive of Medicines and Healthcare products
Dr. Rajiv Shah, president of the Rockefeller Foundation
Klaus Schwab, president of the World Economic Forum
UK major investigation into mRNA vaccine corporate crimes. The complaints allege numerous serious crimes including misfeasance and misconduct in public office; gross negligence manslaughter; corporate manslaughter, murder, conspiracy to murder, genocide and crimes against humanity. Launched by Sam White MD et al.
Transhumanist Biodigital Vision for Future Advanced by Pandemic, Professor Says. A Canadian academic says . . . medicine is being used to subvert democracy and create tyranny . . . Prof. Travis Smith . . . wrote a thesis [in 2005] about how medicine can be used to destroy liberal democracy. People like to think that medicine is not political, and that of course is not true. All powers are political, and medicine is a great power," Smith said in an interview.

Childhood COVID Vaccination Causing Contention in Families . . . polls show [that mRNA injections have] become a divisive issue in society [and] also caused rifts in some families . . . Shortly before Christmas, Quebec Superior Court Justice Sébastien Vaillancourt denied an unvaccinated father visitation rights to his double-vaccinated 12-year-old child . . . "Do they not know the risk for children is like non-existent? I'm shocked that that's even something that's being considered," she said of the court decision.
Do More Children Die From the COVID Shot Than From COVID? (Mercola)

The Truth About Vaccine-induced Myocarditis

To The Minister of Justice and Attorney General of Canada, by Brian Peckford
EXCLUSIVE: Liberals prepped talking points to defend participation in 2019 Military World Games in Wuhan . . . In October of 2019, just three months before the Canadian government acknowledged the coronavirus as a potential threat, the Canadian military jetted off to Wuhan, China, for the Military World Games. Following the games, many soldier athletes returned to Canada with what was described as 'severe pneumonia'. Naturally, when news of the coronavirus broke worldwide only a few months later, many of the military athletes who had been sick wanted to test for COVID-19 antibodies, but the military denied this request.
[This seems very suspicious, as though the Canadian military was working with the PLA to spread the virus deliberately. There were also flights from Wuhan province to Canada occurring then and right up until the travel ban March 2020. The CCP has benefited from this mass hysteria and engineered the disease. Its spread was likely planned, as an act of asymmetric warfare]
Below: former RCMP officer speaks out against hate-speech by Trudeau. This is her website and an article on her.
Are you one of the millions of people in Canada who have just lost access to travel because of your vaccine status? Sign up, and join 2,868 Canadian aviation professionals, and 38,717 passengers, on a mission to make their voices heard in every legislature, court, and board room across Canada. Together, we are a potent force for change. We unequivocally support our passengers' and colleagues' rights and freedoms, including their freedom to fly, without the need to disclose private personal medical information . . .

If you are a passenger, or a professional employed in aviation, and you feel strongly that the ability to travel should not be linked to vaccination status, then join the fight to build a movement that is impossible to ignore.
Below: Thousands of Canadian Truckers to Strike Over Vaccine Mandates, US Truckers to Join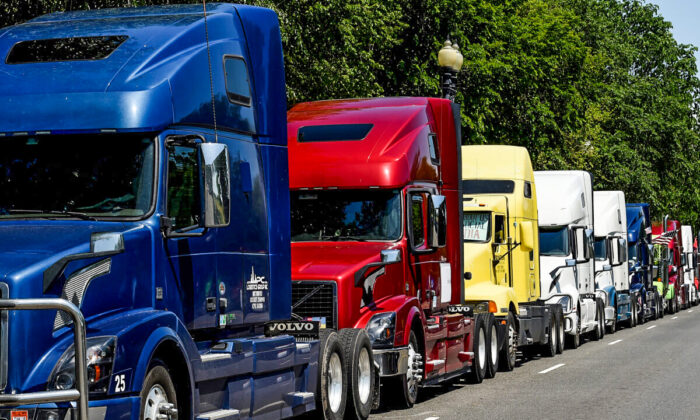 New Emails Reveal Fauci's Role in Shaping Highly Influential Paper That Established COVID 'Natural Origin' Narrative
PCQ claims Quebec's top doctor quit over COVID measures he called "bulls**t" By Elie Cantin-Nantel, True North . . . the province's former top doctor Horacio Arruda resigned because [of Premier] Legault's controversial tax on the unvaccinated . . . Arruda revealed at a committee meeting in December 2020 that he had recommended restaurants remain open in the red zones of Quebec's COVID-19 framework. However, Legault opted to shut them down, a closure which lasted nearly 240 days in the Greater Montreal Area.
Quebec freedom fighter still detained, back in court. François Amalega is Quebec's freedom fighter . . . On September 28, because he refused to wear a mask for his trial, he was arrested for contempt of court and detained for eight days, even though he was present at the hearing.
Court Issues Vax Gag Order. A Brampton, Ont. judge has issued a gag order forbidding a father from criticizing the federal vaccination program within earshot of his 10-year old son. Anything that "calls into question the safety or efficacy of the Covid-19 vaccine" is not allowed, ruled Ontario Superior Court.
London Ont. small businesses closing, say COVID restrictions make it impossible to stay open. Small businesses, both new and old, are having to call it quits after two years of COVID pandemic restrictions and supply chain issues creating the perfect storm for many just struggling to get by.
Budget Office Warns On Debt. Canada's federal Cabinet [under Trudau] spent half a trillion dollars [!!!] since the outbreak of the pandemic including billions that had nothing to do with Covid, the Parliamentary Budget Office said yesterday. There was little sign of restraint, added analysts: "Are we headed for very tight fiscal discipline, or are we headed for mild discipline, or are we headed for no discipline at all?"
[My interpretation of this is that Trudeau wants to deliberately bankrupt Canada, in order to become a BRI nation under the CCP]
W.H.O. scientist says 'no evidence' healthy kids will require COVID boosters. 'There's no evidence right now that healthy children or healthy adolescents need boosters,' the World Health Organization's top scientist said. 'No evidence at all.'
[There's also no evidence they need mRNA shots at all. Nonetheless, corrupt health agencies like the FDA and Health Canada are approving these toxic injections for children — in essence committing murder in the process]
Ending the scandemic with a scam, by Mark Oshinskie [commentary] . . . "The Scamdemic overreaction should never have begun. "Two weeks to flatten the curve" sounded like bureaucratic blather to me. And it was. When Fauci told that lie, he was only getting warmed up. The politically-driven overreaction could have been declared over at any time. Popular protest could have ended it, but too many people were too gullible, too materially comfortable and insulated from the lockdown's effects, and/or too mollified by their iPhones."
Sick of Woke Liberalism, Dr. Jordan Peterson Quits University Of Toronto Position. "These mandates bring out the petty authoritarian in everyone tasked with enforcing them."
NYPD Take Away Unvaccinated Child in Police Car During Anti-Mandate Protest in NYC The group entered the museum without the mandated Vaccine Identification and were denied entry by staff after paying for their tickets. They were asked to leave by Museum Security due to lack of Vaccine Passport. When they declined to leave, security called the NYPD. After a peaceful protest that lasted over three hours, the police arrested the group.
Below: British Heart Foundation video normalizes heart disease among children:
Rebel News: Kelly Brown, the independent investor and self-proclaimed "accidental and unofficial" COVID data analyst, recently joined me for an update on his ongoing research into COVID-19 data put out by public health authorities. Kelly was one of the first people in Ontario to bring to light the alarming myocarditis risks showing up in the province's reports on COVID-19 vaccines.
"Since his previous presentation to the Toronto Board of Health, which oversees and advises Toronto Public Health, Kelly has observed a 36% increase in myocarditis incidents!
According to Public Health Ontario's own data, nearly half of the reported myocarditis cases are appearing in 12 to 29-year-old males . . . Yet Toronto Public Health and the Toronto Board of Health continue to downplay this risk. Are we ever going to get some answers and accountability? Where's the mainstream media on this?"
It's Time to Put the Pandemic Era Behind Us . . . "One reason support for lockdown measures is fading could be due in part to the measures' long-term side effects. One depressing example is the increase in overdose deaths during the pandemic, hitting record highs . . . Along with this are the mental health effects on youth that school closures have had . . . With these problems only continuing to fester, and given the mildness of Omicron, it is time to . . . finally move beyond the pandemic phase.

"There are obstacles to be overcome of course, such as the hyper-politicization of the pandemic and the cynical usage of the crisis by those in elite positions. As the months have dragged on, it has become ever more clear that many of the decisions have been informed almost entirely by political calculations instead of being directed by the data. This accounts for why so many of the knee-jerk, inconsistent measures amounted to little more than theatre. Fearmongering by the media also has to stop.

"As for the continued doomsday predictions from public health experts who have enjoyed their time in the spotlight, elected officials need to finally call time on them and move quickly toward putting this era behind us."
Half of Quebec's Patients Hospitalized 'With COVID' Not admitted 'FOR Covid' [My comment: The phenomenon of 'incidental hospitalization' – now "officially" recognised by the MSM is something many activist for freedom have been talking about – and censored for — for nearly 2 years. Not only does the MSM owe everyone an apology; the editors who allowed to happen need to be indicted for causing such great harm so many people with their propaganda and censorship — which still continues. The fight for freedom is far from over]
UK's Royal Society study says social platforms shouldn't censor "misinformation" It only backfires and creates even more mistrust in institutions . . . The report agrees that illegal content such as child sex abuse, racism, and content that incite violence should be removed. But legal content that is misleading or contradicts mainstream scientific consensus should not be removed.
The Right to Healthy Food: Comorbidities & COVID-19

". . . Data now shows that lockdowns seemingly had limited if any positive impacts on the trajectory of COVID-19 and in 2022 the world – especially the poor – is paying an immense price not least in terms of loss of income, loss of livelihoods, the deterioration of mental and physical health, the eradication of civil liberties, disrupted supply chains and shortages . . .
"Before proceeding, the distinction should be made between dying from COVID and dying with COVID . . . From the data presented above, it is clear that the vast majority of 'COVID deaths' (dying with COVID) are people who have serious, ongoing health conditions, the prevalence of which among the population has been rising year on year for decades and accelerating . . .
"because a lot of the health-related problems we see can also be traced back to modern farming methods and how food is cultivated, not least the toxic agrochemicals used . . .
"Consider that little is being done to address the food-related public health crisis. Then consider that governments are going all out to vaccinate children for a virus that seems to pose minimal risk to them. There is no logic to this approach . . . [the government] has been all too willing to oversee a massive, ongoing health crisis caused by the chemical pollution of our bodies.
"Meanwhile, the unvaccinated are being cast as irresponsible or much worse if we listen to the recent reprehensible outbursts from leaders like Macron or Trudeau for having genuine concerns about, for instance, vaccine safety and the logic behind mass vaccination across all ages and risk groups.
"Given the prevalence of the underlying health conditions linked to 'COVID deaths', it is clear where the real irresponsibility lies – with government inaction for decades in terms of failing to tackle the corporations behind the health-damaging food they produce."
[This is an important point, one not discussed nearly enough. Poor diet (coupled with lack of exercise) is probably the # 1 cause of low immunity and poor health in modern industrial societies. Lockdowns and mRNA injections only made it much worse. The solution to good health is to eat healthy food and exercise and as much as possible avoid pharmaceutical drugs — many of which are toxic but approved anyway — because government health agencies are corrupt]
In Animal Studies, After Being Injected With MRNA Technology, All Animals Died Upon Reinfection . . .In animal studies, after mRNA injections have been administered to cats, when the virus arrived once again into the body, it arrived like a Trojan Horse, undetected by the cats' own immune system. The virus multiplied unchallenged and all animals involved in the experiment died from various causes. According to Dr. Lee Merritt, "What happened is all animals died… but they didn't died of the "vaccine". What they died from what used to be called "immune enhancement" and now they call it "antibody dependent enhancement" (ADE).
[I just want to point out that subjecting cats — or any animals — to these cruel experiments is morally wrong. It is evil and unjustifiable]
Below: the number of deaths solely attributable to Covid is way lower than what was officially record, says this physician. He obtained a Freedom of Information Act report from the UK which showed that of the people who died from the disease who had no "co-morbidities" (i.e. no underlying conditions), it was a relatively small number. Certainly not enough to justify the massive government over-reaction (which incidentally had no effect and caused great harm in the process). He provides data and links below the video.
Below: The number of deaths linked to the CDC-promoted vaccines has skyrocketed over the past 12 months, according to the CDC's own data. There are at least over a million cases of COVID-19 vaccine adverse reaction including more than 21,745 deaths through Jan. 7, 2022, and a total of 1,033,992 people have suffered Covid vaccine adverse events, according to VAERS [and typically these are under-reported, which means there could be 100x that number]
How Anthony Fauci Controls Science Globally. "Fauci's control — in collusion with that of Bill Gates — has rendered the majority of global scientific research nothing more than pharmaceutical propaganda."
Man With Kidney Failure Kicked Off Transplant List For Being Unvaccinated
Bye, Bye Vaccine Mandate. [A commentary against the Biden mandate] "Where does the Constitution grant the president or his executive branch the authority to do this?"
What is the Great Reset? [a popular conservative video blogger comments]
Commentary from True North (one of Canada's best independent media sources) reported on the government's short-sighted vax mandates, which caused a shortage of healthcare workers, overtaxing the system. This has been wrongly blamed on the unvaccinated. True North examined the problem honestly and reported:

". . . nearly 10,000 health care workers across Canada have been placed on unpaid leave or had their jobs terminated because they refuse to comply with draconian vaccine mandates. As a result, hospitals across the country are reporting staffing shortages as the Omicron variant spreads throughout the country – infecting both vaccinated and unvaccinated individuals . . .
"If you paid attention to the legacy media's coverage in recent weeks, you'll notice that there is some reporting on the staffing shortages in Canada's hospitals. Of course, they fail to acknowledge the elephant in the room contributing to this growing crisis – vaccine mandates.

"Firing thousands of health care workers because of their vaccine status was a short-sighted decision, and now we're seeing our health care system pushed to extreme limits. Canadians' personal health decisions have nothing to do with the government's failure to break up a failing monopoly and expand our health care system's capacity."
[This should make clear that the Canadian system of universal health care is in trouble and was made worse by government over the last two years]
Video by Andrew Kaufman MD, in response to the claim that SARS-CoV2 is a real virus. Kaufman claims it is not and dispute the entire field of virology. It's a good topic of discussion.
China's 21st Century Auschwitz: Beijing's official policy of 'No Mercy' toward Xinjiang reveals the horror that is communist China
Vaccine Mandates Reveal that the State is our Enemy [libertarian commentary on Trudeau's nefarious agenda]

"The vaccine mandate is a politically expedient use of state authority to attack Canadian citizens. Here the state is attacking and usurping individual autonomy. The state turns an emergency into a resource for accumulating power at the expense of individuals. All the state's institutional voices, especially the media and even WOKE corporate interests conspire in exhibiting the progressive conversion of individual rights into state power necessary for the public good.
"Here then is the truth about vaccine mandates in Canada. There is no federal law invoking them. Constitutionally, the Federal government has no authority over health. Section 92 makes health an exclusively Provincial jurisdiction. But just as this government has usurped Provincial jurisdiction over natural resources, it has seized authority over health through bribery. It has thereby transformed a pandemic into an economic, debt, national security crisis, and an employment crisis The last one is particularly relevant because the Federal Government is now the nation's largest and most ubiquitous employer . . . This then is the awful dilemma that the unvaccinated face: to trade their liberty and the integrity of their own bodies for the security of a job that allows them to support their families.

"Can there still be any doubt that the most oppressed Canadian minority is the individual, and that our greatest enemy is blind faith in a benign state even when it plunders and oppresses individuals in the collective public interest? H.L. Mencken expressed this perilous state of affairs back in 1926: "The State has taken on a vast mass of new duties and responsibilities; it has spread out its powers until they penetrate to every act of the citizen, however secret; it has begun to throw around its operations the high dignity and impeccability of a state religion; its agents become a separate and superior caste, with authority to bind and loose, and their thumbs in every pot. But it still remains, as it was in the beginning, the common enemy of all well-disposed, industrious and decent men."
WHO urges countries to lift travel bans and not ask for vaccination proof for entry [commentary by Paul Alexander]
The Hidden Story of Trudeau's Sale Of Canada's Gold Reserves To China. "The former director of the Canadian Security Intelligence Service(CSIS) has calling on the Liberal government to scrutinize the recent takeover of a Nunavut[Canadian] goldmine by a Chinese state-owned company."

[Note: this has been going on since Trudeau took office. Every time he gives away a mine in Canada to a Chinese mining corporation the Trudeau Foundation gets a kick-back. He is the most corrupt leader in Canada's history. And he has an agreement with China that they can put soldiers in Canada to protect the mines, which represents a security threat, as CSIS notes. More on the Nunavut story]
"Zero Risk" Is Too Risky for Me [commentary] . . . "What I don't want is a life ruled by "zero risk" strictures. It's impossible. The only way we've seen it tried is by central planners in police states, but all they really wind up accomplishing is outlawing people from telling the truth about zero chance of producing zero risk. As I said, I tend to be risk averse, and the risk of "zero risk" tyranny is far, far too great for me. Patrick Henry declared under a much greater risk environment, "Give me liberty, or give me death!" My request is not so audacious. I seek the liberty we had even if it comes with a slight uptick in risk."
Dr. Fauci Hopes COVID Vaccine Is Approved Soon for Children Under 5-Years-Old. See this link for more articles on this topic.
Below: The UK has dropped all COVID-19 restrictions – will Canada ever follow suit?
[Candace Malcom is hopeful, but my take on it this: if this were about public health, the government would do the right thing. But for Trudeau and the globalist it never was about protecting health. It was their opportunity for the Great Reset (Trudeau said so himself), which means the implementation of an authoritarian biosecurity state patterned after Communist China (which Trudeau admires so much and wants to emulate). So if he has his way, Canada will follow China's disastrous zero-Covid policy, effectively turning Canada into a hermit kingdom like North Korea. The solution, if Canadians want to stop this madness, is get rid of Trudeau ad all the other apparatchiks (eg Tam and other health commissars) who ruined Canada and wake up before it's too late.]
Viewers push back against Quebec TV show where kids called for forced vaccination
Ontario extending vaccine passports and mask mandate indefinitely
Why the "risk ratios" that supposedly prove vaccines offer 90 percent protection against deaths from Covid are a lie
Imperfect 'leaky' COVID vaccines could actually enhance transmission of highly virulent variants. Can some vaccines drive evolution of more infectious variants? Traditional belief is that natural selection culls lethal pathogens if host death greatly reduces transmission; an evolutionary dead-end.
Bill Maher Goes Off on Medical Establishment, Experimental Vaccines in Latest Interview. Bill has broken through the mass formation psychosis that consumes many Americans today.
Dr. Peter McCullough: Vaccines Failed in Stopping COVID-19 and Mandates Have to Be Dropped
CDC Admits Natural Immunity Afforded Better Protection Than Jab During Delta Wave
A report published on January 19th by the CDC confirmed the sentiments of many who'd claimed over the past year that natural immunity is a powerful player in the era of COVID
Arizona Senator Introduces Bill Making Mandating Employers Liable For Employee Health Complications With Forced Covid Shots
Saying No: The Winter of My Non-Consent. [This is a great article from a Leftist perspective against medical tyranny] Excerpt:
"The government response to the pandemic has created an entirely new category of discrimination based on a person's health immunisation status (and that) the evidence gathered through this survey suggests that it has become a virtuous act to seek out the personal medical information of strangers through uncomfortable and public interrogation."

"… I don't think incitement to hatred is an unfair or inaccurate description of what O'Toole is saying and I think it is absolutely disgraceful that the Irish Times ever chose to publish this bigoted diatribe. So much for 'we're in this together.' It's now abundantly clear that we most certainly are not … I and many others like me are sick to the teeth of being scapegoated and blamed for everything. We did not cause this crisis and we are not responsible for its continuation."
"I'M DONE" Former NYT Journalist Bari Weiss Slams Tyrannical US Public Health Response to COVID-19 – This Period Will Be "Remembered as a Catastrophic MORAL CRIME" – (VIDEO) The hysterics surrounding this virus are "ridiculous at this point," she concludes.
Vaccinated athletes perform worse than controls. I am a co-author on this peer-reviewed article, just published. Sports coaches had commented to us that vaccinated student athletes were all performing worse. So we investigated.
Comment at bottom of this article: "I predict murders, not just indictments. I just read this article and there are both parents and students who, when we get the information on clinical trials, will see this as an intentional risking of their children's lives and futures and will want retribution. Some will lose their children to death and will believe they have nothing left to lose, nothing to live for. They will want vengeance before they die."
Live From Worldwide Freedom Rallies Across Canada (Rebel News)
What happened in UK, Ireland? … Why are they tripping over themselves to end mandates this week? Is something about to be made known about the vaccines that will shock the world as to the lethality of the vaccines? [It's a good question to ask. Why did Pfizer pull back? Berenson has some of the answer in this article: Boosters are over. In the article he says that Big Pharma and WHO recognize that the 'vaccines' are not effective.]
Mask Maniac Throws Hot Coffee on Donut Customer for Daring to Show His Face
Florida Man With Ties to China Sentenced for Falsifying Clinical Trials of Diabetes Drug. [This can be viewed as evidence of China's asymmetric warfare against the U.S. This could also apply to Pfizer's clinical trial fraud.]
In the 1970s, an economic historian named Carlo Cipolla wrote a provocative article titled The Basic Laws of Human Stupidity in which he said "Non-stupid people always underestimate the damaging power of stupid individuals. In particular non-stupid people constantly forget that at all times and places and under any circumstances to deal and/or associate with stupid people always turns out to be a costly mistake." This is evident in the degree of stupidity of people who were whipped into mass hysteria over an unremarkable respirator disease and then scapegoated the unvaccinated.
A message from Roman Baber, Member of Provincial Parliament in Ontario: ". . . we have reason to be hopeful as several jurisdictions around the world are coming to the conclusion that we must live with Covid. Please continue to share my social media messaging and do not be afraid to speak out about the harms of lockdowns, passports, and mandates. For two years, Ontario's pandemic response wreaked havoc on Ontarians. But more people are changing their minds and the narrative may soon come to an end."
A comment by Alex Berenson: "the true story of 2020 and 2021 is a story of massive government failure across the United States and Europe. Every control measure the public health authorities promised would control the spread of the coronavirus – from masks to lockdowns to school closures – failed.

"The failure did not occur because citizens didn't cooperate. They did, in a way that would have been unthinkable a few years before (and is frankly scary for those of us who believe civil liberties are the foundation of civil society).

"The failure occurred because the effort to eradicate a respiratory virus that posed little danger to most healthy people was folly from the start – a folly that came at massive human, economic, and societal cost. Now that failure has spread to the Covid vaccines too.

"The failure is now too obvious to be argued, much less hidden, which is why Britain just said it would drop essentially all Covid restrictions. Other countries will follow, probably as soon as the Omicron wave breaks.

"For progressives, the failure is both humiliating and dangerous. Just over a year after Joe Biden's election, it is provoking a major conservative realignment in the United States. The consequences are likely to last at least through 2024, perhaps much longer."
Twitter bans journalist who covered anti-mandate protests. Twitter suspended the account of independent journalist Leeroy Johnson without explanation. Johnson covers happenings and protests all over the country. Recently, he had been covering posting anti-vaccine mandate protests in New York . . . "This is crazy. I don't even give an opinion when I post. I just shot (sic) and give a description," Johnson explained.
Avoidable Tragedy: Scott Quiner Dies Due To Maltreatment At Mercy Hospital. [This story got a lot of press in the U.S. and attracted controversy because Quiner didn't take the mRNA shots. He was denied alternative medical treatments, including Ivermectin, so his family requested he be moved. He was moved to another hospital but it was too late and he died]