[my comments in square brackets]
Good news! Denmark has now announced, that like the UK and Ireland, it will drop restrictions. This is big news. Hopefully some other nations will do the same:
"Denmark intends to lift all coronavirus restrictions" – Jan. 25, 2022. This will happen by Jan. 31.
This is another example of a nation deciding to "live with" Covid rather than trying to impose an impossible "zero-covid" policy which by now we all know cannot work and is only intended to beat the people into submission.
I noted that a few days ago, a Danish newspaper apologized to the public for whipping up mass hysteria over this. What changed in that country? It seems not all politicians are terminally corrupt.
Quebec Bans Unvaxxed From Buying Groceries at Major Retailers Unless They Are Accompanied By a 'Health Warden,' Who Will Ensure They Only Buy Food and Medicine | 27 Jan 2022 | The Canadian province of Quebec has officially banned unvaccinated individuals over 12 years old from shopping at big box stores, including Walmart and Costco, unless they are accompanied by a "health warden" that will supervise their every move and only allow them to purchase extremely limited goods, such as food or medicine. The dystopian segregation policy went into effect January 24 and applies to any retail stores that are over 1500 square meters. [from CLG news]
[This is obviously intended to punish the disobedient, by humiliating them in the grocery store with a "warden" — essentially treating them like prisoners, to be shamed in front of others, much as was done by the Red Guard during the Cultural Revolution:
GoFundMe freezes more than 4 million d-llars raised for Canadian truckers protesting vax mandates| 25 Jan 2022 | Fundraising website GoFundMe has frozen access to over 4 million raised for the trucker convoy headed to Ottawa in protest of Canada's vaccine mandates. The fundraising platform is still accepting donations to the campaign, but it is unclear at this stage when the group will have access to the m-ney. "Funds will be safely held until the organizer is able to provide the documentation to our team about how funds will be properly distributed," Rachel Hollis, a spokeswoman for the crowdfunding platform, said in an email. According to Canadian media, as of Tuesday morning over 55,000 people had donated over 4.2 million dollars to the campaign which seeks to put an end to the dictatorial COVID-19 mandates that have been imposed on Canadians nationwide. [from CLG news]
[Hopefully it will be released! This has been a great success thus far. It's obvious that Trudeau's hatchet-men like Butts were trying to smear the truckers with this. Despicable]

11,000-Truck, 93-Mile-Long 'Freedom Convoy' Protests Canada's Vaccine Mandate, as Government Digs in Heels | 26 Jan 2022 | As the "Freedom Convoy" of truckers protesting Canada's vaccine mandates rolled through southeast Alberta, Canadian Prime Minister Justin Trudeau Monday slammed conservative politicians, accusing them of fear-mongering. The 11,000-truck, 93-mile long convoy is traveling from the country's westernmost province, British Columbia, toward Ottawa, the country's capital, where they will hold a demonstration on Jan. 29. The truckers said they will not leave until the mandates are lifted. The Toronto Star reported the convoy drew "large crowds of supporters from across the region, many holding signs and waving flags." [from CLG news]
No Canadian CBC, No Canadian CTV But American Fox News — Carried My Lawsuit Story
by Brian Peckford
[My comment: hardly surprising, since CBC and CTV are paid propagandists or Trudeau, no different than Der Strummer was for Nazis or Pravda was for the USSR; morally, CBC and CTV are despicable shills for authoritarians; they're not real news media.

CBC gets over $1 billion per year and the rest of the MSM get hundreds of millions). They should be tried for treason and crimes against humanity, along with Trudeau.

As for Erin O'Toole, he's a spineless appeaser, no different than Neville Chamberlain. Good for Brian Peckford for suing the government. The man is 79 years old and could rest on his laurels but his spending his last years fighting government corruption instead, much to his credit]
by Brian Peckford, Jan. 27, 2022
[This just further shows how criminally irresponsible the mainstream Canadian media is]
Fox news report: The last living drafter and signatory of the Canadian Charter of Rights and Freedoms, which is the highest law of the land, is suing the Canadian federal government over its travel ban for the unvaccinated.

Former Newfoundland Premier Brian Peckford, 79, is the main applicant in a case brought against the federal government by the Calgary-based Justice Centre for Constitutional Freedoms, according to a press release.
"It is becoming more obvious that being vaccinated does not stop people from getting Covid and does not stop them from spreading it," the former premier said in a statement. "The government has not shown that the policy makes flying safer—it simply discriminates."
Canadian Prime Minister Justin Trudeau rolled out one of the world's strictest COVID-19 vaccine mandates last fall. By Oct. 30, employees in all federally regulated industries were required to be vaccinated or face termination. Anyone aged 12 and over who wished to travel by plane, train or ship was also ordered to be vaccinated.
"When I heard Prime Minister Trudeau call the unvaccinated 'racists,' 'misogynists, 'anti-science' and 'extremist,' and his musing, 'do we tolerate these people?' it became clear he is sowing divisions and advancing his vendetta against a specific group of Canadians," Peckford continued, referencing a resurfaced interview with Trudeau from September 2021.
"This is completely against the democratic and Canadian values I love about this country," he said. "The federal travel ban has segregated me from other Canadians. It's discriminatory, violates my Charter rights and that's why I am fighting the travel ban," Peckford added.
The lawsuit alleges violations of Charter rights, including mobility, life, liberty and security of the person, privacy, and discrimination. The Canadian Charter of Rights and Freedoms was a bill of rights for Canadians entrenched in the Constitution Act, 1982.
During an extensive recent interview with Canadian author and professor Jordan Peterson, Peckford laid out the portions of the Charter he helped to draft and that he believes are being violated. He also explained his unique role as the only first minister left alive who was at the conference that helped draft the freedoms enshrined in the document.
"I do this very reluctantly," he said. "I've been watching this thing now for almost two years. I've been speaking out about it at public meetings and on my blog and so on, and I've come to the conclusion now that I must—as a Canadian and as one of the writers and founders of the Constitution Act of 1982—not only speak about it, I must act about it.
'I must show Canadians that I'm so concerned as a citizen, as a former first minister that helped craft this Constitution Act of 1982, that I must take action against my own government. Because they have violated rights that I and others helped craft in 1981 and 1982," he added.
"Canadians have been losing hope in the Charter and our courts," said Keith Wilson, Q.C., who is lead counsel for the legal challenge. "We are going to put the best arguments and evidence forward so that the court can clarify where governments overstep."
Videos on the convoy:
From Rebel News: On Saturday afternoon, some 4,000+ people came together in downtown Vancouver to participate in the Worldwide Rally for Freedom at the Vancouver Art Gallery.
This was the sixth global protest against COVID restrictions, mandates, and vaccine passports that seemed to have sprung up around the world nearly overnight . . .
Unlike the mainstream media, which was nowhere in sight during the massive protest, Rebel News had our boots on the ground to cover the united concerns about COVID-19 mandates and calls for change.
Despite the large turnout and positive energy at this and many of the other demonstrations happening on Saturday, the state of our civil liberties remains in peril.
Unvaccinated Canadians continue to be barred from many indoor and outdoor venues and face numerous travel restrictions. Even those who complied with every mandate and shot forced upon them are seeing that their compliance has not resulted in a return to normal like they were once promised.
So if you are tired of the medical apartheid caused by vaccine mandates and no jab, no pay policies, please consider making a charitable donation at FightVaxPassports.com. Rebel News has partnered with The Democracy Fund to crowdfund the legal costs involved with over 20 vaccine-related cases against these restrictions. Click here to learn more.
See my coverage of the convoy here.
____________________________________
A good article on media bias:
Media Lies & the Sacred Rites of the Vaccine Cult
by Kit Knightly, Off-Guardian, Jan. 26, 2022
[This is a good analysis of how dishonest the MSM is right now. An MSM report on the death of athlete Szilveszter Csollany, who likely died of an mRNA injection, is terribly misleading. Here is an excerpt]

"In the beginning, people were told that if you were anti-vaxxer you would die, for the vaccines are the new blood of Christ, and by accepting them into your heart you are promised life eternal. This conditioning has gone so deep people are inverting it and spitting it back out: Now, if you die, you must have been an anti-vaxxer. Being vaccinated, but not believing in the vaccine, is just as bad as rejecting the vaccine, and you will remain unvaccinated in spirit. And like a modern-day ducking stool, if – like poor Szilveszter Csollany – you get the vaccine and die anyway, it shows only that your faith was not strong enough, you were secretly an anti-vaxxer at heart, and the press will say as much in your obituary. The media all talk this way."
by Matt Taibbi, Jan. 27, 2022
As the latest anti-substack campaign shows, more and more people are forgetting why free speech works.
[My comment: This is about the threat to free speech by a creepy group called Center for Countering Digital Hate, which gets dark money (i.e., no one knows who funds them) and which has been instrumental in helping authoritarian-minded governments censors dissenting views.
Now they're going after substack because Robert Malone, Joseph Mercola and Alex Berenson use it to share articles — and of course the MSM and social media sites — proven enemies of human freedom and by extension humanity itself — are helping these censors with the smear and threats. There used to be a time with the media was for free speech. No more]
From the article: "Censors have a fantasy that if they get rid of all the Berensons and Mercolas and Malones, and rein in people like Joe Rogan, that all the holdouts will suddenly rush to get vaccinated. The opposite is true. If you wipe out critics, people will immediately default to higher levels of suspicion. They will now be sure there's something wrong with the vaccine. If you want to convince audiences, you have to allow everyone to talk, even the ones you disagree with. You have to make a better case. The Substack people, thank God, still get this, but the censor's disease of thinking there are shortcuts to trust is spreading."

[Another comment: Actually, the censors are not interesting in everyone getting the Covid vaccine as much as they are in using the issue to divide and conquer the world. The point of all this is not to push mRNA injections as much as to scapegoat an minority in order to impose a CCP-style social credit system.

Of course, Big Pharma wants everyone to get the jab so they"ll be terminally ill and hooked on pharmaceuticals, but the globalists and Communists and their shills are using this issue to seize power by scapegoating those who value basic rights and freedoms. Once bodily autonomy is gone, it's a slippery slope to complete totalitarian control. It's a Trojan horse for the conversion of a the West to corporate Communism]
Another story on the same topic: The Center for Countering Digital Hate appears to be coordinating a broader pressure campaign against Substack for platforming "anti-vaccine figures." by Eugypipus.
"I am pleased to announce that my humble blog has been featured in the Guardian, alongside Berenson, Malone and others. It's an obvious pressure campaign on Substack, coordinated with the Washington Post attacks against Alex Berenson. There's a lot of hand-wringing and speculation about earnings, and even a direct link to my piece on Maximum Vaccination, where – they complain – I state that "vaccines don't suppress case rates at all." Very out-there, as claims go, I know.
"The Center for Countering Digital Hate (CCDH), "an international not-for-profit NGO that seeks to disrupt the architecture of online hate and misinformation" appears to be behind the effort. From the article:
Imran Ahmed, chief executive of CCDH, said companies like Substack were under "no obligation" to amplify vaccine scepticism and make money from it. "They could just say no. This isn't about freedom; this is about profiting from lies … Substack should immediately stop profiting from medical misinformation that can seriously harm readers."
"I think Substack will hold firm, but you can always find me on Telegram, if my blog disappears here. But, I've also backed up the entire subscriber list, and I will keep writing in any case."
[Perhaps we should be clear from now and say that the MSM discussion of these issues is the real misinformation. That which they accuse us of is what they're guilty of, as per Saul Alinsky' 12 rules for radicals. Below is another example of this, from Alex Berenson in response to a disgraceful WaPo smear job on him]
[From And Elizabeth Dwoskin of the Washington Post steps in it. This is the piece that Berenson is alluding to. Dwoskin is obviously not a real journalist as she has no regard for the truth. Perhaps like Pontius Pilate, the WaPo would ask "truth, what is truth?" Exodus 20:16 instructs us not to lie about others. They are breaking that Commandment everyday as well as 20:3 "thou shalt have no other gods before me." Leftism is an idolatrous death cult that worships the state.
On Jan. 26, Berenson shared this data showing the failure of the 'vaccine' in Scotland, Britain, Israel, and Denmark — "four of the world's most highly vaccinated countries. They all have 90 percent adult Covid vaccination rates and 60 percent adult boosters. Yet the vast majority of deaths are occurring in vaccinated people; serious cases are soaring; and infections are almost literally off the charts. This is Covid vaccine failure at the most profound and basic level.
"SCOTLAND: Covid death rates (RATES, not raw numbers) by vaccination status for the last four weeks. Death rates in vaccinated but unboosted people have been higher than rates in the unvaccinated each week. Also, 87 percent of total deaths occurred in vaccinated people in the most recent week:
SOURCE:
(Note: I have corrected the link. Also, the data in the British chart below is United Kingdom-wide and thus includes Scotland – some British readers asked me to make that clear.)
BRITAIN:
Covid deaths by vaccination status in the most recent four weeks (2,845 out of the 3,860 people for whom vaccine status could be determined were vaccinated – 74 percent):
SOURCE: https://assets.publishing.service.gov.uk/government/uploads/system/uploads/attachment_data/file/1049160/Vaccine-surveillance-report-week-3-2022.pdf
ISRAEL:
Serious cases since Covid began (note cases peaked last January with the start of mass vaccinations and are expected to surpass that figure in the next few days):
DENMARK:
Total infections since Covid began (this one speaks for itself):
"Remember, these failures cannot be blamed on vaccine skepticism, or Tucker Carlson, or me. These countries are as close to fully vaccinated as it is possible to be. If you think this is what you were promised a year ago – or six months ago, or even a month ago – I don't know what to tell you. But the answer cannot be to do MORE of what has not worked."
Someone comments on that thread: "These vaccines are neither SAFE nor EFFECTIVE. In a sane world they wouldn't even be available, much less compulsory. Until and unless people wake up and demand freedom, they'll continue to mandate us into totalitarianism."
________________________________
Legacy Media Disinformation by Robert Malone MD, Jan. 28, 2022

Spotify is removing Neil Young's music after he made them choose between him and Joe Rogan. Choosing freedom of speech over censorship. Well done Spotify!
A Trip Down the Misinformation Memory Lane, brought to you by Joe Biden:
"I wouldn't demand it (the vaccine) to be mandatory but I would do everything in my power. It's like I don't think masks have to be made mandatory nationwide." (Pres. Candidate Biden, 2020)
"I feel confident by summer we'll be well on our way towards herd immunity and increasing access." (Early 2021)
"You're not going to get COVID if you have these vaccinations," (July 21, 2021)
"For the unvaccinated, you're looking at a winter of severe illness and death for yourselves, your families, and the hospitals you may soon overwhelm." (Fall, 2021)
---
Actress Evangeline Lilly said: "I was in DC this weekend to support bodily sovereignty while Canadian truckers were rallying for their cross-country, peaceful convoy in support of the same thing," Lilly said. "I believe nobody should ever be forced to inject their body with anything, against their will, under threat of: violent attack, arrest or detention without trial, loss of employment, homelessness, starvation, loss of education, alienation from loved ones, excommunication from society … under any threat whatsoever."
Here is the original story in the Daily Wire
and just like that, Twitter explodes!
Cancel culture rears its ugly head. Let's see how long before Evangeline Lilly gets censored.
[I applaud her courage in speaking up for her convictions! It's good to see a celebrity who's not brainwashed by Leftism or sold her soul to careerism]
---
Russel Brand: Truckers Convoy: Why The Mainstream Media Blackout?! With a large convoy of Canadian truckers forming a 'Freedom Rally' to protest vaccine mandates, how are government and media framing them less than 2 years after truckers, like nurses, were called heroes?
[Because the MSM in Canada are thoroughly dishonest and corrupt, paid to lie; they sold their souls for money]
---
The CDC and the FDA have ignored other countries' caution, the WHO's chief scientist, leading American experts, and their own data.
Scroll past the forward, written by an editor of the journal and get to the article itself. The facts, figures and analysis clearly points to a failed vaccination policy that needs to be reversed now.
If you listen to what these experts say, if you read the largely overlooked documents, and if you actually look closely at the primary data from the CDC and Pfizer, you will find a story of American health agencies' misleading communications and a myopic policy agenda sometimes at odds with science.
Throughout the pandemic, American public health guidance for kids—on school closures, masking, and now vaccine policy—has been far more maximalist than that of many other countries. Restraint and subtlety, perhaps at times for good reason, are not the American way. But one thing is certain: When public health policy is wielded as a blunt instrument, people do not want to get hit.
---
In their latest salvo to rein-in critics of the Biden public policy response to COVID, The Washington Post is calling me [Robert Malone] a "dangerous liar." But they are the ones misrepresenting what I have stated, as they are clearly taking it out of context.
My statement is factual.
"Regarding the genetic COVID vaccines, the science is settled. They are not working, and they are not completely safe." "These vaccines do not prevent Omicron infection, viral replication, or spread to others. In our daily lives, with our friends, with our families, we all know that this is true."
________________________________
No More Lockdowns Canada wishes to offer our sincere appreciation to all the organizers and participants in the Freedom Convoy 2022 undertaken by all the great truckers from across Canada.

This grassroots undertaking is a force to be reckoned with in contemporary Canadian Politics, and it is with great optimism that we seek your support for this effort.
After two long years of lies and abuse from our governments, something truly historic is underway that is giving hope and inspiration to Canadians across the country. In response to the imposition of vaccine mandates for cross border truck drivers, a spontaneous cross-country truck convoy to Ottawa has captured the attention of the entire world.

The unprecedented mobilization of these truckers rapidly gained the support of hundreds of thousands of Canadians turning out in parking lots, on top of highway overpasses, and lining the streets of towns and cities to support the movement that embodies all people who value freedom.
We are at a critical crossroads in Canadian history, and the stakes have never been higher. The hysteria gripping our society is reaching new heights, and is now threatening the most basic necessities of life such as our food supply chains.

Despite numerous warnings from stakeholders, our governments continue to perpetuate destructive COVID-19 policies that jeopardize our standard of living, while the rest of the world is beginning to move on.

In the earliest days of this new normal, MPP Randy Hillier sent a Letter to the Doug Ford PC Cabinet warning them of these very circumstances we are now living through.

[Note that Hillier has been heroic throughout this thing, while Ford had been a tyrant and a villain]
NML Canada has done everything in our power throughout the last two years to awaken a critical mass of citizens with enough influence to extract us from this calamitous path we have been going down. We spent the last two years speaking directly to people across Ontario who feel they have been abandoned by establishment politicians.
Our movement has kept the spirit of freedom alive, as our governments subjected us to unprecedented levels of hardship and intervention into our lives.
Worldwide Freedom Rally at Queen's Park, Toronto, 22/01/2022
The energy driving this freedom movement is manifesting worldwide, and after years of putting in work in the streets, we are finally witnessing the conscious awakening of a critical mass of citizens who will no longer accept the tyrannical conditions we are subject to.
Enough is enough, and the truckers Freedom Convoy is a historic moment that will go down in Canadian history for uniting an entire country in one voice of opposition to the governments who abandoned them.
NML Canada will be going to Ottawa alongside thousands of others, to stand alongside the truckers and do everything we can to support them. We are encouraging all Canadians to join with us in supporting this unprecedented mobilization of patriotic Canadians.
If you can't make it to Ottawa, be sure to show your support along the convoy route as the truckers pass by. As large as the convoy has been, the sheer volume of support for the truckers have received across this country restores one's faith in our country and in the Canadian People.
Itinerary of Events:

Saturday, January 29th, 2022
8:00AM-1:00PM Greeting the Truckers @ March Rd. Overpass
Address: Aquatopia Conservatory 2710 March Rd, Carp, ON K0A 1L0
3:00PM Rally @ Confederation Park
Confederation Park, Elgin St, Ottawa, ON K1P 5J2
Sunday, January 30th, 2022
11:00AM Meeting PPC Supporters @ PPC HQ
Address: Ogilvy Square, 3 Nicholas St, Ottawa, ON K1N 5X6
12:00PM Marching to Parliament Hill to join main rally
________________________________
Last month's protests in Europe — still inspiring: Mannheim, Greifswald, Kerzen, Eberswalde, Freiburg, Gera, Bautzen (27 Dec), Neubrandenburg (27 Dec) and many more (including in France)
Horowitz: Whistleblowers share DOD medical data that blows vaccine safety debate wide open
. . . According to the military, DMED is the Armed Forces Health Surveillance Branch's (AFHSB) "web-based tool to remotely query de-identified active component personnel and medical event data contained within the Defense Medical Surveillance System (DMSS)." In other words, it contains every ICD medical billing code for any medical diagnosis in the military submitted for medical insurance billing during any given period of time. Three military doctors have presented queried data to Renz that shows a shocking and sudden spike in nearly every ICD code for common vaccine injuries in 2021.
In a declaration under penalty of perjury that Renz plans to use in federal court, Drs. Samuel Sigoloff, Peter Chambers, and Theresa Long — three military doctors — revealed that there has been a 300% increase in DMED codes registered for miscarriages in the military in 2021 over the five-year average. The five-year average was 1,499 codes for miscarriages per year. During the first 10 months of 2021, it was 4,182. As Renz explained to me [David Horowitz] in an interview with TheBlaze, these doctors queried the numbers for hundreds of codes from 2016 through 2020 to establish a baseline five-year average. These codes were generally for ailments and injuries that medical literature has established as being potential adverse effects of the vaccines. Renz told me the numbers tended to be remarkably similar in all those preceding years, including in 2020, which was the first year of the pandemic but before the vaccines were distributed. But then in 2021, the numbers skyrocketed . . .
_______________________
From Paul Alexander:
Top doctors Monica Gandhi and Paul Offit refuse to give their own kids a third shot as studies find chances of vaccinated boys between 12 and 17 being hospitalized are 0.3 out of 100,000 as well as the WHO's top scientist…I wonder why? why now after so many deaths? and myocarditis? how come Monica and Paul? you shill for the vaccine yet will not let your sons take it??? tell us why! by Dr. Paul Alexander Jan 28, 2022
Sweden to the rescue with leadership again; "STOCKHOLM – Sweden has decided against recommending COVID vaccines for kids aged 5-11; arguing that the benefits did not outweigh the risks." With the knowledge we have today, with a low risk for serious disease for kids, we don't see any clear benefit with vaccinating them," Health Agency official Britta Bjorkholm told a news conference.
The time has come to remove the COVID vaccines from market; I, MALONE, McCullough, we have been calling for this out of concern based on harms and ineffectiveness; see graphsI have said all along, stop this mass vaccination, stop it. Geert Vanden Bossche said it! And not in any children. Period. The death curve follows the infection/case curve in Australia…
SUICIDES in 2019 were among leading causes of deaths (see chart) in children, young persons, & this was BEFORE the deaths due to COVID lockdowns & school closures; It's 10 X worse in 2022 (lockdowns) [these suicides are in large part the result of the manufactured pandemic and the institutional Left's multi-pronged war on children, which I discuss here]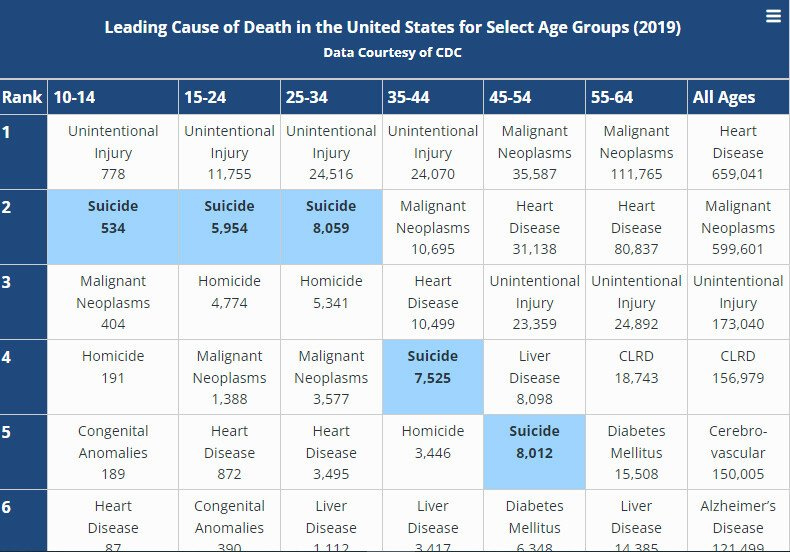 _______________________
Video call between Brian Peckford and Jordan Peterson
Doctor Treating Covid Patients For Free: 'Fauci Is The Greatest Mass Murderer In History' [!!!]
Fauci Proposes Three Shot Series for Babies 6-Months-Old Up to Children 4-Years-Old (Video)
Posts by Steve McCann in American Thinker:
From True North:
From Epoch Times:
Pfizer Moves to Intervene in High-Profile Case Dealing With COVID-19 Vaccine Safety Data. Pfizer has asked a federal court to let it intervene in a high-profile case that has seen U.S. drug regulators try to slow-walk disclosure of data on Pfizer's COVID-19 vaccine . . . The FDA later asked a judge to give it 75 years, but the judge rejected the request and ordered the regulator to produce 55,000 pages a month, which would give it about eight months to fully disclose the records. [My comment: Pfizer is clearly afraid that the data that will be revealed shows its criminal liability in knowingly murdering and injuring people]
________________________
The Reactionary Political Ethos of Lockdowns and Mandates
by Jeffery A. Tucker, Epoch Times, Jan. 26, 2022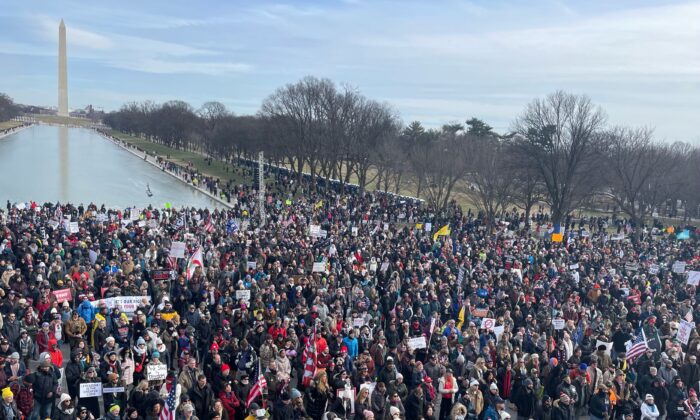 The national press [the Lügenpresse or 'lying press'] barely covered the anti-mandate, anti-lockdown rally in D.C. (Jan. 23, 2022), and when they did, they mostly described it as an "anti-vaccine rally." That's a ridiculous thing to say about an event involving some 10K-plus people who have had enough of the coercive impositions of the last nearly two years. To be there, they braved the cold, the cruelties of today's plane travel, the D.C. vaccination and mask mandates, the prospect of being doxxed from facial recognition technology, plus the financial strains that have hit so many families due to business closures and inflation.
All differences of opinion aside, the main message was that everyone has a right to freedom. Let's get back to the progress we were experiencing in our lives before this great disruption.
Why did it take so long for Americans finally to hit the streets in protest? For one thing, it was mostly illegal to do so from March 13, 2020, onward. States imposed stay-at-home orders and limited gatherings to 10 people. People couldn't meet for civic clubs, church, family reunions, much less anything vaguely political. They forcibly separated people for many months. When the George Floyd protests began, they got the green light but that light later turned red again.
Today there is massive pent-up frustration out there, alongside depression, ill health, financial hardship, and generalized shock to discover that we live in a country where freedom can no longer be taken for granted. We know now that at any moment, they can close our businesses, our churches, and take away our right to travel or even to show a smile. On any pretext. Absolutely astonishing.
Is a backlash coming? It is here. It is a bit quiet for now but it will not stay that way. The ruling class absolutely overplayed its hand this time. In the coming few years, they will rediscover that rulers in every society must acquiesce to the consent of the governed over the long term. When that consent is withdrawn, the results can be wildly unpredictable, but they generally mitigate against the rulers and in favor of a new way of doing things.
How can I be confident about this? It comes down to three different ways to view the course of history.
One, history is on one long trajectory headed toward one great culminating moment. Every moment in history points toward that end state. That is Hegel and Marx and a slew of crazy ideologues who think in that millenarian tradition. Also, some apocalyptic religions' traditions hold that view. This worldview—the perception of inevitability somehow baked into the stream of events—has made a great deal of mischief over time.
Two, history is just one thing after another with no particular rhyme or reason. Anyone who tries to make sense of it is inventing mirages of meaning that do not exist in reality. That view was generally held by English philosopher David Hume (but it's a crude summary). There is something to this idea, but it doesn't quite take account of certain observable ebbs and flows.
Three, history is cyclical, with overlapping rounds of error and truth, good and evil, liberty and power, progress and reaction, bull and bear markets, recession and recovery, centralization and decentralization, and these cycles are powered by the ebb and flow of forces within the population that shape them.
From my description, you can probably tell that this is the view I hold. It strikes me as realistic and fits most known facts about the shape of history.
In light of this idea, please permit me some wild speculations about the bigger picture here.
The last two years have been defined by a theme: centralization of power. It's happened in technology. It's affected politics. It's taken place within financial markets. To some extent it is even true in media culture, despite the rise of the internet. This centralization has overwhelmed all of us.
We previously believed that there was some integral relationship between private life and political life, such that the aspirations of the ruled (due to democracy and so on) were somehow impactful on the rulers, until suddenly we were shown that this is not the case.
We previously believed that our social-media and digital spaces were our own until we were taught that they are not.
We previously believed that the Bill of Rights protected us, that our court systems more-or-less worked, that there were certain things that simply could not happen to us due to law and tradition, and then suddenly there were no limits to power.
Why did all of this happen when it did?
Precisely because all these old-world institutions have been on the ropes for the previous ten to twenty years. The internet has been a massive force for decentralization in every area of life: technology, media, government, and even money. We've seen over the last decade or perhaps two a gradual melting away of the old order and the emergence of a new one with a great deal of promise for empowering individuals and all social classes in new ways we had not previously seen. The richness and malleability of the human population were on the march against every force that had previously held it back.
Think what this means for the old order. It means a massive loss of power and profit. It means the transformation of the relationship between the individual and the state, plus what media we consume, what money we use, what rules we obey, how our children are educated, what businesses with which we trade, and so on. In other words, the ruling class—a big term but it describes something very real—faced the biggest and most disruptive threat in generations or perhaps in many centuries.
This was the state of the world in 2019. It wasn't just about Trump but he symbolized the possibility of dramatic change even at the highest levels (even if his own political impulses embodied reactionary elements too). The main point is that he was never one of "them"; in fact, he hated "them." Of all people, he was not supposed to be president and yet there he was, tweeting and disregarding protocol and generally behaving like a loose canon. And his presidency coincided with a growing restlessness in the population.
Something had to be done. Something big. Something dramatic. Something had to happen to remind the unruly masses who precisely is in charge. Therefore, the most powerful interest groups set to lose in the newly decentralized order of the future decided to act. They would reassert their power in ways that would inspire shock and awe. They had to convince the president to go along and they finally did.
The result was what we've lived through for 22 months. It has been nothing less than a display of power and control. We have all been traumatized in ways we've never imagined possible. Our workplaces have been disrupted or shut. They managed to end religious freedom for a time. The freedoms we all believe we had and which were growing by the day came to a dramatic and stunning halt. We "went Medieval" exactly as the New York Times called for on Feb. 28, 2020.
Who is in charge? In the Spring of 2020, the entire ruling class shouted in unison, not just here, but all over the world: "We are!"
I do not mean that there was a "plot" in some crude sense. I do not believe there was one. There was a coming together of interests, and this was born of fear and frustration that the world was changing too quickly and the wrong people were going to land on top. In retrospect, it seems obvious that the great decentralization would not be a soft landing from the old order. There would be, shall we say, bumps along the road. That is precisely what they created and what happened to us.
It's best to think of these grim times as a parenthesis in history, a dramatic pause in the progress of liberty, prosperity, and peace but only a pause. Lockdowns and mandates ultimately stemmed from reactionary impulses, the same ones we saw in history when throne and altar set out unsuccessfully to crush the rise of liberalism. And it was a remarkable thing to behold, to be sure. But there's just one major problem with the whole thing. It did not actually achieve its aims.
Let me explain that. If you think of the aim as "take back our power," it did accomplish that, however temporarily. But that's not how they pitched it. They said they would stop and crush a virus and that all your sacrifice would be worth it because otherwise you would die or have your life wrecked. That agenda, that propaganda, has been a tremendous flop. In other words, the whole thing is being exposed as a massive error at best, and a complete lie at worst.
Lying has consequences. When you are discovered, people do not believe you in the future. This is the situation currently faced by big tech, big media, big government, big pharma, and big everything. They display their power but they do not display their intelligence and they have not earned our trust. Quite the opposite.
This is why the seeds of revolt have been so deeply planted and why they are growing so mightily now. The driving goal here will be to restart the engine of progress back to what it was only two years ago, back to the push for the decentralist paradigm. The technology that was pushing that paradigm is not only still with us, but it has been tested and dramatically advanced during lockdowns and mandates. We have more tools than ever before to confront and finally defeat the ruling class that seized so much power over two years.
Tools and technologies cannot and will not be wished away. They embody knowledge that we have and knowledge that billions of people the world over are ready to use. We still have those tools. Among the most powerful is freedom itself: humankind is not meant to be caged. We have rationality, creativity, aspirations, and the will to use them all to better our lives.
So yes, we've lived through an enormous setback, pushed by reactionary elements among the ruling class, but it is likely a prequel to what comes next: a backlash against reaction and toward a new stage of progress. Cycles within cycles. Forces of centralization have had a field day, and a good run of it, but the forces of decentralization are fighting back again with good odds of regaining the narrative again. It's progress through freedom vs. reaction through compulsion.
[This analysis is hopeful but I believe perhaps too trusting that things will revert to normalcy, as in a cycle. I believe we are headed for world domination by China and all that that entails, and that the globalist ruling class has not only lost our trust, but they've also set themselves up to be usurped by people who are ten devils worse, as I discuss here.
I also think this analysis may be too American-centric. The CCP has its eye on the whole world. Canada is a prime target because of both its natural resources and strategic importance. Trudeau was easy for them to manipulate, tragically.]
Posted by Undercurrents: