Radical left tyrant Prime Minister suffering from "vaccine derangement syndrome," says NHL hockey player.
Over a million Canadians, including a massive convoy of truckers, are on their way to the Canadian Parliament in Ottawa to demand the resignation of Prime Minister Justin Trudeau over his COVID tyranny, according to reports and video.
Former Calgary Flames hockey player Theo Fleury joined Fox News' "Ingraham Angle" on Tuesday to announce that millions of Canadians are marching to Canada's capital to demand that Trudeau either resign or lift all the tyrannical COVID mandates.
"Right now in Canada we have one of the biggest revolutions happening, and you probably haven't heard about it because no one's talking about it," Fleury told host Laura Ingraham, referring to the mainstream media.
"But right now there's 50,000 truckers and about 1.4 million people headed to the parliament in Ottawa, and they're going to stay there until Trudeau resigns or they give us back all our freedoms and rights."
Videos over the last few days appear to confirm Fleury's claims, showing thousands of Canadians braving the cold and snow holding Canadian flags as they march to the Parliament of Canada.
The anti-vaccine mandate trucker convoy launched last week in response to Trudeau ordering American and Canadian drivers to be fully vaccinated to cross Canada's border by January 22.
The Canadian Trucking Alliance and the American Trucking Associations said Trudeau's order would sideline up to 26,000 of the 160,000 drivers on the road in the middle of winter and amid unprecedented supply chain breakdowns.
Numerous videos from the Canadian border and on the way to Ottawa show the massive scale of the trucker convoy protesting Trudeau's draconian vaccine mandate, which reportedly extends over 70km.
"To our fellow Canadians, the time for political overreach is over," the Freedom Convoy GoFundMe page says. "Our current government is implementing rules and mandates that are destroying the foundation of our businesses, industries and livelihoods."
Ontario politician Randy Hillier called Canada's Transport Minister Omar Alghabra a "terrorist" on Twitter for calling the cross-border trucker vaccine mandate the "solution" to the supply chain disruptions, prompting Minister of Public Safety Marco Mendicino to call on Twitter to censor him.
Supermarkets in the country have already been reporting "food shortages" as a result of the cross-border trucker vaccine mandate,
"We're seeing shortages," said Gary Sands, senior vice president of the Canadian Federation of Independent Grocers. "We're hearing from members they're going into some stores where there's no oranges or bananas.'"
The trucker convoy will reportedly converge with the bulk of the protesters in Ottawa on January 29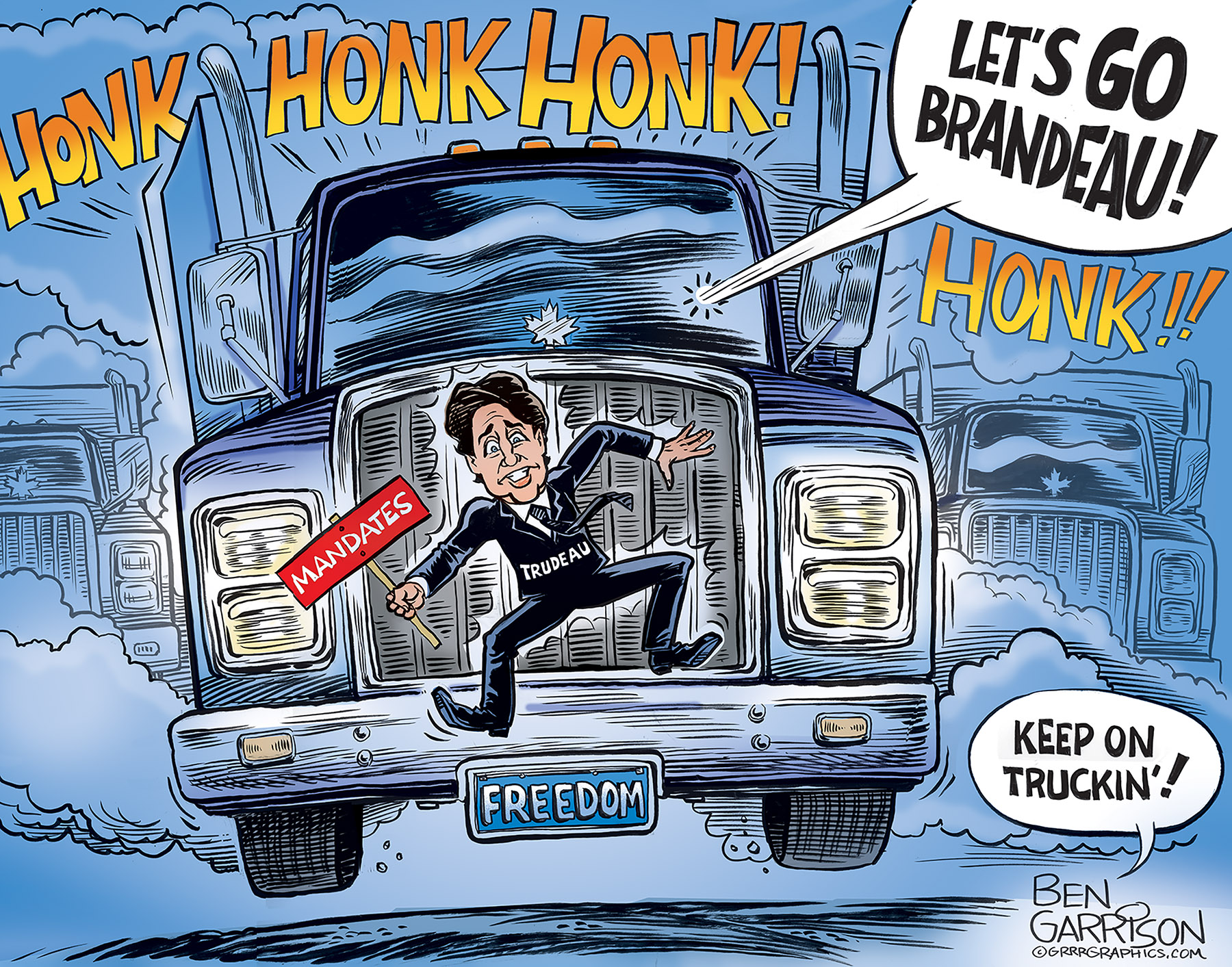 Truckers Ride, Trudeau Hides by Ben Garrison
Canada's Prime Minister Trudeau downplayed the trucker protest by saying they were a small, 'fringe' minority with 'unacceptable views.' This is the kind of verbiage that can be expected from a lying dictator. The 45-mile long convoy is hardly small, but I'm sure the corporate media won't give it much coverage. Still, that many trucks will be hard for Trudeau to ignore.
In America we have the chant, "Let's Go Brandon" as code for F Biden. In Canada perhaps it should be, "Let's go Brandeau."
It is indeed time for Trudeau to go, but the cowardly leader is hiding behind his precious Covid, which he uses to seize liberty. Justin claimed he was exposed to the virus, tested negative and went into hiding.
Big mean freedom truckers scaring little Justin? The truckers need to force the hand of Trudeau, who keeps doubling down on his tyranny. He needs to be forced from office.
Read the post from an anonymous trucker in the Freedom Convoy:
Hello everyone.
We made it to Thunder Bay today. I have a hard time finding words to express the momentum on this convoy. The convoy is 100kms long and growing all the time. The support people have is overwhelming. Coming into Winnipeg yesterday was pretty emotional the com radios went pretty quiet because no one could find words to express what we felt. There was people packed on the shoulders of the streets. Cars parked and people for miles and miles on the ring road around the city. The horns never stopped honking!
On the four lane going out of Winnipeg. We thought it was hammer down time but ended up driving 5 to 20 km/hr for hrs and hrs. People had camp fires going in the ditches, fire works, a sprayer with booms out with big Thank you! Signs on the booms. Crane trucks with the booms up with signs, lights flashing, and flags. The shoulders of the four lane packed with people and cars. Overpasses packed with people. Tons of families little kids all bundled up.
Everyone was jumping, dancing, waving signs, flags, and flash lights. All in -30. Seeing how happy kids are, their smiles makes you a little emotional at times. This is how Canada is suppose to be. This morning going into Ontario, the support is amazing. The lane ways, cross roads, little towns same things happening. Constantly speeding up and slowing for groups of people. I feel like I am cheating with adaptive cruise . When we came to Thunder Bay they had a big area plowed Off. Tents put up, big fires and a insane amount of food. Beef on the bun, spaghetti, sandwiches, coffee, donuts and you name it. They brought pallets of windshield washer fluid for everyone.
Very humbling how kind everyone is. This is what freedom feels like. I felt normal for once not alone like the last two years. Thanks for all the support it is much appreciated!! Well, I'm hitting the hay. Cheers. Thanks"
________________________________
From Rebel News:
To say that the Freedom Convoy has received overwhelming support would be an understatement. 
I have to admit, when I first saddled up to get on the road to report on this cross-country protest, I had my doubts about the impact it would have.
But what I've seen so far has surpassed many of my expectations.
The waves of people that have come out to cheer on the convoy have been incredible to see.
I have been filing daily reports on ConvoyReports.com to document what I witnessed as we follow the convoy to Ottawa.
In my latest report, I share the sights and sounds of my journey through Medicine Hat, Alberta, and what the droves of supporters I spoke to had to say.
The scale of this convoy is like nothing I have seen before. I'm floored by the amount of love these truckers have received.
This convoy has done what no Canadian politician has been able to accomplish in the last two years — it has captured the collective imagination of Canadians and unified them under one common cause.
Everyone I spoke to is done with the mandates and restrictions. They want to be free and have pinned their hopes on the success of this movement.
I have more to report soon, so stay tuned to ConvoyReports.com to never miss an update. On that same website, you can also pitch in a donation to help us cover our travel and reporting expenses. 
________________________________
From True North:
The Candice Malcolm Show: No Justin Trudeau, the Freedom Convoy is not a small fringe minority
The Freedom Convoy is uniting and inspiring Canadians. After being complacent and rule-abiding for too long, Canadians have finally reached their breaking point. They're coming together, ten of thousands of them, to show that they still believe in the ideals of freedom and opportunity in Canada.
On today's episode of the Candice Malcolm Show, Candice covers the latest from the convoy, including our deranged prime minister and his cheerleaders in the legacy media trying their best to diminish and discredit this incredible movement.
They can't – the movement is too big to ignore and social media shows a side of the protest that the Liberals don't want you to see: it is a positive, family-friendly, hopeful, courageous, inspiring, legitimate and peaceful protest against government overreach.
Recap of Day 5 of Truckers for Freedom Convoy across Canada
On Day 5 of the Truckers for Freedom Convoy, the Western fleet was met by huge crowds as it rolled through the Greater Toronto Area (GTA), the Eastern fleet headed across New Brunswick and billionaire Elon Musk declared, "Canadian truckers rule."
Throngs of cheering supporters greeted the Western fleet of the convoy on Wednesday as it made its way through the GTA.
Supporters gathered at Vaughan Mills mall outside of Toronto to celebrate the truckers and to hold a rally of their own.
City of Toronto traffic cameras grabbed this footage of the convoy as it went up the 401:
This was the scene over another 401 overpass today:
Here is the convoy rolling through Port Hope later on:
[There are more videos at this link]
Trucker convoy proves the tide is turning against government overreach
At first the media ignored the trucker convoy on its way to Ottawa. Now that it's become too big to ignore, the media and political elites have turned their attention to vilifying the convoy based on some isolated examples of nasty rhetoric from people who aren't representative of the vast majority of supporters. True North's Andrew Lawton says the convoy is growing for a reason, and that's why Conservative MPs and Canadians of all stripes have been more vocal in sharing their support.
Also, former Newfoundland premier Brian Peckford joins the show to talk about his Charter challenge against the federal government's air travel vaccine mandate.
O'Toole calls for study, truck-stop vaccine clinics and "educational programs" for truckers
[wow, how insulting and stupid this man is! not a fit leader at all]
After weeks of waffling over truckers and vaccine mandates, Conservative Party of Canada (CPC) leader Erin O'Toole has doubled down by calling for shot clinics along trucking routes and "educational programs for truckers to better address vaccine hesitancy."
O'Toole has been widely criticized for his lack of clarity about the convoy and the vaccine mandates it opposes. His recommendations come days after several prominent Conservative MPs issued clear statements of support for truckers, as well as categorical rejections of all vaccine mandates.
These included Conservative MP Pierre Poilievre, who said Sunday that "COVID has become a never-ending excuse for power-hungry authorities to replace our freedom with their control. Enough. Reopen our businesses, let our truckers drive & restore freedom for all."
Deputy leader Candice Bergen released her own statement Tuesday, saying "Conservatives have been opposed to federally mandated vaccines since Trudeau introduced them; and we oppose the mandatory vaccine on Canadian Truckers."

[Poilievre and Bergen are good, but O'Toole is little more than a mouthpiece for the same elites who control Trudeau; he has been exposed beyond all doubt as a pawn of medical tyranny and an enemy of Canada]
Elon Musk tweets "Canadian truckers rule" as convoy nears Ottawa
[I like him now!]
Theo Fleury applauds truckers on Fox News, says they've "ignited the whole country"
Media hypocrisy on full display when it comes to covering protests
[The MSM's campaign of lies needs to end. They are not just fake journalists. They're traitors to Canada and should be deported to North Korea if they want so much to live in a Communist country]
The legacy media . . . apply few if any criticisms to their coverage of left-wing protests but treat a movement of conservative-minded Canadians as racists who shouldn't be welcome in polite society. Nowhere has this been more obvious than with the media's coverage of the grassroots Truckers for Freedom Convoy currently making its way to Ottawa. 
Liberal-minded [should be 'illiberal-minded'] journalists and columnists have come out in droves to malign the tens of thousands of truckers opposed to unconscionable vaccine mandates and erosions of freedoms, calling them bigoted, evil and even domestic terrorists.
Comparisons to the Jan. 6 US Capitol riots have been their favourite, fear-mongering go-to message, part of an effort to convince everyday Canadians to see their fellow citizens as monsters.
Ads offer to buy groceries for unvaccinated Quebecers from stores needing vax passes
[Quebec's government are disgusting tyrants for imposing this on the people]
The policy effectively reduces access to food for the unvaccinated, leading some vaccinated Quebecers to offer to run errands for those who are barred from popular stores due to their personal medical choices [for $10 to $20]
________________________________
Maxime Bernier's press conference in Ottawa: Freedom Convoy Press Conference. He addressed the "authoritarian measures" which have no effect on the spread of the virus. "Vaccine passports are completely useless." True! He questions why the truckers are being imposed on. Good presentation. [Bernier should be the PM, not the traitor who's now in office (tragically for Canada and the world)]
Who constructed the COVID narrative? [below]
Martenson says they'll never apologize for deceiving us and lying to us for 2 years.
Good talk, worth listening to.

Weinstein: "There's a vast array of useful idiots . . . it's breathtaking to see her [CDC's 'director'] hang on as the narrative crumbles around her . . . Whatever the game is, it's hurting us worse, because we're closer . . . this is the opposite of privilege."

"As every country fell into place . . . that's power."
[I believe this is about conditioning us to accept a CCP-style social credit system]
Herd Mentality video:
Bodily autonomy and freedom of medical choice are inalienable rights!
U.S. Developing Vaccine Passport System Using Complex Web of Big Tech Partnerships

What the truckers want people to do Jan 29 2022. Write letters! Lets help them with this
Memes
Actually it's tens of billions in profit, not hundreds of millions: