🔴 LIVE COVERAGE: Freedom Convoy arrives in Ottawa: Rebel News is live from Parliament Hill
[I just want to thank the patriotic people there in Ottawa today, standing up for Canada. It's not easy because it's incredibly cold out today, and they all have their own personal obligations — but there they are anyway, standing up for freedom! It's quite moving to see this]
A message from Rebel News: Trudeau is in hiding, but Canada's truckers are here in Ottawa by the thousands. I'm here too, along with a dozen other Rebel News reporters.
Our company's motto is "telling the other side of the story" and that's more important than ever, as the Media Party is now completely indistinguishable from the Liberal Party.
You simply can't trust the mainstream media to tell you the truth about the convoy.
Can I show you a quick video I filmed on my phone last night, at midnight, right on Parliament Hill? It's just two minutes long, but I think it will make you feel very proud of your fellow Canadians. Take a look
Isn't that incredible?
It's bitterly cold here, but walking around the city last night I felt warm from the patriotism and camaraderie of the truckers and their supporters. I met people from Nova Scotia, Alberta, Quebec and Ontario and they were all excited to finally speak out against the lockdowns of the past two years. Everyone kept saying that one word: freedom.
It felt like a festival — like the city had won the Stanley Cup finals or something!
It's still 20 degrees below zero so our camera batteries won't last as long as normal, but we will do our best to cover every angle of this convoy, and we'll post everything in one place: www.ConvoyReports.com. Click here to catch up with our work . . .

P.S. Trudeau's CBC state broadcaster has spent millions of dollars demonizing the convoy. We've spent thousands actually reporting on it, from hotel rooms to gas. If you can chip in a few dollars to help us defray our costs, I'd be grateful. Please click here, or go to www.ConvoyReports.com — thanks.
_______________________
Truckers for Freedom Convoy reaches Ottawa
The Truckers for Freedom Convoy has reached Ottawa as tens of thousands gathered in front of the Parliament Buildings to call for an immediate end to COVID-19 restrictions and for a return of fundamental freedoms in Canada. Many thousands more are expected as the day continues.
Beginning in Western Canada on Sunday, the convoy was joined by tens of thousands of truck drivers as it made its way towards the nation's capital, with separate contingents arriving from Southern Ontario, Eastern Canada and even the US.
All along the convoy's route, in small towns and in cities, supporters lined the streets to cheer on the drivers and raise their voices in support of freedom.
Trucks began to pour into the capital on Friday and continued arriving well into Saturday morning with speeches and demonstrations planned throughout the weekend.
Police were spotted on the ground managing the roads and directing traffic. Those who want to join the protest are being asked to park on Wellington Street, in front of Parliament Hill.
The loud noise of air horns and honking joined with cheers as supporters hoisted signs critical of Prime Minister Justin Trudeau and nation-wide lockdowns.
Legacy media outlets have attempted to portray the peaceful protestors as extremists and have even made comparisons to the Jan. 6 US Capitol riot. Media reports have relied on cherry-picked comments from messaging apps and so-called "anti-hate experts" who profit off of maligning the freedom movement as far-right.
One CBC reporter who originally claimed he'd received hateful texts from a convoy organizer later admitted the messages had come from an unknown number.
Convoy organizers and supporters have stated that anybody with radical views is not welcome to participate, and those found to be causing disruptions will be asked to leave or be reported to law enforcement.
Prior to the convoy reaching Ottawa, Trudeau went into self-isolation after supposedly being in contact with somebody who has COVID-19. Despite not showing any symptoms and receiving a negative rapid test, he has since been moved from Rideau Cottage to an undisclosed location over "security concerns."
Eyes around the world are on the Canadian freedom movement as a number of international figures including Elon Musk, Joe Rogan and Donald Trump Jr. have all come out in support of truckers.
The convoy was instigated by the Liberal government's decision to mandate COVID-19 vaccines for cross-border truck drivers, workers once considered essential to Canada's pandemic response. As Conservative MP Pierre Poilievre told legacy media reporters on Thursday, truckers "have kept all of you alive for the last two years."
Approximately 10% of the trucking industry has been impacted by the Liberal mandates, and experts have warned that it could cause significant disruptions to Canada's already strained supply chain.
True North is on the ground in Ottawa and will post frequent updates throughout the weekend.
______
And a email message from True North, saying much the same:

We're in Ottawa for the Truckers for Freedom Convoy! Follow us on Twitter or visit www.tnc.news throughout the day for the latest news coming out of the nation's capital.

In the last few days, the legacy media has desperately attempted to paint these truckers as "far-right" and "extremist."

We know this isn't the case. A few individuals do not speak for the entire movement.
The convoy has been clear on its message – no more vaccine mandates, no to forced vaccines and no more heavy-handed government restrictions.

But the legacy media won't fairly cover anything which questions the government's talking points. After all, the government helps to pay their bills and keep their lights on.

If you'd like to support our coverage, please consider making a donation to support True North.
_______________________
As More & More Voices Push Back, The Establishment Media's Propaganda Isn't Working This Time

From regular Canadians & politicians, to high-profile voices around the world, people are seeing through the attempts by the state-subservient media to demonize Canadian Truckers — by Spencer Fernando

Recently, I wrote about how it is essential for people to reject the establishment media's attempt to demonize Canadian truckers:
"They are using a tactic that is often used in Canada whenever anyone pushes back against authority. They try to frame any such effort as something 'extreme', and convince most people to distance themselves from it, in order to remain in the 'proper good graces' of those in power. You see this whenever Canadians start to aggressively speak out against the government, particularly when it's a group who would be considered to be more 'conservative.'
"Even the use of the term 'anti-government' as if that is supposed to be a bad thing is quite indicative of the mindset of the establishment press, as they seem to think that the government is automatically owed deference and respect, despite the fact that in any half-functioning democracy the government has to earn whatever respect it gets."
Since I wrote that, the establishment media has kicked their demonization effort into overdrive. Here are a few headlines from the establishment press:
Large number of donations to protest convoy came from aliases, unnamed donors – CBC
Trucker convoy expected to cause disruptions throughout Ottawa – CBC
'Embarrassment for the industry': Not all truckers support the 'freedom convoy' – CTV
MPs warned about security risks related to convoy, O'Toole plans to meet truckers – CTV
MPs worry anti-vaxxer convoy has taken a turn for the worse – National Observer
Illogical for truck convoy to claim freedoms threatened by vaccine mandate, say experts – CBC
---
Those are all from about the past 24 hours, giving you a sense of how much the media is pushing the negative narrative. [for the rest of the article go here]
Also from Spencer Ferndando:
Canadians Must Reject Trudeau's Manipulative 'Scapegoat Strategy'
As government policies continue to wreck the economy and put supply chains at risk, Trudeau is seeking to manipulate Canadians into blaming selected scapegoats. We must not fall for it. — by Spencer Fernando
With the Liberal government moving ahead with the vaccine mandate for truckers, it got me thinking about whether there was something even more disturbing happening.
Previously, I wrote about how the mandate would cause severe economic damage, and that the Liberals were likely to use the anger caused by broken supply chains to direct even more anger towards unvaccinated individuals and give Trudeau a pretext to accumulate even more power:
"When we start to see further price increases, when there are more shortages, when public anger rises, Trudeau and the Liberals will seek to blame unvaccinated truckers, and unvaccinated people in general, for the damage that was actually caused by Trudeau and the Liberal government.

Then, once public anger has been redirected, Trudeau and the Liberals will push for more government power. In addition to blaming unvaccinated people, they will also blame higher prices and shortages on 'greedy companies' supposedly 'gouging' consumers, laying the groundwork for more statist intervention in the market."
With that in mind, what if the Trudeau government and other statist politicians really plan to go further with this?
What if these deliberately destructive policies – and the clear attempt to create scapegoats – is meant to distract not only from inflation and supply chain problems, but from the consequences of years of horrendous economic policies?
[for the rest of this article go here]

Is A New Canada Being Forged?
More Canadians are showing a willingness to push back against politicians, and speak their minds rather than meekly going along with authority. — by Spencer Fernando
Not long ago, Canada appeared headed towards a situation in which all the major parties were going to support ever-increasing draconian measures.
The Liberals, NDP, and Bloc were all onboard with vaccine mandates and restrictions, while the CPC seemed afraid to push back.
The PPC was the only party that was consistently standing up for the principles of limited government and individual freedom.
Unfortunately, this meant that Canada could have been left without any party in Parliament that was pushing back.
The Conservative Party was clearly divided internally, with individual MPs wanting to speak out, while the party leadership held them back and tried to play it as safe as possible.
You got the sense that the CPC leadership desperately wanted the issue of civil liberties and government power to just 'go away.'
Well, it hasn't.
Instead, Justin Trudeau and the Liberals – along with the government of Quebec – have continued to double down on using state power to take away rights and freedoms and cause more division.
And now, with Justin Trudeau deciding to impose a vaccine mandate on truckers – a move that seems designed to deliberately damage the economy and cause further shortages and price increases – the CPC has shifted their rhetoric.
Pierre Poilievre – who has been more pro-freedom than the CPC leader's office – has been consistently slamming the power grab of the Liberals:
"COVID has become a never-ending excuse for power-hungry authorities to replace our freedom with their control.

Enough.

Reopen our businesses, let our truckers drive & restore freedom for all."
[for the rest of the article go here]
__________
Canada Desperately Needs A Fresh Start Without Justin Trudeau
The People versus Government/Media— this is what Justin Trudeau has established within Canadian society

by Brad Salzberg [one of the best independent conservative writers on Trudeau]
"The country of Canada has fallen under a spell. There is reality, and there is media presentation. While it's not impossible for the twain to meet, this has proven an impossibility regarding the current truckers convoy to Ottawa. This thing is a giant. It is likely the largest public protest in the history of our nation . . .
"The Liberal government are up to their usual tricks. Anyone who opposes the Liberal's communist-infused draconian measures is a radical, racist, or red-neck white supremacist. One would think after six-years of this charade, citizens would begin to see these government tactics for what they are: an attempt to deceive the Canadian people." [read the rest of it here]
The Center for Countering Digital Hate is Dumb by Eugyppius.
[Recently a weirdo hate-monger behind "The Center for Countering Digital Hate is Dumb" decided to go after Alex Berenson and substack, where many opponents of medical tyranny write (e.g. Robert Malone, Paul Alexander). And of course his 'research' was printed in the Communist newspaper the Washington Post. Eugyppiues does a good job exposing this hatchet job]
And this also from Eugyppius
Head of Austrian Bioethics Commission: This is but the beginning of a glorious new era of mandatory vaccination. The vaccinators will never stop vaccinating. "
Catherine Druml, who heads the Austrian chancellor's Bioethics Commission, wants to expand vaccine mandates in Austria. "The Covid-19 vaccine mandate could be the beginning of a new effort to protect people against unnecessary diseases like measles, whooping cough and influenza – also with vaccine mandates," she said in an interview. "Society absolutely has an interest in avoiding unnecessary influenza waves."

[Sounds like a recipe for totalitarianism using medicine and fear of pathogens to accomplish it; this is a battle we'll be fighting for the rest of our lives, it seems]
[NB – Austria and Italy fell in line with medical fascism. Could it have anything to do with the fact that they're BRI (ie CCP controlled) countries? And is that where Canada is heading under Trudeau? I have speculated before that his tendency to run through public money (in the trillions!) is indicative of his plan to bankrupt us and then apply for BRI status. Then China would essentially own Canada and take over. After all they want the largest amount of natural resources on the planet: Canada's water, wood, oil, land and minerals. The fact that Canadians stand in the way is no problem for China: just get our "leader" to eliminate and subdue us]
And one more from Eugyppius:

Why bother with restrictions if everyone's going to get Omicron anyway? A science editor for the Süddeutsche Zeitung can't work out what we're even doing here, but he wants us to keep doing it.
The pandemic is drawing to a close all across Europe. The Netherlands and Denmark are taking steps to end containment, following the lead of the United Kingdom. Germany's own hysteric-in-chief, health minister Karl Lauterbach, expects 400,000 infections a day in February whatever we do, but he nevertheless insists we are "on the right path" in continuing all of our pointless restrictions. [read the rest of article here]

On the Subtlety of Monsters by Naomi Wolf

[similar to Hannah Arendt's Banality of Evil argument. Wolf was previously known as a feminist intellectual author of The Beauty Myth (1991). More recently she's become a true hero for human freedom by writing against medical tyranny — which of course led to Wikipedia (shame on them) saying that she spread "misinformation." Wikipedia is so corrupt it's not funny. Anyway this is a good article]
Excerpt: "I am asking how they can be suppressing the respiration of children intentionally; how they can be consigning friends and colleagues to eat in the street like outcasts, or sending cops to arrest a woman and terrify a nine-year-old child, whose crimes were that they tried to visit the Museum of Natural History in New York without "papers"?
[For a further explanation go to the theory of scapegoating by Rene Girard, as explained here, with illustrations and here, for a more intellectual discussion. There are other related psychological explanations as well, as covered here]
Israel is overrun with Covid. The vaccines have failed. The experiment must stop. by Alex Bernson. [Another good writer on substack and author of the excellent book Pandemia, Berenson is the target of those who want to impose medical fascism on the world because he's a truth-teller. Here he reiterates a theme he's explored before: highly vaccinated nations such as Israel also have high case counts for Covid, which means the so-called 'vaccine' doesn't work and in fact is making it worse because it reduces immunity. The world has been deceived, so it's time to stop this mad experiment before it does more damage. For daring to say this Berenson has been attacked. But he keeps telling the truth, so to my mind he is a true journalist, not the corrupt hacks who shill for Big Pharma and the globalist agenda – which is most of them]
Excerpt: "It has nearly total adult vaccine coverage. Efforts to blame "the unvaccinated" for whatever is happening won't hold. Israel has good data – far more complete and up-to-date than American figures. And it vaccinates quickly, so whatever impact the vaccines are having rolls through the population (and the data) quickly . . ." [for rest of article go here]
On the same topic: Israel Is Now #1 In Covid Cases Per Capita, Proving All The Draconian Measures Are Utterly Worthless
[Of course there are those who will reject this idea, saying "but the government and media would never lie to us like that!" or "they wouldn't go that far!" Yes, they also thought the same in Germany in the 1930s. Canadians are a bit politically naïve, I'm said to say, but now they're waking up two years of medical fascism]
More from Berenson:

We vaccinated 4 billion people… and you'll never BELIEVE what happened next. Daily Covid infections worldwide since the epidemic began:
Two readers comments which really sum it up:
I'm not a scientist, but that chart seems to indicate that the vaccines don't work.
But they do work. They're not designed to protect anyone; they're designed to maim, sterilize, and kill large numbers of people including children, and to facilitate the digital enslavement of humanity.
[And to add another twist to things, see these articles on why Omicron is not a bad thing: it will help with natural herd immunity worldwide — provided SARS-CoV2 is real and there's room for doubt as to that too. As enlightened people we should learn to question every authority figure, including those in the media and medicine, which can and have been corrupted – as is now evident]

________
On mass formation (mass hysteria): The Epidemic of Madness Engulfing the Globe
(from Mercola via Undercurrents)
Mass formation involves the formation of a hypnotic state around a shared consensus
Those under its spell obsessively focus on a failure of the normal world or a particular event or person, who becomes the focus of the attention and can effectively control the masses
Mass formation can occur in a society with feelings of social isolation and free-floating anxiety among a large number of people; it leads to totalitarian thinking and, eventually, to totalitarian states
After Dr. Robert Malone mentioned mass formation on an episode of The Joe Rogan Experience, the term went viral
The technocrats quickly took action, manipulating search results and populating Google with propaganda to discredit Malone and the mass formation psychosis theory
_______
Living in a Dystopian "Reality"
(from Mercola via Undercurrents)
What will our life today sound like to the future generations? Will they be able to understand how we agreed to this?
In order to create massive confusion, those in power have constructed a massive tower of lies
Yes, Fauci did compare COVID to influenza in a paper published in February 2020
BlackRock, Vanguard, and State Street own majority stakes in every big company in every major industry, including in the media
The entire official COVID narrative of the past two years rests on a number of bold lies, and people are being medically murdered to justify corporate profits and a transition to the Great Reset
A Letter to Our Descendants, From 2022. Hello, descendants. I am writing this from year 2022. I am in America. Things are weird. Our governments have betrayed us, our science has been kidnapped and put on a ventilator, and our official media is already dead.
[you can read the rest of it here]
________
Acceptance of and Commitment to Freedom by Iain Davis, Off-Guardian
(Davis author of Pseudopandemic, which is an excellent read btw)
There are many things we can do to liberate ourselves, and each other, from the tyranny of government. Unfortunately, for generations, we have been educated to believe we are powerless.
Supposedly our voice can only be heard through the ballot box, our extremely limited ability to lobby and whatever protests we are allowed.
This is a deception. We have all the power, government has none and we can change the world whenever we choose.
All we need to do is realise our collective agency and strength.
[as the truckers in Ottawa are making us aware right now!]

The good news is that, if we consistently work toward freedom, achieving it is a nailed on certainty. The bad news is that very few of us are even aware of the need to change our behaviour and fewer still know how to do it.
Our broad lack of awareness leaves us at the mercy of those who do understand how to misuse behaviour change techniques and applied psychology for nefarious purposes. This mistreatment has led a sizeable minority to rail against applied behavioural psychology. Yet, should we decide to use these strategies ourselves, the potential for positive social change is immense.
This article is written in the hope that we can all learn how use behaviour change techniques for our benefit. Behaviour change is a skill that can be learned and, with practice, become a powerful tool for personal development. We can use it to defeat the plans of those who would use it against us and construct a free society.
THE MISUSE PROBLEM
Over the last two years we have experienced, and are continuing to endure, a global behavioural change programme designed to force us into compliance. Psychological operations (psyops) have been used to adapt our behaviour to a so-called "new normal." One of the objectives is to condition us to respond automatically to an announced crisis, whatever it may be, and to obey government commands.
[read the rest of the article]
________
Truth or Covid? (or, "why we know everything they're telling us is a lie") by Michael Lesher, Off-Guardian [this is one of many articles now coming out that attempt to sum up the last 2 years of government and media deception. I was aware of all this before 2020, but for many it's been an eye-opener. The despot hiding behind the curtain saying "pay no attention to that man behind the curtain" has inadvertently reveal himself. Do you think we'll ever trust him again?!]
Except: "To put it bluntly: our ruling classes, in one country after another, have effectively switched off their nations' constitutions and the whole set of civil liberties that are supposed to accompany them – not by formally abolishing them, mind you, but by adopting the extra-legal mechanisms of a "state of emergency" in place of normal constitutional procedures, with the result that the ordinary rules of democracy and the rights of individuals have, for most practical purposes, been indefinitely suspended.
". . . This cannot be explained away as a response to a respiratory virus. When an "emergency" involves suspending constitutional government for two years, it should be obvious that the "emergency" has ceased to be a real emergency (if it ever was one) and has become an extralegal norm – and this is even more emphatically true when virtually no one in the political opposition, the civil rights bar or the mainstream media so much as mentions this fundamental fact." For the rest of the article read here]
During the anti-mandate march in DC last weekend, Dr. Richard Urso held up the pages of the 17,000 physician signatures of the declaration. Those signatures have been verified by an independent auditor. For some reason, not a single main stream media outlet mentioned those signatures. I wonder why? (insert sarcasm).
This Virginia AG Legal Opinion Shreds University COVID Jab Mandates, By Shawn Fleetwood. January 28, 2022
Virginia Attorney General Jason Miyares delivered a legal opinion on Friday arguing that state universities do not possess the authority to require students to receive the COVID jab as a condition for enrollment or attendance of in-person classes.

Whats her face (one of the bloggers on all this – certainly one of the funniest)
[for the rest of Malone's news reports go here]
_______
From Bret Weinstein (good analysis as usual) below. Some of you may recall that Weinstein was at the center of that bruhaha at the Marxist disgrace called Evergreen College a few years ago. He stood up against race discrimination there and for his pains was (of course) called a racist. Good to see he bounced back and has a show on medical tyranny from a scientific perspective (he is a biologist):
________
Trudeau Claims Truckers Only Hate Him Because He's Black (satire from the Babylon Bee)
OTTAWA—A "freedom convoy" of Canadian truckers is on its way to Ottawa in protest of vaccine mandates. Prime Minister Justin Trudeau is pushing back at accusations of tyrannical government overreach by claiming the truckers just hate him because he's black.
"As a proud black man, this is the kind of discrimination I have faced my whole life," said Trudeau in a nationwide address over Zoom. "These truckers are a bunch of racist white men. They're probably not even gay. They only hate me because I'm black!"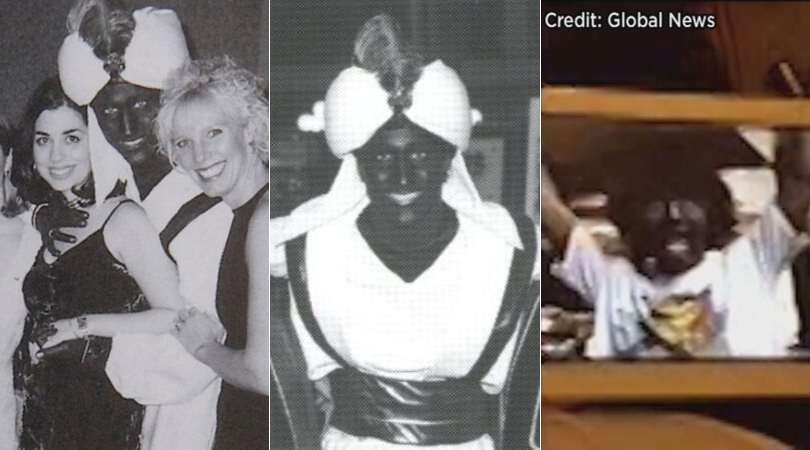 ____________
Taking back our freedoms (TBOF): a new group dedicated to restoring respect for the Canadian Charter of Rights and Freedoms. Brian Peckford (of Peckford42) is on the board of advisors. So are Drs. Byram Bridle and Paul Alexander, and Maxime Bernier.
Brian Peckford speaks bout the Charter on this must-see video
This is from their C-19 awareness questionnaire:

"Did you know these extreme measures were implemented even though authorities knew beforehand that the fully vaccinated are as infectious as the unvaccinated?
Are you aware that all C-19 related Mandates, including masks, social distancing, business, and school closures, forced vaccinations etc., have been fully removed in other nations including Japan and Sweden?
7 need-to-know C-19 facts (by TBOF)
1: How YOUR Rights & Freedoms Have Been Taken
2: Forcing People to Take the C-19 'Vaccine' is Unscientific, Unethical and Unlawful
3: The C-19 'Vaccines' are NOT Working As Hoped
4: The C-19 Vaccines Are NOT Safe
5: Authorities Refuse to Accept the Science of Natural Immunity
6: Ivermectin is a Safe & Effective Treatment for C-19
7: The Vaccine Passports Are a Serious Threat to Our Future Freedoms
Embrace Freedom and Choice and End the Emergency
Reject forced C-19 vaccinations of our children and youth.
Restore the sacrosanct Doctor-Patient Relationship by allowing Medical Doctors to prescribe to their patient, proven and safe medications for C-19 (like Ivermectin).
Embrace 'Natural Immunity' as providing broad & lasting immunity against C-19.
END the Public Health Emergency.
YOUR Call to Action
Email AND write a respectful and fact-based letter(s) to your Member of Legislative Assembly (MLA).
You can also request a meeting with your MLA, ideally representing a group or organization.
Be Well Equipped
Most recent article from Peckford42:
It Was All There in the EUA. Why Couldn't They See it?
by Thomas Harrington, Brownstone Institute
[In a nutshell, he did some good research and found that the people who imposed these vax mandates on us knew beforehand (in December of 2020!) that they would not do what was promised — i.e., that they were not "safe or effective" as promised — and "that the makers of the vaccines and the regulators overseeing their efforts were well aware that any efficacy might initially have could very well be quickly rendered nil by the fast-mutating nature of the virus . . .
"I was stunned. The issuance of these documents coincided with the kick-off the vaccination campaign in which they were clearly being sold to the public on the basis of their ability to stop infection and transmission. To say the least, they were oversold by most of the top public-health officials and TV pundits, including most of the people relied upon as experts . . ."
Harrington then tries to understand how this level of denial and deception and lack of pushback could have happened. I would add that it has happened in all totalitarian regimes in the past. He writes:

"I think there is a deeper dynamic driving this now persistent failure of so many people, especially the young, to confront authority with the documentary proof of easily-accessible facts. And it has a lot to do with an epochal change in the overall cognitive habits of our culture . . .
"Thanks to scholars like Walter Ong and Neil Postman we have long been aware of how communicative technologies (e.g. printing presses, books, radio and television) can engender profound changes in our cognitive habits."
It's a good article for trying to come to terms with how technology has eroded our ability to think clearly, allowing for (ironically) a technocratic autocracy to take root — including digital tacking, a social credit system, chip implants, and all the loss of privacy and autonomy this entails. [for the rest of the article go here]

Related: Swedes are getting implants in their hands to replace cash, credit cards
_______
From Reclaim the Net:
Yale's online Covid reporting system is turning students against each other. [how is this any different than Nazism? It isn't] Yale has an online COVID-19 reporting system that allows students to anonymously report other students for violating the school's COVID rules. The system is being used to turn students against each other and many students are opposed to the system but fear speaking out.
UK proposes prosecuting platform bosses that don't censor content. Social media executives could theoretically be jailed if their platforms fail to work with regulators to remove "harmful content," under the updated UK Online Safety Bill.
Google demonetizes Dan Bongino, days after YouTube ban. Google Ads has demonetized bongino.com, the website of political commentator and alternative tech investor Dan Bongino. The ban means the website cannot run Google Ads, which is the largest ads platform and one half of the online ads duopoly with Facebook. YouTube permanently bans Dan Bongino as he breaks Rumble traffic records. Boningo was already temporarily suspended from the platform after being accused by the Big Tech giant of spreading "misinformation" about Covid. [meaning that he was telling the truth and exposing the lies of the medical fascists! They could not stand the fact that he's popular and moving viewers to Rumble]
_____________
More from Paul Alexander, below

[Comment: If only all physicians had stood up against medical tyranny as he has, none of this would be happening — but sadly most of them fell in line, just exactly as physicians did in the USSR and Nazi Germany — and for the same reason: it's easier to go along with the lie than stand up against it and risk losing everything]

42 Studies on Vaccine Efficacy that Raise Doubts on Vaccine Mandates; shows the vaccine has failed on Delta and fully basically on OMICRON, updated as of today by the editor on my request he op-ed science paper I wrote that journals wont even take so re-wrote for op-eds, anyway, now includes the UK and Scottish data and thus updated to show the vaccine is failed
Children's INNATE immunity (antibodies & NK cells) give initial protection against viral infection & peak viral replication is tamped down enough for the then virus-induced adaptive-adaptive responsethis prevents the host immune system from putting immune pressure on viral infectiousness (the spike); again, the issue is the MASS vaccination during the epidemic using a non-sterilizing vaccine
Oster et al. JAMA doi: 10.1001/jama.2021.24110.; risk of MYOCARDITIS after receiving mRNA-based COVID-19 vaccines is increased across multiple age & sex strata & highest after second vaccination dose192,405,448 persons receiving a total of 354,100,845 mRNA-based COVID-19 vaccines during the study period, there were 1,991 reports of myocarditis to VAERS & 1,626 of these reports met case definition
The Left-wing case against vaccine mandates The shared Covid risk is being outsourced to Africa BY THOMAS FAZI AND TOBY GREENVery well discussed…
[Alexander posts so much, this is just from today!]
__________________
'I Won't Be Showing Up' – Kid Rock Will Cancel Tour Dates at Venues with Covid Vax Mandates (VIDEO) [to be honest, I never thought much of this guy, but it goes to show that anyone can choose to do the right thing; meanwhile, Neil Young turned out to be a big disappointment. What other celebs have distinguished themselves as heroes or villains? Just a quick list of the good, bad and ugly:

Good: Elon Musk, Evangeline Lilly, Kid Rock, Nicki Minaj, Rob Schneider, Olivia Newton John, Kirstie Alley [and others I've never heard of, such as M.I.A. and Offset and Migos and Samaire Armstrong– but I applaud them!

Notice the disgusting bias of Buzzfeed here: "The former The O.C. [Armstrong] star called the COVID vaccine an "untested shot made by criminals." The vaccines, which were created by scientists, have been studied and tested extensively." Um, no, it was made and promoted by criminals, you repulsive shills for Big Pharma! Mengele was a scientists, like Fauci, except Fauci killed far more people. Buzzfeed is a garbage publication with zero journalistic standards and is known for publishing unverified reports intended to smear those it doesn't agree with politically.

Bad: Neil Young, Daryl Hannah, and every other celeb who promoted it — which is too many to list. Just assume most of them fell in line. Hollywood is generally speaking a cesspool (as Mark Dice has written about), so of course they promoted it. And now Joni Mitchell also supports censorship and medical fascism against "misinformation"? Leftism seems to rot the brains of some people. I thought old hippies were against Big Pharma and authoritarianism?
And this one below just made me laugh:
West Virginia Governor tells Bette Midler to kiss his bulldog's "hiney" (VIDEO)