Tomorrow (Feb. 1st) the mandatory 'vaccine' starts in Austria. People who value their health an freedom will get a 200 Euro per month fine and not be allowed to go outside, just to refusing to be injected with a drug that has killed people and has no positive medical value (it doesn't prevent transmission or infection of the disease it's ostensibly supposed to remedy).

I think the mandatory vax has already started in Quebec and may soon be in every province if this protest in Ottawa fails — and the lying craven traitors at the mainstream media (CBC, CTV, etc) are certainly trying to make it fail by lying constantly about it.

Here's an example of the grotesque, dishonest coverage in Ottawa: "Concern about extremists within protest convoy." Or this "Truckers cause chaos in Ottawa after second day of protests." Could the MSM go any lower? Have they no shame? See The Canadian Legacy Media's Eleven Worst Spins on the #TruckersForFreedom Convoy.
As True North reports: "much of the legacy media coverage has not focused on the optimistic story about the truckers, the groundswell of support they received and the many communities across Canada who have united and rallied behind their cause." The media have smeared the protestors. The same media gave positive coverage to violent anarchists last summer when they burned and looted cities. They called a violent riots "peaceful" and a peaceful rally violent. Reminds me of how the NYT covered the genocide in the Ukraine, to protect Stalin's reputation and advance Communism. The CBC is no better.
And some truthful reporting from the real journalists at the Epoch Times: Police Report No Violence as Thousands Stage Peaceful Protest in Canadian Capital Over Mandates. And from True North, also real journalists: Zero arrests all weekend at Freedom Convoy in Ottawa. So much for the CBC's hopes that it would get violent. As True North reported, The legacy media desperately wants the trucker convoy to be Canada's January 6th. There was even an agent provocateur (a pretty obvious one) who tried to smear the protest with a Nazi flag.

I wonder if the lying media knows how much it's hated by ordinary working-class people whose lives they're trying to crush? I've no doubt that if Trudeau ordered the military to shoot people, the CBC would support that too. There is nothing too low for them at this point. All of the MSM in Canada are paid to Trudeau with taxpayer money to help to advance corporate Communism by scapegoating and demonizing a real people's movement for freedom. The MSM are shameless liars and propagandists.

Here is a mainstream media report (Global TV), for example. Right off the bat, this show seems to miss out on the fact that this is now bigger than the just the truckers. It's all of Canada. Dropping the mandates for the truckers now is not good enough. It has to be for all Canadians, period. The global interview is with a lying politician, Omar Alhagbra, one of Trudeau's MPs, who says "vaccines are our best way out of this pandemic." He's the one who also tried to smear the truckers as racists and play the race card (of course he did).

Watching him speak made me want to throw up. That is such an incredible craven lie about the efficacy of the so-called 'vaccines'. It's negated by the truth of the data from around the world that in fact the mRNA jabs not only do not end Covid, they make it worse.
But of course the injections are not (and never has been) about a disease control or public health, as I illustrate here. From day one this has been a political movement by the ruling class to crush freedom and impose authoritarian corporate Communism on us. It's been encouraging to see so many Canadians get that recently, even as the media twists the truth and takes the government's position.

This single graph (below) casts the entire Canadian government's propaganda machine into doubt. And now that the dominant variant Omicron is relatively benign, why risk an injection of an experimental drug with serious negative side-effects? mRNA shots have killed hundreds of thousands and injured millions, as VAERS reports show.
"We vaccinated 4 billion people… and you'll never BELIEVE what happened next: Daily Covid infections worldwide since the epidemic began"

While other countries drop mandates, Trudeau doubles down. It's purely an exercise in authoritarianism at this point, and people know it. As I have said from the start, this is about imposing a social credit system on us, as they have in China. If the vaccinated think they're safe, they're not. Their jabs and boosters will soon expire and the more you take the more at risk of injury you are. This government will always be looking for ways to divide us and tear us apart, whether it's race, transgenderism, injections or something else. Trudeau and those backing him are the enemies of Canadians and of freedom-loving people everywhere.

This is really about making Canada into China, or a satellite of China. And for those who actually value freedom and individual rights — such as freedom of religion, speech, assemble, freedom of medical choice — in other words, living a good, decent life as we have in the West for as long as anyone's been alive — the kind of Canada that Trudeau and the MSM wants to impose on us should be considered unacceptable.

Those who support Trudeau now are setting themselves up for living under a tyrannical regime. Some of them know it and hope to be among the new rulers. Others are blind to what's happening. And many do get it but go along with it out of fear and careerism. "But what does it profit a man to gain the whole world but lose his soul?" Mark 8:36. For example, Doesn't MP Omar Alhagbra realize that if Canada comes under Chinese rule that Muslims will be exterminated eventually? All religions will be banned. Conservative Christians are already under attack in Canada. Perhaps he's only interested in his own career. Just like the "journalists" who skew the truth about what's happening in Ottawa.

As long as the Emergency Orders are in place, and Trudeau pays the media they will continue to be corrupt liars. It's obvious that he doesn't want to let go of power. This is also true of the corrupt liars in all the provinces who rule over us: the Premiers and health commissars who imposed mask, vax passports and mandates and lockdowns. They all have been bought and paid for. They've betrayed the people and tried to crush us under the weight of lies and tyranny.
"Woe unto them that decree unrighteous decrees,
and that write grievousness which they have prescribed;
to turn aside the needy from judgment,
and to take away the right from the poor of my people,
that widows may be their prey,
and that they may rob the fatherless!"
— Isiah 10:1-2
True North report on the NS protest ban, which clearly violates the Charter of Rights & Freedoms:
Nova Scotia bans gatherings along highway in support of trucker freedom convoy [I reported on this here as well]
Nova Scotia has made it illegal to gather alongside the interprovincial highway in support of the Truckers for Freedom Convoy.
The provincial government announced the directive Friday afternoon, claiming that "allowing people to gather in those areas would put themselves and others at risk."
Although called a "Highway Blockade Ban" on the government's press release, and is nominally directed towards "prohibiting protesters from blockading Highway 104 near the Nova Scotia-New Brunswick border," the ban also covers supporters of trucking convoys.
"The directive also applies to people who stop or gather alongside Highway 104, the Nova Scotia-New Brunswick border, or at the Cobequid Pass toll area in support of the 2022 Freedom Convoy, the Atlantic Hold the Line event, or others organized to interfere with traffic."
Another section of the ban goes so far as to prohibit "financing" of such activities. True North reached out to the Nova Scotia government to learn what exactly this meant but received no response by deadline. As of publication time, the GoFundMe for the freedom convoy had reached $7.5 million.
The ban makes no mention of COVID despite being brought in under Nova Scotia's still-active Emergency Management Act that began in March 2020 as a response to the pandemic. https://www.youtube.com/embed/uxItxsW_JD8?feature=oembed
According to the government, fines for breaking the law "per incident" can reach $10,000 for individuals and $100,000 for corporations.
"I can't believe they would do that," Nova Scotia driver and convoy organizer Martin Brodmann told True North on Friday.
Brodmann agreed, however, that with the East Coast fleet of the Freedom Convoy having already made its way into Ontario, it was a little like shutting the barn doors after the horses got out.
Truckers from Newfoundland passed into Nova Scotia Wednesday, joining up with Maritime drivers who made their way into and across New Brunswick on Thursday.
Overwhelmed with emotion, Brodmann contrasted Nova Scotia's decision to ban supporters with his experience in Quebec, saying that thirty police cars had just lined up to give the truckers a send-off into Ontario.
"This whole journey has been such an enjoyment," he said, adding that the convoy was something "that had to be done."
All fleets of the Truckers for Freedom Convoy are expected to reach Ottawa Saturday.
Nova Scotia's "Highway Blockade Ban" will be in place until at least Feb. 6, when the province will reassess and likely extend its state of emergency.
In May 2021, the Nova Scotia government also obtained an injunction cracking down on planned anti-lockdown protests. 
_________________
Recap of Day 8 of Truckers for Freedom Convoy across Canada (True North)
On Day 8 of the Truckers for Freedom Convoy, peaceful protesters returned to Parliament Hill on Sunday to pray and sing, even more truckers arrived in the nation's capital and Justin Trudeau remained in hiding.
The day in Ottawa began with a religious service on Parliament Hill led by Pastor Henry Hildebrandt. It was attended by thousands of people.
[It seems that true Christians are part of this and there is a revival taking place as well!]
The pastor from Aylmer, Ontario led the crowd in a unified singing of Amazing Grace.
In his sermon, the pastor said that the crowd that gathered in Ottawa yesterday and today "was the largest fringe minority" that he had ever seen. 
Joining the sermon was a clan mother from Yellowknife, Northwest Territories who alongside the pastor offered her blessing to the thousands of people in attendance.
The elder thanked the protestors, saying, "that's what this movement is about – one heart. And what does that mean? That means love, understanding, acceptance, tolerance – and when we have that, we will respect one another."
After the service, the organizers of the Freedom Convoy's GoFundMe, which has received more than $8.9 million in donations, held a press conference, speaking only to independent journalists including True North's Andrew Lawton.
Asked by Keean Bexte about how long the protest in Ottawa would continue, organizer Benjamin Dichter said that the truckers would remain in Ottawa for as long as it takes. 
Addressing distribution of the GoFundMe donations, organizer Tamara Lich told reporters that the funds would be used for fuel, food and lodging for truckers who would be continuing the protest. 
Dichter stressed to the reporters that the organizers would not be taking any of the funds for themselves but that some truckers may be compensated for not being able to work due to the federal vaccine mandates. 
The CBC and other legacy media outlets continued to push a hateful and negative narrative about the convoy and its supporters today.
The CBC emphasized the sighting of a Nazi flag at the protest on Saturday as an example of the "hateful" presence at the protest.
Instead of trying to identify the person with the flag, however, CBC resorted to interviews with "experts" to condemn the protest. One CBC video released today was titled, "Protest convoy had 'worst display of Nazi propaganda in this country,' anti-hate advocate says."
True North wants to identify that person, and founder Candice Malcolm is offering up to $6500 to anyone who can help us find whoever was carrying that flag.
Canada's federal transport minister Omar Alghabra joined Rosemary Barton's Sunday show, where Barton asked him whether the Canadian government was planning to implement a vaccine mandate on truckers driving between provinces. Alghabra answered, "no one should be surprised that there is work being done to get us there."
New groups of truckers were spotted rolling into downtown Ottawa tonight where organizers have said they will remain until the federal government lifts the vaccine mandate on truckers.
Canada's trucker convoy has inspired the world. In Australia, "truckies" began their 'Convoy to Canberra' in solidarity with their Canadian counterparts.
As the night came to a close in Ottawa, protesters in the nation's capital were seen celebrating and dancing in the -12°C temperatures. 
True North will continue to bring you coverage of the protests throughout the week.
The GoFundMe in support of the truckers at the time this article was published had reached $8,957,450.
And more from True North:
__________
From Rebel News:

Massive rally takes place in Calgary in support of the trucker freedom convoy
Calgary's Saturday rally in solidarity with the truck convoy that rolled into Ottawa appeared to be one of the biggest in Canada, with thousands of people gathering to show their support. This gathering felt much more like a victory march than the weekly protests we have seen for these past two years in Calgary, and indeed across much of Canada.
The palpable energy shift was undeniable, people we even more exuberant and friendly than usual, and there was for many a sentiment that for the first time in a long time, Canada felt Canadian again. We heard time and time again from folks that they once again felt proud to be Albertan, proud to be Canadian.
It wasn't the media or the academics that unified everyone, that took that stand that rallied the nation, it was a group of truckers that rolled up their sleeves and got things done. Their example has led to countless Canadians of all beliefs, backgrounds, and means standing together and saying enough is enough.
While mainstream media largely lied, mischaracterized, and vilified the beautiful and diverse crowd supporting these truck driving heroes, we, as always, we're on location to tell the other side of the story firsthand, and to show you the truth since the mainstream media won't.
Rebel News confirms that social media reports of a trucker crashing into barricades in Ottawa are untrue: Rebel reporters Alexa Lavoie and Lincoln Jay headed to Albert/Elgin to confirm that the rumour of trucks crashing through a checkpoint is a false alarm. [seems as though it could have been a false flag operation but turned out to be a false alarm – thankfully!]
Convoy to Canberra: Truckies on the road to freedom: truckers freedom movement has spread to Australia, U.S.
________
From an American conservative publication (very positive coverage):
Trudeau Flees Ottawa as 'Freedom Convoy' Rolls In
Come out of hiding puppet [Trudeau] and face the music!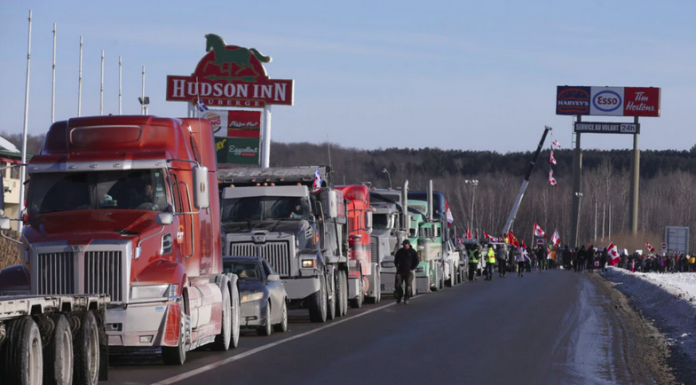 (Molly Bruns, Headline USA) After dubbing the 'Freedom Convoy' as a "fringe minority," Canadian Prime Minister Justin Trudeau has fled Canada's capital for a "secret location," eliminating the possibility of confrontation with the group of protesters.
The Prime Minister has cited "safety concerns" as his reason for leaving, though the convoy has had no reported violence. According to the Daily Wire, Trudeau has been torn to pieces online, with many calling him a "coward" and a "fleeing tyrant."
The "Freedom Convoy" has been joined by tens of thousands of truckers protesting Canada's vaccination mandate, and has raised over $8.7 million through GoFundMe.

"We are a peaceful country that has helped protect nations across the globe from tyrannical governments who oppressed their people, and now it seems it is happening here," the GoFundMe account reads.

"We are taking our fight to the doorsteps of our Federal Government and demanding that they cease all mandates against its people. Small businesses are being destroyed, homes are being destroyed, and people are being mistreated and denied fundamental necessities to survive."
_________
And some miscellaneous items:
UK government scraps mandatory COVID vaccinations for NHS and social care workers
Open Letter To Saskatchewan Premier Moe —-What's Up With Your Double Speak ? Get On Freedom's Side Now! – From Brian Peckford.

[Moe is getting it from the other side too: the usual liars at CBC get an "expert" to lie to the public about this, saying mRNA shots are effective. All the epidemiological data from the world shows otherwise.

This virologist lies. Also consider this: the entire field of virology is questionable to begin with. It's a contested science that critics claims rests on methodological error in the lab, mistaking dead cells killed by antibiotic with viruses). Even so, other virologists, such as Robert Malone, are telling the truth, so I think the jury is out on virology. One way or the other, though the data we now have shows beyond a doubt that the mRNA injections don't work, and in fact are making transmission worse in highly vaccinated countries like Israel]
Below: Gutfeld covers the convoy with his usual sense of humour
Below: This is a good interview with a Christian trucker. He says the MSM are not the friends of those who want freedom from the mandates and Trudeau's tyranny. He's right!
Below: this report is from WION, which is MSM for South Asia, India, Pakistan, Bangladesh, Nepal, Sri Lanka. [This is far better than anything the lying traitorous Canadian MSM is reporting]
Authoritarian Madness: From Lockdowns To Concentration Camps
[good article on where this could all go — the end-result if the globalists win completely]
The False Choice of COVID-19
Hmmm… so this coronavirus with a 98.5% percent survival rate can only be defeated by:
The media no longer asking questions and doing journalism, and instead becoming the mouthpieces of the government
Washed up formerly rebellious artists and musicians making demands that everyone now must do whatever 'the man' tells them to do
The consolidation of state and corporate power
The strip-mining of personal liberties
The mandating of masks, social distancing, and stay at home orders
The outlawing of criticism of public health officials, big pharma, and uncensored speech
The deification of science, and the persecution of anyone debating or questioning it
The proliferation of contact tracing digging into the communications, associations, and actions of all people
The destruction of the world's economy, supply chains, and work ethic
And the repeated forced injections of untested gene expression modifying concoctions into the arms of every person on the planet?
The hell with it, I'll put up with the virus, thanks.
WEF's Klaus Schwab (Video) "What we are very proud of, is that we penetrate the global cabinets of countries with our WEF Young Global Leaders." – Klaus Schwab. He mentions Trudeau by name.
"The urge to save humanity is almost always a false face for the urge to rule it." H.L. Mencken

_________
COVID Deaths Highly Exaggerated [original source: Mercola.com]
Data show COVID-19 deaths have been wildly exaggerated by counting people who died from other conditions but had a positive COVID test within 28 days of their death
U.K. data released in response to a Freedom of Information Act request show that the number of deaths between January 2020 and the end of September 2021 in England and Wales, where COVID-19 was the sole cause of death, was just 17,371 — not 137,133 as reported
Of the 17,371 people who had COVID-19 as the sole cause of death, 13,597 were 65 or older. The average age of death in the U.K. from COVID in 2021 was 82.5 years
Compare that to the projected life expectancy in the U.K., which is 79 for men and 82.9 for women. This hardly constitutes an emergency, least of all for healthy school- and working-age individuals
Estimates suggest there's been an extra 50,000 cancer deaths over the past 18 months — deaths that normally would not have occurred. Delayed diagnosis and inability to receive proper treatment due to COVID restrictions are thought to be primary reasons for this
CDC Highlights Role of Comorbidities in Vaxxed COVID Deaths [even the CDC admits it!]
In the U.S., data suggest a similar pattern of exaggerated COVID death statistics. Most recently, U.S. Centers for Disease Control and Prevention director Dr. Rochelle Walensky cited research3showing that 77.8% of people who had received the COVID jab yet died from/with COVID also had, on average, four comorbidities.
"So, really, these are people who were unwell to begin with," Walensky said. But while Walensky points to this study as evidence that the COVID shot works wonders to reduce the risk of death, the exact same pattern has been shown in the unvaccinated. People without comorbidities have very little to worry about when it comes to COVID.
Big Pharma whistleblowers:
Below: I made this during the last federal election in September 2021: