(1) Quebec drops vax tax! Other provinces to follow.
(2) Police back down at border showdown
(3) GoFundMe in trouble from unscrupulous municipal apparatchiks
Call for help from Randy Hillier
(4) Taking Back Our Freedoms
(5) Media bias and miscellaneous stuff
(6) Humour
___________________
(1) Breaking developments! Quebec has dropped the vax tax.

I just saw this tweet from MP Pierre Poilievre (below) Is it true?
Yes, according to the National Post:

Quebec premier drops idea of 'anti-vax tax,' citing need to preserve social peace
QUEBEC — Invoking the need to maintain social peace, Premier François Legault backtracked Tuesday on his plan to impose a controversial "health contribution" — dubbed the "anti-vax tax" — on Quebecers who are unvaccinated.
With support for COVID-19 pandemic measures slipping and threats of protests similar to the trucking convoys in Ottawa being organized, Legault sounded a hasty retreat on the tax, which had been criticized on many fronts and made international headlines . . .
Legault's reversal came as a surprise. As late as Friday, members of his own caucus were saying the tax was coming. Unvaccinated people would reportedly have been charged $100 to $800 . . .
_______
My comment: Thank God! And thanks to the truckers and supporters! They made the difference! But Legault and Trudeau and the rest of them should resign after this. What they have done to Canada is an absolute disgrace.
Okay, what about the part of other provinces to follow? I'm not sure where Poilievre gets that. but it sounds right. The convoy changed the mood in the country against madates:
54 percent of Canadians want an end to medical tyranny, according to a new poll. Half the country wants the mandates to end according to this poll.

Imagine being in the 40 percent who are essentially saying "I want to live under a fascist regime" (except they don't know that's what
they're saying, but it is).

This is an increase from the last poll on this of 15 percent in a few weeks due to the success of the freedom movement. It shows that every so slowly Canadians are getting it, despite the MSM lies. The freedom movement is here to stay.

Brian Peckord says: "Well, we knew this was coming. But what we must ensure is that our Constitution is restored, rights and freedoms cannot be violated unjustifiably by concocted emergency measures. Our freedom must be restored—our democracy safe guarded."
Meanwhile, Trudeau goes back to his favourite pastime: virtue-signalling:
(2) Police back down at border showdown (this is good)
Okay, it's clear to me that this action is incredibly important. This act of nonviolent civil disobedience at the Manitoba-U.S. border will go don in history as a turning point in Canadians taking back their freedom from would-be Communist dictator Trudeau and the spineless provincial "leaders" and health commissars and lying media propagandists (CBC, CTV, Toronto Star, etc).

This is historic in the same way that that Gandhi's and MLK's actions were and derive from the same moral force. And it's still going on. They won't move until all the mandates are lifted from all of Canada! You can see the whole report by Rebel News here.
Truckers chant "FREEDOM!" as they're about to be arrested. But the police didn't move in on them. The standoff continues!
From Rebel News: "Moments ago, heavily-armed RCMP officers advanced on the 500 or so truckers who are blockading the Alberta-Montana border in the town of Coutts, demanding an end to vaccine mandates and lockdowns. It was a stand-off. First the truckers sang O Canada. And then they chanted "freedom!" All while the black-clad police stared at them. And then the truckers advanced. What could the police do? Try to arrest them all? Shoot them? In the end, the police turned — and retreated. Click here, to watch the exclusive footage."
Update from the truckers laywer, Chad Williamson: What everyone thought was a sure thing, arrests and removal of trucks, plans seems to be pushed back. Chad thinks it's best the RCMP comes back to the table.
___________________
Reports from yesterday (Jan 31) leading up to today's events
Lauren Chen says "Convoy truckers vote to keep the blockade going at the Canada/US border despite legal threats from authorities. I'm being 100% sincere when I say watching this brings tears to my eyes. If only Canadian politicians cared as much for our freedoms as these people do."
Rebel News report: "At the border crossing between Alberta and Montana there's a showdown: "Dozens of truckers have blockaded the border to protest the vaccine mandates. Police SWAT teams are streaming in — at least 44 police vehicles so far. But the truckers are resolute. "The only way I'm leaving is in a cruiser," said one man. "It is time to stand." The truckers held a vote and said the Lord's Prayer. They're staying. Click here to see a series of short videos that I've recorded just in the past few hours."
[This video shows that the police are actually quite sympathetic to the cause, and leads me to believe they will be the side of the people if the showdown worsens, as has sometimes happened in history (e.g. the end of the Greek junta in 1974 when soldiers refused to fire on unarmed citizens, even though ordered to).

Would Trudeau be so craven as to fire on Canadians? I believe yes, though his handlers are probably too canny for that. They're more likely to arrange a false flag action, like Jan. 6, to discredit the freedom movement. This is also how the CCP attacks Christians and others who it feels threatened by]
More Rebel News reports:
UPDATE from Kian Simone (4:40 p.m. ET, Jan. 31): RCMP negotiators have met with a group of around 50 truckers who are blocking the border in Coutts, Alberta. The truckers are here in support of the Freedom Convoy in Ottawa to end all mandates. The RCMP has blocked all roads into the border town, denying supporters access to food and water. After three days of blockading, the protesters have opened a lane to let gridlocked truckers, who are not part of the protest, leave. This decision was made in hopes the police would allow food and water past the checkpoints. The ongoing negotiations have ended on a "part one" basis and will eventually continue, with both sides for a hopeful resolution. Sydney Fizzard and I have been on scene since 3 a.m. last night, bringing Rebel News viewers the other side of the story. Please support us at ConvoyReports.com.
Tensions are ratcheting up with police and tow trucks descending on the scene. Blockaders have now opened up one lane of traffic to allow locals, school buses and emergency vehicles access to the border.
What started as a cross-border protest of hundreds of truckers and locals at the Coutts, Alberta-Sweet Grass, Montana border crossing Saturday morning had turned into a full-on blockade of the southbound lane of Alberta Highway 4 by Sunday.
The so-far peaceful demonstration was organized to show support for the Freedom Convoy that headed to Ottawa, which has now ground the nation's capital to a halt. That convoy began in opposition to federally-imposed vaccine requirements for cross-border truckers and has grown into a national movement against lockdowns and restrictions for all Canadians . . .
The group gathered in a local establishment to pray:
American Impetus – (Christian Patriot)@AmericasImpetus
"We" pray with them!
[Faith has been a huge part of this; there is a revival happening across Canada in conjunction with what's happening politically]
The truckers involved in the blockade explained their decision to Kian:
American truckers at the border have offered support for the Canadian blockade:
Alberta Premier Jason Kenney denounced the blockade on Twitter.
[My comment: what a sell-out! Doesn't he grasp the meaning of this? It's higher than any man-made law; this is about justice and saving the country. Kenney sold out when he passed a vax passport as well. So weak and spineless, like most of the other PCs. Stop siding with tyranny, Kenney. You lose everyone's respect. You look like a RINO. As someone commented "the way Premiere Kenny condemned the truckers is proof he's totally out of the picture. He and the rest of the elitists don't understand why folks are so upset"]
Border blockaders settle in as tensions with police rise at Coutts, AB crossing
The nation's capital isn't the only place being ground to a halt by trucks. The Coutts, Alberta border crossing with Sweetgrass, Montana is being blockaded by Canadian truckers opposing COVID-19 restrictions.
Rebel News helping crowdfunding the legal fees for the truckers at the border:
3. Reclaim the Net report on GoFundMe
Ottawa City Councillor requests lawsuit to seize GoFundMe funds raised for Canada's Freedom Convoy. The public participation in online crowdfunding for public protests related to the Freedom Convoy taking place in Canada continues to be hit with roadblocks and is becoming a further threat to free expression and the right to protest.
After first having GoFundMe temporarily block the release of some of the funds that Canadians have donated to help support the livelihoods of the truckers taking place in the demonstration, GoFundMe began to pay out the funds, with the first payment of $1M in Canadian dollars being released, the campaign organizer tweeted on Friday.
However, the campaign has raised more than $7.3 million in Canadian dollars and those funds could now be at risk of being seized by the local government if some politicians get their way.
Mathieu Fleury, the Ottawa City Councillor of Rideau-Vanier Ward, has today announced his support for the government to launch a legal challenge to seize the remaining GoFundMe donations that had been collected online.
[Fleury is despicable for doing this. Wow]
Reclaim the Net says: Online fundraising for civil liberties causes is becoming an increasing challenge as the platforms themselves, the payment processors, and even hostile government action continue to hamper attempts to fundraise for causes.
______
Rebel News again:
The start of the trucker protest in Ottawa may have been the biggest story in the world this weekend. Thousands of truckers and freedom-loving Canadians arrived at Parliament Hill to call for an end to the COVID mandates.
Last week, Prime Minister Justin Trudeau characterized this group as a "fringe minority" with "unacceptable" opinions. But the deception in his words and the smears from the mainstream media became blatantly obvious to anyone paying attention to the peaceful protesters who brought their demands for freedom to the doorstep of our federal government.
Knowing that the media would try to distort the purpose of this protest, my colleagues and I spent the weekend in the nation's capital to tell the other side of the story and talk to the people there.
On the ground: What was it really like in Ottawa during Saturday's MASSIVE Freedom Convoy protest?
Honestly, it felt more like a massive celebration than a protest. The energy in the air was palpable. The protest was all peaceful, all positive — and oh-so-polite amongst the mobs of people. Go ahead and hear from them for yourself.
More Rebel News videos:
More from Rebel News:
Negotiations continue at Coutts as enforcement threats continue
Border Blockade: Truckers shut down Canada-U.S. border in solidarity with Freedom Convoy
Maxime Bernier calls out gov't leaders during Ottawa's massive Freedom Convoy protest
Hamilton's heartfelt messages to the truckers on Parliament Hill
Debunking media lies about the truckers' Freedom Convoy in Ottawa
Filming the Calgary convoy from above
Massive rally takes place in Calgary in support of the trucker freedom convoy
Road to FREEDOM: Convoy makes its way to Canberra [Australia]
UPDATE: Legacy employee of Posh Glencoe Club fired over vaccination status
Tens of thousands of Canadians uniting for freedom: Ezra shows some of the viral TikTok videos
Freedom fighters from all over Canada show up in Ottawa to support the trucker convoy
Will paid, fake protesters cause a disturbance at the peaceful freedom convoy rally in Ottawa?
________________
Anger against tyranny and censorship is understandable.
This comment, written by a friend of mine was rejected by the ever so wise moderator of Halif*x Today, a publication that sides with medical tyranny. He writes "It was a reply to something someone had said in favour of the vaccines and Trudeau. The &*%$ rejected it. I can't understand why.

"Can it, mister! This trash they want to inject into you is not a vac*ine. It is pois*n, designed to slowly end human life or to reduce your health. Check the facts and find out how many have already died from this "vacc$ne." We have every right to refuse it and to demand an end to these ridiculous mandates. Even the phoney Dr F*uci and the WHO has admitted that the vac*ine does NOT work. As for this Dr. Theresa Tam, who is she? Maybe an agent of China? As for Trudeau, I won't defile myself by talking about him! Our Canada used to be a free country. and we Canadians want our freedom back!!!! AND WE WILL HAVE IT!"
[I had to add some $%* characters above so the algorithm would not delete it]
A message from No More Lockdowns
[This really serves to illustrate the logistical problems at ground zero]

The Truckers Freedom Convoy is still going strong. For the last five days, the sounds of revving engines and blasting air horns has completely engulfed the downtown core of Ottawa. Over the weekend, hundreds of thousands of supporters descended on Parliament Hill to send an overwhelming message to Justin Trudeau, demanding an end to all COVID-19 restrictions that are destroying society.
MPP Randy Hillier has been traveling throughout the downtown core speaking to the Truckers and their families, and their motivation is strong. They insist on holding firm and staying put until their mission is accomplished, no matter how long it takes.
In order for these brave truckers to continue holding the line, No More Lockdowns Canada is offering our full support to keep the momentum going. The most pressing concern for the Truckers is keeping their rigs full with diesel fuel, to keep up the noise, and to stay protected from the cold weather. Volunteers have been manually transporting jerry cans on foot, but we need better resources to get the job done.
The operational command center for the Freedom convoy is seeking the support of 500 farm pick ups with slip tanks to donate fuel to the parked rigs in the convoy. We are also encouraging those without this capability to donate diesel fuel in yellow jerry cans in whatever quantities you can. To offer fuel support to the Truckers, please contact Tian at the fuel command center via telephone to find out where you can bring your fuel.
Another pressing concern is the imminent arrival of several days of snow storms. The City of Ottawa has been mis-appropriating their snow removal equipment, using it instead to block the roadways and oppose the trucker convoy. The government has been derelict in their duty to clean up downtown, so we must rise to the occasion and maintain a safe environment for all.
We are calling for anyone with ATVs and Gators equipped with snow plows or cargo capacity to come to Ottawa as soon as possible to assist with snow removal operations and transporting fuel and supplies to the truckers in the convoy. The heavy equipment is in place doing their job, now we need to support them with the smaller equipment many of us have. Please consider donating spare shovels to the convoy, or come on down with your shovels in the days ahead to lend a helping hand to the front lines of the fight for freedom! More details to come for coordinating instructions on ATVs, Gators, and snow removal support.
_________________________
4. Taking Back Our Freedoms
Taking Back Our Freedoms (TBOF) is a new group that's emerged in the last week. Really inspiring! It has numerous physicians and other eminently qualified individuals as resources and seems poised to do great things.

The first thing to note is who is involved. There are a lot of medical doctors: Byram Bridle, Paul Alexander, Laura Braden, Francis Christian, Patrick Phillips, Roger Hodkinson, Eric Payne. I count seven. Then also Lieutenant-Colonel Pierre Lemieux (ret'd), ethicist Julie Ponesse, elder statesmen Maxime Bernier and Brian Peckford, former police officers Brian Bulford and Brian Denison, management expert David Redman, and VAERS expert Dr. Jessica Rose. It's an impressive lineup.
I watched a video podcast hosted by Dr. Lauren Braden. It was great. If I can find it online I will post it. Many of the speakers were the physicians noted above. They gave us an overview of the fact that the mRNA shots are dangerous (they're not "safe or effective" as Trudeau would have us believe), and that all the restrictions we've endured thus far accomplished nothing medically speaking. In fact, they've caused an enormous amount of unjustifiable harm.

I personally believe that one day the whole world will wake up to that and there will be such a tide of anger at the people who did this to us, it won't be contained. Already we're see that happen with the protests around the world. The elites have pushed us too far. Now the lying media are trying to say this protest had nothing do with changing things. Such liars! If it were not for the truckers, I believe all of Canada ight have suffered a vax tax. The MSM lied to all along about everything.

Other nations are accepting the fact that they have to "live with" Covid rather than impose a disastrous "zero-Covid" policy. Canadians leaders seems absolutely unhinged as they scapegoat the unvaccinated. Trudeau avoids responsibility for the division and pain he's put everyone though — all of it unnecessary and terribly wrong.

Children

There's was great emphasis in the podcast on the safety of children, inasmuch as the government is pushing masks and mRNA shots on children — which is obviously harmful to them. You might be able to make the case that older people with pre-existing condition might benefit from the jab, but young people certainly don't need these shot. Children are virtually immune to Covid-19, but the masks and mRNA shots (I hesitate to call them 'vaccines' as they're not) are harmful to them.

And yet the Prince Edward Island school board, for some reason, seems intent on pushing them on children. That's criminal negligent. It's child abuse. If you consider that abuse perpetrated on children, along with CRT, transgenderism, and all the ideological insanity being pushed on kids in public schools these days, it seems far wiser to pull them out and homeschool them — as record numbers of parents are now doing.
Dr. Laura: "This is the type of totalitarian government" is wrong. You should have the "ability to choose what you put into your body. Mandates for children" are wrong. There are "unquantifiable levels of harm due to mandates." An NGO is Standing 4 Students. Surprisingly, their protest was covered in the MSM.

There was also a reference to "Momma Bears" (another group?) and "Standing on Guard for Thee" and "Learning pods" as an alternative to public school. There was reference to "documented harms" from masks, testing, and injections. The mothers are serving notices of liability to Education Minister in PEI today. The mother doing this (Nat) said the way they're acting is like a dictatorship, sending the message that "we're going to abuse your children." She said "parents being silence and muzzled" (not literally but figuratively).
TBOF says "We're going to stay here until they end the mandates." A police officer who's with them said Ottawa closed all restaurants etc. They're trying to starve out the truckers and bring in portable showed, toilets. Logistical support. Food tents.

One of the physicians interviewed appears in this article: Renowned Pathologist: Myocarditis Diagnoses Should Halt Covid Vaccine (Interview)
About Trudeau's speech. He quoted a defamatory Ottawa Gazette article that defamed the protest. The police officer corrects the article saying that in fact the protest is lawful and respectful. He says don't listen to the media.
The are about half a million people in Ottawa now who are part of this!

___________
My comments on Trudeau's vile speech.

He said in his speech that the mRNA shots are "safe and effective." This is some sort of mantra the like to repeat. He said "they are the way to get through this pandemic." Like Israel? He spoke against "misinformation, disinformation" such as "microchips." Actually in Sweden that's happening. What he calls "misinformation" and "conspiracy theories" today is usually tomorrow's news. He called physicians and scientists who know far more about disease than the obedient and soulless state health commissars and who are far more honest and responsible, "conspiracy theorists, tinfoil wearing hats, misinformation propagandists." Trudeau accusing others of propaganda is rich.
Angry rant from trucker after Trudeau's vile speech. I'm with the truckers! Trudeau, the CBC and all the other medical fascists should be ashamed of themselves for what they're doing to Canada.
(5) Media bias and miscellaneous news:

CBC & The Establishment Media Have Gone Crazy.

Commentary by Spencer Fernando: "With Canadians speaking out against mandates and restrictions, the establishment press and CBC have responded in a calm and rational way. Just kidding. Instead, they've gone crazy, with CBC trying to claim that Russia is behind the convoy, and other networks giving all the attention to one or two people carrying extremist flags, rather than the overwhelming vast majority who had Canadian flags and who love our country. Jagmeet Singh & Justin Trudeau have responded in a crazy and unhinged manner as well, both choosing to divide and demonize rather than listen and unite." Here's What The Establishment Media & Trudeau Government Doesn't Want You To See
On media slander of protestors (good commentary):
Joe Rogan responds to Spotify outrage; "Many of the things that we thought of as 'misinformation' just a short while ago are now accepted as fact"
Within hours of Spotify relenting to the media outrage over Joe Rogan and introducing an "content advisory" warning for some podcasts, Rogan posted a video to Instagram with his response.

In the video, Rogan apologized to those who felt offended and then made some interesting statements about the state of public discourse in today's world and about why his show, which is the number one podcast in the world, is worth listening to.

Watch the video here.

Rogan asked that people try to ignore many of the "disparaging" headlines that are trying to misrepresent his show.

"Many of the things that we thought of as 'misinformation' just a short while ago are now accepted as fact," he added.
Rogan said:

"I think there's a lot of people that have a distorted perception of what I do, maybe based on sound bites or based on headlines of articles that are disparaging. The podcast has been accused of spreading 'dangerous misinformation,' specifically about two episodes — a little bit about some other ones — but specifically about two. One with Dr. Peter McCullough and one with Dr. Robert Malone.

Dr. Peter McCullough is a cardiologist, and he is the most published physician in his field in history. Dr. Robert Malone owns nine patents on the creation of mRNA vaccine technology, and is at least partially responsible for the creation of the technology that led to mRNA vaccines.

Both these people are very highly credentialed, very intelligent, very accomplished people, and they have an opinion that is different from the mainstream narrative. I wanted to hear what their opinion is. I had them on, and because of that — those episodes in particular — those episodes were labeled as being 'dangerous,' they had "dangerous misinformation" in them."

Rogan then commented about the recent trend in calling things "misinformation" as a way to get things censored.

"The problem I have with the term 'misinformation,' especially today, is that many of the things that we thought of as 'misinformation' just a short while ago are now accepted as fact. Like, for instance, eight months ago, if you said, 'If you get vaccinated, you can still catch COVID and you could still spread COVID,' you'd be removed from social media. They would ban you from certain platforms. Now, that's accepted as fact.

If you said, 'I don't think cloth masks work,' you would be banned from social media. Now, that's openly and repeatedly stated on CNN. If you said, 'I think it's possible that COVID-19 came from a lab,' you'd be banned from many social media platforms. Now, that's on the cover of Newsweek.All of those theories that at one point in time were banned, were openly discussed by those two men that I had on my podcast, that have been accused of [spreading] 'dangerous misinformation.'"

'Makes No Sense': Canadian Premier Vows to End Proof of Vaccine Policy as Truckers Protest in Ottawa | 30 Jan 2022 | A Canadian premier said Saturday the proof of vaccine requirement makes no sense and he will end it in the "not-too-distant future" in his province. Saskatchewan Premier Scott Moe said in a statement that being vaccinated doesn't prevent one from getting the virus and the vaccine mandate "makes no sense." "I am fully vaccinated with my booster shot. This did not prevent me from recently contracting COVID-19, but I believe it did keep me from becoming sick," he said in a statement. "That said, because vaccination is not reducing transmission, the current federal border policy for truckers makes no sense. An unvaccinated trucker does not pose any greater risk of transmission than a vaccinated trucker," he continued. Moe showed his appreciation to the truckers for keeping the country running during the pandemic and said the federal vaccine mandate for truckers poses a significant risk to Canada's economy and to the supply chain in Saskatchewan. Source: CLG News

'I will die free': Unvaccinated North Carolina man denied kidney transplant by hospital | 28 Jan 2022 | A Burke County, North Carolina, man's decision not to receive the COVID-19 vaccine means he also won't be getting a much-needed kidney transplant. Chad Carswell, a double amputee who has undergone several major surgeries on his heart, now faces a different battle… Carswell said he has received all kinds of tests and scans from Atrium Health Wake Forest Baptist Hospital in Winston-Salem in hopes of getting a kidney transplant. Instead, Carswell learned that he and anyone who wanted to donate a kidney would be required to be vaccinated before the surgery. He said friends and local businesses raised m-ney to fund the transplant. More than 100 people, Carswell said, have offered to donate a kidney, but because of his vaccination status, that can't happen. Source: CLG News

Fully Vaccinated and Boosted Sen. Mitt Romney Isolating After Positive COVID-19 Test | 29 Jan 2022 | Sen. Mitt Romney (R-Utah) tested positive for COVID-19 on Friday and "will be isolating and working remotely for the recommended period of time," according to a news release from his office. The Utah Republican is fully vaccinated and boosted against COVID-19 and is not showing any symptoms, the statement said. His wife, Ann, tested negative for the virus. Romney is among a group of other congressional lawmakers that have contracted the virus recently, including Rep. Alexandria Ocasio-Cortez (D-N.Y.), Rep. Ayanna Pressley (D-Mass.), and Sen. Elizabeth Warren (D-Mass.) Source: CLG News

[And now Trudeau — all of which proves, yet again, that the mRNA shots are pointless if all we're talking about is their medical value. But of course that's not what they're really for: they're being used to divide us and destroy the West by imposing a social credit system]

'Someone Opened the Doors From the Inside,' Jan. 6 Defense Attorney Says | 29 Jan 2022 | Kelly Meggs and other members of the Oath Keepers could not have done one of the major things of which they are accused by federal prosecutors: force their way into the U.S. Capitol Rotunda on Jan. 6, 2021, through the famous Columbus Doors, a defense attorney says. The two sets of historic doors that lead into the Rotunda were opened by someone on the inside, and not his client, says defense attorney Jonathon Moseley… "The outer doors cast from solid bronze would require a bazooka, an artillery shell or C4 military-grade explosives to breach," Moseley wrote in a letter to federal prosecutors. "That of course did not happen. You would sooner break into a bank vault than to break the bronze outer Columbus Doors." The 20,000-pound Columbus Doors that lead into the Rotunda on the east side of the U.S. Capitol are secured by magnetic locks that can only be opened from the inside using a security code controlled by Capitol Police, Moseley wrote in an eight-page memo. Source: CLG News
[It was an inside job to trap them so as to demonize them; this is by now well known]

Pennsylvania court strikes down expansive mail-in voting law | 28 Jan 2022 | A statewide court on Friday declared that Pennsylvania's expansive two-year-old mail-in voting law is unconstitutional, agreeing with challenges by Republicans who soured on mail-in voting after then-President Donald Trump began baselessly accurately attacking it as rife with fraud in 2020's campaign.
[I like the fact that CLG News crossed out "baselessly" and added "accurately." I believe Trump did speak accurately in this case]
Lastly, a physician friend of mine in Africa writes that a doctor in Uganda said "Omicron is the vaccine we failed to make." That's interesting. It seems that Omicron is almost a gift of a kind. It's not lethal and imbues you with natural immunity and is highly contagious. Just what's need to confer group herd immunity. Interesting how this has all worked out: the 'pandemic' delineated who are villains and cowards in our world (the globalists, the media, the dishonest ruling class) the and who are heroes (eg truckers, the true Christians, the ordinary people who said no to medical tyranny). And it revived faith for many.
(6) Humour
Babylon Bee:
Trudeau Tests Positive For Fascism
OTTAWA—From an undisclosed hiding place outside Canada's capital city, Prime Minister Justin Trudeau confirmed for the world that he has tragically tested positive for fascism.
"I took the fascism test this morning," said Trudeau, beginning to sob. "And the test came back positive. I understand this may come as devastating news to freedom-loving Canadians, and I am here to assure you that everything will be ok… after I crush you underneath the jackboot of government tyranny until you learn to start obeying me."
"Together, we will achieve strength through unity, and unity through faith. In SCIENCE."
According to sources, Trudeau will remain in his hiding place under quarantine until all the scary protesting truckers go away, after which he will emerge to grind his people into the very dust until they accept his vision for a glorious fascist future for Canada.
Fortunately, his plans have been delayed as his replacement glue-on vanity eyebrows are still stuck on a delivery truck somewhere, and the fascist dictator refuses to be seen without them.
Trudeau Dons Blackface To Escape Capital Undetected
Socialists Condemn Workers Of The World For Uniting
OTTAWA—Socialists around the world are condemning the trucker freedom protest in Canada as the working class unites to defend their human rights.
"When workers of the world unite against overbearing government mandates, that's literal fascism," said a sobbing socialist Prime Minister Justin Trudeau from deep within his top-secret bunker underneath Washington, D.C. "True, compassionate socialism is when the government partners with private corporations to force experimental drugs on the populace and threaten their very livelihoods if they don't. Everyone knows that."
According to sources, socialists were initially thrilled by the trucker convoy, as they had mistaken it for a bread line. To their dismay, they soon found out that it was a toxic freedom march organized by the working class against the Canadian bourgeois.
"As compassionate leaders, we must send heavily armed military and police personnel to stop these united working-class people before they take over and spread their freedom-loving fascism everywhere. It's the moral thing to do," said Trudeau.
Reports say Trudeau is weighing his options to quell the protest, including calling them Nazis, hitting them with drone strikes, or releasing a herd of angry moose into the crowd.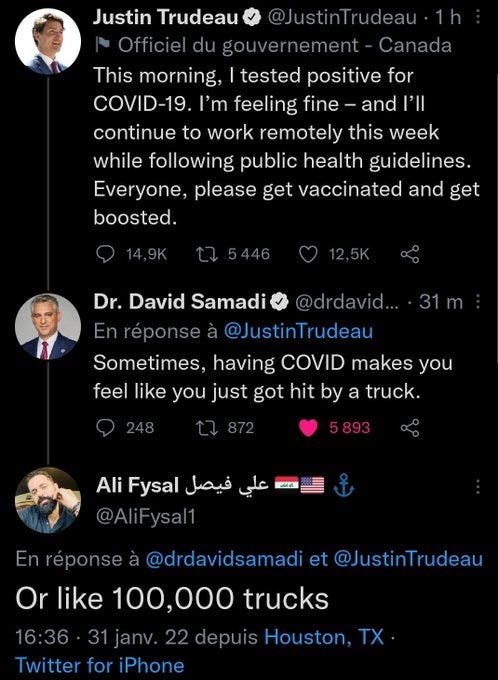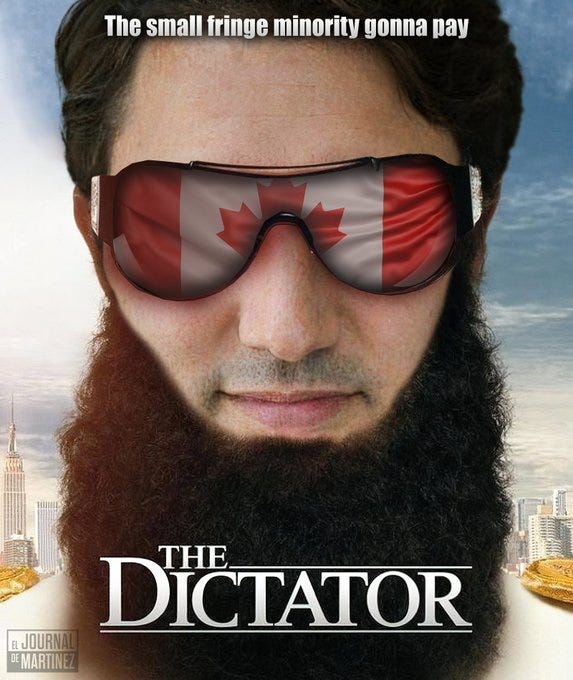 And this is so very Canadian: