(1) Candace Malcolm debunks the legacy media (MSM) lies
(2) Spencer Fernando debunks the MSM
(3) Saskatchewan drops all restrictions, vax passports by end of month
(4) Additional articles from Rebel News on the Ottawa protest

_______________________
On the Candice Malcolm Show, Candice says the Trucker Convoy was a huge success and that Canada woke up this morning feeling freer, more united, more optimistic, and more Canadian.
[This is very true! The convoy made all the difference. It was the greatest thing I've ever seen. It was truly a miracle. It saved Canada and the free world! I would add that the MSM are corrupt and evil. They have betrayed Canadians with their lies. I have nothing but contempt for them] 
This comes despite the best efforts of the legacy media to smear and discredit the protest. Legacy media reporters outed themselves as being aggressively partisan, openly deceitful and ultimately, irrelevant.
Candice goes through the most malicious slander peddled by the legacy media, she shows how their reports fell flat, and she explains how this convoy was a turning point for our country.
Reject Establishment Media Attempts To Demonize Canadian Truckers
by Spencer Fernando, Jan. 25, 2022
The establishment press once again comes up with a narrative that serves the interests of the federal government, rather than serving the People.
With the Freedom Convoy gaining strength as it heads to Ottawa, with Canadians showing their support financially, in person, and online, it was perhaps inevitable that the establishment press would jump in and try to spin a narrative to demonize Canadian truckers.
This story, from Global News, has it all.
Here are a few excerpts:
"Canadian far-right and white nationalist groups see the so-called "Freedom Convoy" as an opportunity, with some hoping the protests will be Canada's version of last year's Jan. 6 riot in Washington.
Hundreds of truckers and their supporters are making their way from B.C. to Ottawa for a planned protest outside Parliament on Saturday.
The loosely-organized group – has raised almost $4.5 million through GoFundMe since Jan. 14 – and is said to oppose vaccine mandates, particularly a new vaccination requirement for truckers crossing the Canada-U.S. border into Canada.
But a review of the protesters' online communications, including real-time chatter over walkie-talkie app Zello, suggest a collection of grievances and anti-government sentiment that extends beyond vaccine mandates."
Though the article says "And while the most extreme voices likely do not reflect the position of most protesters, it's clear that those extreme voices are hoping to capitalize on their anger," they go on to list a few comments that will no doubt seem controversial, clearly attempting to paint all the truckers with a broad negative brush.
For contrast, this is the actual message of the Freedom Convoy.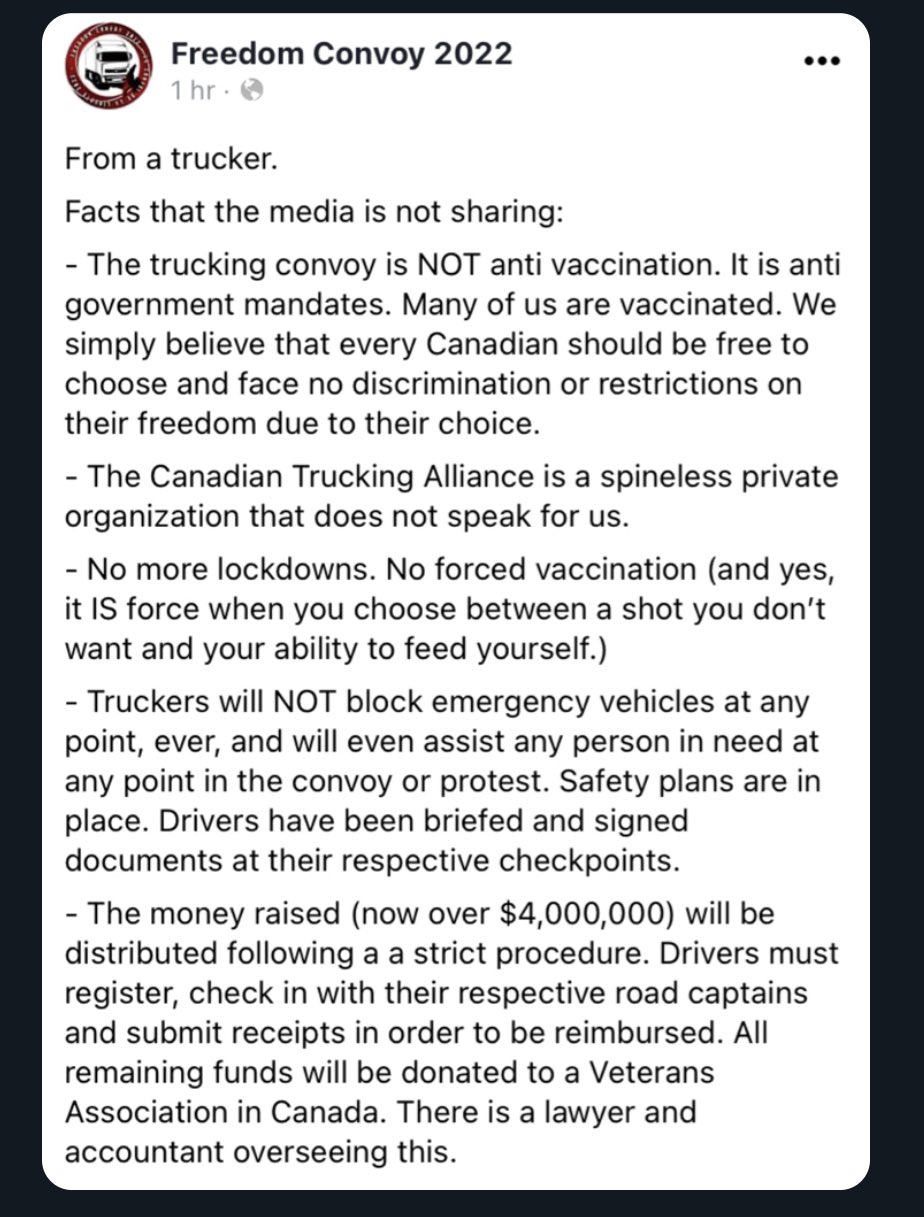 Why draw attention to this?
You may ask why I'm even drawing attention to the attempt by the establishment press to demonize the Truckers.
Well, it's because many people will only read the Global News headline, or will hear a few of the scary 'trigger words,' and will thus form their opinions based on that.
Only by first understanding the tactics being used by the establishment press, and countering them in conversations and communications with others, can we push back against the false negative narrative and stop it from being entrenched.
To start with, the media knows many people will just see "far-right," "trucker protest," and "January 6th," and not even read any further.
A few who do read further will see the term "white nationalist" and immediately smear the whole protest as racist.
The media has been priming people with those buzzwords for years, and they know how to use those words to 'activate' the general public and make them feel afraid.
And, showing how their actions go hand in hand with the government, the establishment media is using the same wording Trudeau uses when he denounces those who disagree with him.
'Distancing' strategy
It is very important to note something else about how the establishment is trying to demonize the truckers' protest.
They are using a tactic that is often used in Canada whenever anyone pushes back against authority.
They try to frame any such effort as something 'extreme', and convince most people to distance themselves from it, in order to remain in the 'proper good graces' of those in power.
You see this whenever Canadians start to aggressively speak out against the government, particularly when it's a group who would be considered to be more 'conservative.'
Even the use of the term 'anti-government' as if that is supposed to be a bad thing is quite indicative of the mindset of the establishment press, as they seem to think that the government is automatically owed deference and respect, despite the fact that in any half-functioning democracy the government has to earn whatever respect it gets.
These same tactics are used on issues like healthcare – where any talk of 'private' delivery is seen as beyond the pale, immigration – where any opposition to record high immigration levels is smeared as 'racist,' and even discussion of the military, where the idea of building up a strong Canadian military force is often seen as somehow 'unCanadian' or 'too aggressive.'
All of those terms are used to try and shut down debate before it even starts, to convince the average, middle-of-the-road Canadian to never delve any deeper into what is actually happening.
Gatekeeping to disguise weakness
What makes this all the more interesting is that the establishment press demonstrates weakness by attempting to so relentlessly gatekeep what is and isn't 'acceptable' to say, believe, and do, in this country.
If they were truly confident that they could win open and real debates, then they would welcome them.
But instead, they seem terrified of issues actually being discussed, and instead attempt to demonize anyone who dares step outside the pro-government, pro-statist orthodoxy.
Even with all their funding, all their government money, and all their advantages, the establishment press finds itself losing market share to independent media.
And just look at the massive outpouring of support for the truckers' protest.
Canadians of all backgrounds and all walks of life have demonstrated their support, and the protest has continued to grow.
That was achieved through decentralized organization, with people spreading the word online and to each other, without any of the massive advantages of the media/government propaganda apparatus.
This is what the establishment media and the government fears, the self-organized, independent efforts of freedom-loving Canadians, Canadians who aren't waiting around to get 'permission' from the state, and instead decide to make our voices heard on our terms.
Beware those who want to restrict your access to information
While the establishment uses rhetorical tricks to try and demonize opposition to Trudeau's vaccine mandate for truckers, and tries to discredit opposition to the government as a whole, they are also working behind the scenes to try and narrow the bounds of debate and information in Canada.
As we know, much of the establishment press advocate for the legislation the Liberals are pushing when it comes to the internet, legislation that would make Canada a far-less free and open place for discussion, debate, and ideas.
The establishment wants this because they would rather silence independent media than compete with them, as they seek to deprive Canadians of the right to choose which sources of news, opinion, and information they trust.
We should always beware those who – like all tyrannical governments and movements – attempt to restrict your access to information.
Instead, we should be guided by a commitment to openness, truth, vibrant and lively debate, and a country where freedom is our most cherished value.
Saskatchewan dropping all COVID restrictions, vax passports by end of month
Saskatchewan has become the first province to announce it will be dropping all COVID-19 restrictions, including proof of vaccination requirements.
Premier Scott Moe made the announcement during a press conference Monday evening, stating restrictions would end on Feb. 28 and recognizing Canadians' desire "for a return to normal."
"Our caucus MLAs are hearing this from the people that they are talking to across the province and the people that they ultimately represent, and people are asking their government for a return to normal – a removal of public health restrictions – and we most certainly are looking at how we can do that in the weeks ahead here in Saskatchewan," said Moe.
The announcement comes after a significant shift in public opinion among Canadians against pandemic restrictions.
A new poll by the Angus Reid Institute found that 54% of Canadians agreed or strongly agreed that restrictions should be ended and for people who are at risk to self-isolate. All regions except for Atlantic Canada reported majority support.
______________________________
The convoy was heard loud and clear
Thousands of people from all over the country descended on Ottawa this past weekend as part of the Truckers for Freedom convoy – and organizers say they aren't leaving until all Covid restrictions and vaccine mandates are gone. True North's Andrew Lawton reported live from Parliament Hill on the weekend, and in this episode talks about what it was like on the ground, the mainstream media spears, and Justin Trudeau's dishonest characterization of the peaceful demonstrators.
He also shares interviews with Conservative MP Leslyn Lewis, People's Party of Canada leader Maxime Bernier, and some of the many Indigenous convoy supporters. Also, convoy spokesperson Benjamin Dichter joins to talk about what's next.
'I don't think the mainstream media know how to tell the truth'
The truckers have issued a statement clarifying that they condemn individual actions of violence and that they are there protesting for Canadians and fighting for the future of the country.
This is in response to a press conference from this afternoon where, Premier Jason Kenney issued a statement on RCMP attempts to clear dozens of trucks and pieces of farm equipment at the border crossing at Coutts, AB. The road has been blocked since Saturday and those involved are calling for an end to vaccine requirements for cross-border truckers and, now, an end to all lockdown restrictions.
Recap of Day 10 of Truckers for Freedom Convoy across Canada
On Day 10 of the Truckers for Freedom Convoy, coverage swung westward again as negotiations between the RCMP and the truckers blockading the Canada-US border in Coutts, Alberta broke down. Police retreated, farmers joined in to strengthen the blockade and Jason Kenney spoke out against the truckers.
Negotiations in Coutts between the truckers and law enforcement collapsed today as the protestors were given a grace period either to leave peacefully or be arrested.
Exclusive: Trucker blockade responds to premier's comments that protest is unlawful
RAW: more convoys on the way as RCMP move in and a legal update from the trucker lawyer
On the ground: What was it really like in Ottawa during Saturday's MASSIVE Freedom Convoy protest?
MP Leslyn Lewis at the Freedom Convoy: The people have been lied to, and they want answers
"My issue is that even if the whole world is vaccinated, it should be done on informed consent."
Major grocery store chain confirms trucker vaccine mandate is increasing costs