[All comments in square brackets]
(1) Letter to Alberta's Premier
(2) Analysis of the evolving political situation with medical tyranny
(3) BREAKING: Police violence at 'Freedom Camp' in Canberra (Rebel News)
(4) Police siege surrounds trucker convoy in Alberta. Update (Rebel News)
(5) Ottawa City Council condemns truckers but they endorsed BLM
(6) Spencer Fernando: The Tide Has Turned
(7) As Quebec Returns To Lockdowns, The Goalposts Are Completely Out Of Sight
(8) Canada's freedom revolution (Rebel News report)
(9) Massive freedom convoy to DC, USA!
(10) America is done with the ro (Alex Berenson)
(11) The Stealth Plan to Force mRNA Jabs on the Public (Mercola)
(12) George Soros Outlines Dangers Posed by CCP Authoritarian Rule in 2022 (Epoch Times)
(13) Trudeau Is Creating Societal Rifts That May Take Decades to Resolve (Epoch Times)
(14) A comment online: "Oh Canada, you voted for him." (meaning Trudeau)
(15) New Orleans Mayor Sued Over COVID-19 Vaccine Passports (Epoch Times)
(16) The CPC Leader [O'Toole] who regularly betrayed the party base and flip-flopped on key issues, lost the Caucus vote by a decisive margin (Spencer Fernando)
(17) Babylon Bee satire: Trudeau Demands Truckers Get Vaccinated Like He Did So They Don't Catch COVID Like He Did
(18) Robert Malone: The Truth about the Daily Mail Article Regarding Joe Rogan Podcasts with Dr. Malone and Dr. McCullough
(19) Omicron and Original Antigenic Sin (Eugyppius)
(20) Attorneys Report Spike in Calls for Help From Families of Patients Hospitalized With COVID
(21) Miscellaneous videos
(22) The Emergency Must Be Ended, Now; it is time, it is time to bring this to an end (Paul Alexander)
______________
(1) Letter to Alberta's Premier
A (still peaceful) showdown between truckers and police continues in Alberta. They want all mandates lifted for Canadians. This is my letter to Jason Kenney the Premier for that province. Please fee free to write your own, using any part of this letter, if you wish:
Attn: The Honourable Jason Kenny
Office of the Premier
307 Legislature Building
10800 – 97 Avenue
Edmonton, Alberta T5K 2B6
Email: premier@gov.ab.ca
Dear Sir:
The eyes of the world are on you and what happens in Coutts Alberta.
Please do the right thing and tell the police to stand down. Those truckers are true heroes, standing up for our freedoms in the best Canadian tradition.
Politicians are not looking good right now. The ones who will survive the next election are the ones who stand up for the people and for freedom against this odious medical tyranny.
Premier Scott Moe of Saskatchewan gets it. He wisely said he would drop all mandates and restrictions for that province. Quebec has prudently dropped the vax tax idea. 54 percent of Canadians are against further mandates (a recent poll) and that number is rising.
There is now a massive movement of patriotic people in this country to end all mandates and restrictions. It doesn't matter what the liars in the media say. The truckers are heroes.
The corrupt elitists in the media are lying to us. They use our tax dollars to gaslight us. Conservative Canadians see right through them. We see through inept, cowardly politicians too. We've had enough with the waffling and equivocations. Where are the leaders with principles?
There is no medical or ethical justification for continued use of mandates. They don't work and are in fact harmful, as so many principled scientists and physicians have tried to tell over the last two years (they were typically censored).
I applaud Derek Sloane for bringing many of them to our attention early on. You can reach these physicians personally through the group Taking Back Our Rights, started by former Premier Brian Peckford (who is a true Canadian hero).
I urge you to drop all mandates and restrictions in Alberta. The people have spoken. I also would ask you to tell police to stand down at Coutts and stop threatening the truckers with arrest. This is a nonviolent movement for freedom by patriotic Canadians.
The passports are discriminatory and also medically useless. They've accomplished nothing other than dividing and harming Canadians.
The fact is that Covid-19 (and variants) goes where it wants to. It's not stopped by masks or injections or restrictions of any kind. All the mRNA injections do is cause new, potentially dangerous variants to arise. Fortunately, Omicron is not especially dangerous: it's relatively benign and confers natural immunity.
Learning to "live with" it is the right strategy (as the UK and Denmark realized) Trying to eliminate it can't be done. It causes far more harm than good.
But this has never really been about disease control has it? It's always been about politics and power and profit for greedy and unscrupulous pharmaceutical corporations. It's been a method of social engineering by power-hungry ideologues like Trudeau.
It's time to take a stand for freedom and for the hard-working men and women of this country, and for families suffering under the horrible dehumanizing resections. These restrictions are harming children. This is monstrous and evil.
I applaud the truckers for taking a stand. They are doing what our so-called leaders and journalists have failed to do.
Please show some backbone. Tell police to stand down and support the truckers. Stop the mandates. Stand up to that tyrant in Ottawa. Show us that you're actually for the people and for Canada. The tide has turned. The people have spoken.
________________
(2) Analysis of the evolving political situation with medical tyranny

Most people in the U.S., Australia, and Canada — and around the world – are sick of medical tyranny and want it to end – as in the UK and Denmark. I now believe that will happen but it's going to take more time and it will be an uphill struggle.

But the problem is that a small minority — including those in the news media and in the education system and in the seats of power– are essentially holding the rest of us hostage to their elitists authoritarian worldview right now (as this article notes).

From the start they have pushed mass hysteria and lockdowns and mandates as a prelude to the Great Reset — but they didn't count on the backlash from the working classes whom they've cruelly subjugated and lied to throughout.

The good thing is that now that we know that they may use this strategy again, we're prepared for it. The bad thing is that they know a lot of people will still fall for it, if the media is onside. We now know each others' strengths and weakness in this opening struggle of many more such battles to come in the 21st century (I predict).

Perhaps the world will divided geographically, as happened between Eastern and Western Europe? Eastern Europe is now conservative and Christian, whereas Western Europe has gone towards Leftism and globalism (with disastrous results). It's not so easy to do that in Canada, but it may come in the future.

In the U.S. and Canada, the globalists are in charge but they are getting a lot of backlash from traditional conservative people whom they're subjugating. This is resulting in a new unity among Canadians against medical tyranny, which is good to see and provides hope.

The one problem I can see is that the authority figures will use complaints from those who feel it's "disruptive" to push back on protestors. Those who say it's disruptive are not paying attention or are among those 40 percent who want mandates.

What I'd like to see is a general strike of the whole country — indeed the whole world — until the ruling class who did this to us is brought to justice.

From now, our society will be locked into a battle between the elitists who want to impose medical tyranny (and cultural Marxism) and the now no longer silent majority who are made to pay for their power-lust and cannot take it any longer. This battle will shape much that's to come in future years.

At least now we know what to expect: more diseases and 'vaccines' and more hysteria — but also a real movement for freedom and basic right against the tyranny that the hysteria contributes to.
Today I was reminded of the late Bob Hunter going through the newspaper headlines, on CityTV 'breakfast television' sometime in the early 2000s in his bathrobe and a cup of coffee, commenting on it. He epitomized the kind of Canadian politics we used to have before Trudeau: relatively genteel and civil, arguing politely over issues that now seem quaint by comparison with the loss of our fundamental rights.
To see my previous analysis, go here.
____________________
(3) BREAKING: Police violence at 'Freedom Camp' in Canberra
Campers pepper-sprayed in wild scenes as police move in
[This is terrible. The government in Australia is not above using brutality to subjugate people who want freedom. Pray for freedom there!]
Dramatic scenes unfolded at the 'Freedom Camp' established a kilometre from Parliament House this afternoon. Events escalated when police moved in to record number plates from vehicles deemed as being "parked illegally".
Reports of a 65yo woman knocked to the ground stirred further conflict with other campers including a man in his seventies who was pepper-sprayed in the eyes, having to be carried off by bystanders.

People were seen cheering the man as he was carried away for assistance and several from the crowd came to embrace him in emotional scenes as the man pleaded to 'hold the line' and to 'keep fighting'.
In a statement earlier in the day, police said:
"ACT Policing is engaging with protesters and campers who are located near the Patrick White Lawns adjacent to the National Library in Parkes.

"This afternoon (Wednesday, 2 February 2022) ACT Policing will ensure people at this location are aware they are parked and camping illegally and may be subject to fines and other penalties.

"Move-on orders may be issued in the coming days.

"The rights of people to peacefully protest is always acknowledged by ACT Policing, however when illegal actions take place, the people responsible will be dealt with in accordance with the law."
Many of those who attended the 'Convoy to Canberra' have established a camp on the grassed area where they have been united in a bid to have their messages heard by politicians.
The camp has been steadily growing since the convoy, led by truck drivers, made its way to the nation's capital on Monday morning.
Since then, waves of the convoy have made their way in trucks, buses, cars and motorcycles to protest in Canberra.
A reader's comment: Dear AFP [Australian Police Force]: Wow the way the you dealt to the old man peacefully sitting in his chair on the 02/02/2022 at Parliament House was interesting to see. 40 or more well armed and protected AFP Officers did a fine job spraying the elderly gentleman in the face with pepper spray as he sat asleep in his chair. He must have been a real threat as the 40 or so fit, burly Officers in Protective vests, armed with Handcuffs, ASP batons, Pepper spray, Tasers and Glock side arms, really showed him who was boss. The elderly chap wasn't even a target of the AFP but boy you guys should be very proud of how tough and macho you all are. His only protection was his T shirt. How proud you all must be. Sadly this is the reason why more and more people are losing and have lost respect for you all. A sad day for the AFP. A sad day for Australia.
[This is sad but also at the same time hopeful because it means people are still fighting for freedom. They are not beaten yet]
_____________
(4) Ezra Levant on War Room Pandemic: Police siege surrounds trucker convoy
Coutts, Alberta. Truckers have shut down the Canada-U.S. border in solidarity with the Freedom Convoy and are now being threatened by law enforcement. Canadian truckers are standing up for all of us, and we need your help to crowdfund a lawyer to fight any tickets or fines the truckers at the Alberta-Montana border face.
Please donate on this page to offset the cost of their legal fees.
Learn more at TruckerLawyer.ca
____________________
(5) Ottawa City Council condemns truckers but they endorsed BLM
Ottawa City Council: "We need to cut off the pipeline of funding to these… mercenaries that are unlawfully protesting and occupying our communities."
The Black Lives Matter march (of June 5, 2022 last year) was attended by Mayor Jim Watson and others on city council who endorsed the Marxist organization that had burned down neighbourhoods in the U.S. and was responsible for deadly assaults there, including the murder of police.
But now Watson has expressed concerned regarding the possibility of violence from the convoy, even though there is zero evidence of it thus far. In saying that he is echoing the views of the biased elitist media who are paid by the Trudeau with our tax money to gaslight us. What hypocrisy!
Like Trudeau, Ottawa City Council is for the violent Marxist group BLM (typical virtue-signaling) but they're against the citizens of Canada when they try to express the frustration of being politically voiceless and subjugated by unjust and pointless mandates.

These councillors live in an entitle bubble. They remind me of Marie Antoinette saying let them eat cake.
When all the major political parties are against the rights and freedoms guaranteed under the Charter and have made the lives of the citizens miserable through medical tyranny, you should expect people to protest.
Ottawa City Council is a disgrace. Nothing but elitist snobs who look down on working-class Canadians and seem willing to trash our traditions.

People of Ottawa, I hope you can grasp that the convoy is there to protect all our freedoms before they're gone forever. I don't want Canada to become like Communist China, but that's what's happening under Trudeau.
At least the police have been consistently pro-free speech: in June 2020 they said "As the Nation's Capital, Ottawa is the seat of democracy for the rest of the country; the voices and ideas of those who live here should be heard and shared."

And they have been relatively good this time around too: not standing in the way of people expressing themselves freely, as we all have a God-given right to do in a free and democratic society.
_____________
(6) Spencer Fernando: The Tide Has Turned Feb.1, 2022
The rage and hate shown by the Trudeau government and the establishment towards the Freedom Convoy is the outward expression of their loss of control over the narrative.
It's fair to say that Canada has been one of the most docile and compliant nations on Earth over the past two years. Justin Trudeau and other 'leaders' have taken advantage of this, doing everything they could to keep Canadians in a state of fear and desperation.
Even as Canadians watched much of the rest of the world remove restrictions and open up – particularly as Omicron proved to be milder – Canada instead went the opposite direction, reverting almost entirely to the initial posture at the beginning of the pandemic: Lockdowns and 'Two weeks to slow the spread'.
Indeed, the Trudeau government seemed to be racing to lock in as many divisive and discriminatory restrictions as they could, including a vaccine mandate for truckers that was designed to divide and inflame the nation.
Clearly, Trudeau and his corrupt power-hungry cronies believe they can keep Canadians scared and use that fear to amass more and more power. And why wouldn't they think that?
After all, most Canadians have gone along with everything else so far, and appeared unwilling to say, 'enough is enough!' . . . Until now.
A new survey by Angus Reid shows that most Canadians now want to end all covid-related restrictions: 32% of Canadians say they strongly agree that it's 'time to end restrictions and let people self-isolate if they are at risk.' 22% agree, for a total of 54% in favour. By contrast, 24% disagree, and 16% strongly disagree, while 6% say they 'aren't sure/can't say.'
This means there is a clear majority in favour of lifting restrictions. What makes this more interesting and important is that the numbers have shifted rapidly in less than a month.
When Angus Reid asked the same question in a survey from January 7-12, 40% wanted to lift restrictions, while 55% were opposed. Now, majorities in all regions except for Atlantic Canada want restrictions lifted.
And, when broken down by age and gender, all groups except for women 55+ want restrictions to be removed.
[That's curious. Why do women 55 and above want restrictions imposed on everyone? Why?]
This is a dramatic shift, all the more so because it has taken place as politicians like Justin Trudeau and the establishment media continue to try and maintain the narrative of fear, crisis, and control.
No coincidence
It's quite fitting that this survey is released amid the Freedom Convoy, as it shows that the convoy is quite representative of what most Canadians think. Indeed, lifting all restrictions is one of the key messages of the convoy, and that message is now a majority position in this country.
It is now Justin Trudeau who represents a 'fringe' minority position, out of touch with Canadians and pushing an agenda that has been rejected by most of the country.
Let's discuss that further. Justin Trudeau loves to posture as some sort of arbiter of what Canadians believe, yet he has the dubious distinction of 'winning' the smallest share of the popular vote for anyone to form government.
For someone who has held on to power by the narrowest and weakest of margins, and who has had approval ratings in the negative for most of his tenure to now be lecturing the country is absolutely pathetic.
It's almost as pathetic as the establishment press doing everything they could to demonize the convoy, focusing on one or two fools rather than on the vast majority of good, decent, patriotic Canadians who truly represent the convoy.
[I believe the two fools in question were plants, agent provocateurs]
Notice how both Trudeau and the establishment press will demand 'nuance' and 'understanding' when a foreign terrorist commits a crime, yet speak in the most demonizing and divisive terms about Canadians who 'dare' have a different perspective.
And this is a big reason why there was so much rage and hate from Trudeau and the establishment towards the convoy. It's not about consistency or logic, it's about power.
Trudeau and the establishment media can feel their power slipping away, they can feel Canadians tuning them out, and they can see that their narrative isn't working as it once did.
Just look at how strongly regular Canadians of all backgrounds pushed back on social media when the elites tried to demonize the convoy. Rather than just accept the narrative, people came together and helped the true narrative dominate.
Even the CPC pushed back more than many would have expected, particularly MPs like Pierre Poilievre and Candice Bergen, who refused to concede the narrative battleground to the Liberals, and instead attacked back – as all strong leaders must do when criticized by those like the Liberals who completely lack credibility.
A different country
Canada is now a different country. But not just in a negative sense.
Yes, we've seen how tenuous our freedoms are, and we've seen how easily many of our politicians and even some fellow citizens will give up those freedoms.
Yet, we've also now seen an unprecedented level of resistance from Canadians who have spoken up with more strength and power than this country has seen in a long time.
For those who stood on principle, and who defended our rights and freedoms even when nearly every politician and much of the public was mired in fear, this is a moment to realize that our voice has power, that we can have influence, and that the future of Canada is never set in stone.
There is always hope, so long as we remain true to our values and true to the vision of a Canada that is truly strong and free.
For more from Spencer, visit his website, and follow him on Facebook and Twitter.
[Contrast this article above with this one below by the same author, from a few weeks back (Dec. 20, 2021). What a difference the convoy has made! The article above is more hopeful, given the new developments]
(7) As Quebec Returns To Lockdowns, The Goalposts Are Completely Out Of Sight
"15 days to slow the spread!"
For quite some time, those of us who oppose the ongoing authoritarianism and gaslighting perpetrated by our governments have been noting that there will never be a 'return to normal', so long as the politicians continue to expand their power.
Every demand they make of the public will 'come up just short,' and 'changing circumstances' will lead to yet another demand.
After all, this started with "15 days to slow the spread."
Then, we were told that once people acquired immunity, either with one dose of the vaccine or naturally, that things should get back to normal.
At that time, things like vaccine mandates and vaccine passports were called conspiracy theories, and some who warned those measures were coming were banned from social media for spreading 'disinformation.'
Then, we were told we would need two vaccines to go back to normal, but that mandates and vaccine passports weren't necessary.
Then, we were told that mandates and vaccine passports were necessary until about 80% of adults got two doses.
Then, 80% wasn't enough.
Then, 90% wasn't enough.
Then, 100% of vaccinated adults weren't enough, and children would need vaccines as well.
Now, we are being told that boosters are necessary, and we can expect the definition of 'fully vaccinated' to change to three shots, and likely four at some point. That also means that current vaccine passports will be invalid, which will come as a big surprise to many Canadians who thought they had 'done what the government told them' in order to 'get back their freedom.'
Amid all of this, many Canadians at least felt that strict lockdowns were off the table.
Surely, after everyone listened to the politicians we would at least be spared a return to the initial measures from the beginning of the crisis, right?
Well, it turns out that isn't the case.
Quebec returns to lockdowns
We've talked a lot about how the 'goalposts have shifted' over and over again.
In Quebec, the goalposts are now completely gone, as the province returns to lockdowns:
"The Quebec government shut down several public settings Monday evening, including bars, taverns, casinos, theatres, gyms and even schools, as cases of COVID-19 soar in a pre-holiday spike.

All those establishments were closed as of 5 p.m. Monday.

"The situation is critical," Quebec Health Minister Christian Dubé said at a press conference at 1 p.m., just four hours earlier."
As the most statist and authoritarian province, Quebec is often the 'leader' in terms of imposing state control, which then creates the political pretext for other provinces to quickly follow.
Quebec is also leaving the door open to stricter measures, including further restrictions on private gatherings (something the government should never have the power to authorize):
""If we have to add new measures, we'll do it over the coming days," Dubé said, adding that his team is meeting Monday night to go over the latest projections and that "we will not be scared of going back on certain decisions given the new information."
"We are waging war against this variant," he said. "We're going to do everything we can to work together.""
That represents a return to the measures that were imposed at the start of the pandemic.
All the vaccinations.
All the mandates.
All the restrictions.
All the economic damage.
All the division.
All the demonization.
All of that, only to return to the same restrictions that were in place when the pandemic started.
This demonstrates a few things:
First, the politicians cannot be trusted.
Second, the government is incompetent.
Third, imposing restrictions, mandates, and vaccine passports has failed to stop the virus. All those things have achieved is to take rights away and divide the populace.
And fourth, we must get rid of those measures, remove state control, and let people make their own decisions.
Canadians need to realize that much of what we've been told by the 'experts' and politicians have been lies or mistruths that are designed to alter behaviour, rather than inform:
To get another sense of how foolish the vaccine mandate policies are, consider that even the WHO now has to admit that Omicron is spreading among vaccinated people:
""There is now consistent evidence that Omicron is spreading significantly faster than the Delta variant," WHO director-general Tedros Adhanom Ghebreyesus told the briefing.

"And it is more likely people vaccinated or recovered from COVID-19 could be infected or re-infected," Tedros said."
Again, this isn't about being pro or anti-vaccine. Personally, I think those who feel getting vaccinated is appropriate should feel free to do so.

The issue is the government forcing/pressuring people into getting vaccinated by taking away their rights, and acting as if getting vaccinated would ensure a 'return to normal' when they obviously intend to continue moving the goalposts out of view.
"Get the jab, get the lockdown. Get the next jab, get the next lockdown. Blame anyone the government allows you to but never the government itself.

The new normal."
The government has no power if nobody listens to them
We are stuck in a feedback loop.
Politicians push fear.
The public submits to that fear and seeks the comfort of authority.
Politicians expand their authority, and use that new authority to spread more fear.
This sometimes masks the fact that our politicians aren't 'leaders' in any sense of the word.
They have no ability to innovate, and no ability to adapt (as demonstrated by the healthcare system that is even weaker despite all the money they've spent).
If the public stops listening to the hypocritical politicians and choose to live life without following the dictates of the centralized state, then politicians will give in.
Indeed, there are likely at least a few dozen MPs in the Conservative Party who would love to speak out strongly against government measures, but are being suppressed by Erin O'Toole.
It would be nice to see some courage from politicians, but at this point the best we can expect is some self-interested moves in the direction of opposing the rise of authoritarianism in Canada.
If the public demands it, many politicians will 'rediscover' their belief in individual rights and freedoms.
So, Canadians need to start doing what we feel is right for ourselves and our loved ones, rather than listen to the worthless ranting of the failed statists who have been abusing their power.
______________
(8) Canada's freedom revolution (from Rebel News)
Parliament Hill was electric on Saturday night. Thousands of people, who had been protesting government COVID restrictions for hours during the day, remained on Parliament Hill well into the night as truck horns blared alongside endless loops of dance music. At that point, despite the frigid temperature, it stopped being a protest and became an epic rave full of happy, dancing Canadians. I was in the thick of it to speak with the protesters and to catch the sights and sounds of this once-in-a-lifetime dance party. Here, see for yourself:
This is Canada's freedom revolution.
People are coming together in an unbridled show of love, unity, and respect for their fellow Canadians. And in the process, they're shattering the despicable narrative painted by the mainstream media and establishment politicians about the true nature of this protest. It's a peaceful and celebratory movement, and the protesters intend to keep it that way until their voices (and honks) are finally heard.
Yours truly,
Dakota Christensen
Rebel News Reporter
P.S. No one in the mainstream media is covering the Freedom Convoy as closely and accurately as Rebel News. [Me: True North is doing a great job too] We're telling the other side of the story when others simply refuse to admit there is one. If you agree that it's important for us to have a presence in Ottawa to tell the story of the truckers standing up for Canadian civil liberties, then please follow our coverage and pitch in a donation at ConvoyReports.com
_____________
(9) Massive freedom convoy to DC, USA!
Good news from this video below! There is a freedom convoy in the U.S. now! It started in Canada, then spread to Australia, and now is in the U.S. Yes! Expect great things to follow: the rise of patriotism, nationalism, a revival of true Christianity and an appreciation of the universal Enlightenment principles that form the foundation of free Western societies. This will mean some young people dropping away from the lies and deceptions and groupthink of Leftism. We hope! But it's still an uphill battler, one that's just begun! I am hopeful.
Thousands of US Truckers Are Planning A MASSIVE Convoy To DC
from For the Love of News [a U.S. site]
US Truckers have been inspired by the thousands of Canadian truckers who have formed a massive convoy to protest vaccine mandates. Many of the American truckers who are participating in the Canadian convoy, which consists of over 50,000 truckers, are planning to turn their rigs to California and start a new convoy to DC to protest US vaccine mandates.
A Facebook group called "Convoy to DC 2022" has over 92,000 members and it's growing by the day. Most of the members are long-haul truck drivers who are sick and tired of Biden's cross-border vaccine mandate for truckers delivering freight across the Mexican or Canadian borders.
Many are expecting the convoy to DC to be the world's largest convoy ever.

The Freedom Convoy taking place in Canada has the current record for the world's largest convoy in history. The convoy stretches over 45 miles which is a new record whereas the previous world's longest convoy according to the Guinness World Book of Records was 4.6 miles.
US truckers are planning to shatter both records as they plan for their convoy to DC.
On the Facebook page Convoy to DC 2022 the description reads:
"We are part of many large groups who believe in our founding fathers. We believe everyone has a voice. We support our freedom. Help us spread the word about this group and together we all can make it a better place.. God Bless America,"
One trucker who posted on the Facebook page gave everyone in the DC area a warning. Take a look:
The convoy has no official start date as of yet but the route will be from California to Washington DC. The truckers may run into difficulties in DC due to the many street restrictions there are for truckers. Ever since a tractor-trailer was used in the Oklahoma City bombing in 1995 many restrictions have been put in place for truckers. Six years later when 9/11 occurred those restrictions increased even more and now truckers can face huge fines if they enter certain streets in major US cities without having a delivery or load to pick up in that area.
The protests by the truckers are being fueled by Biden's vaccine mandates which declare all truckdriver who cross the Canadian or Mexican border must be vaccinated by January 22nd.

Many truckers caught a huge break after Biden's vaccine mandates for companies that have over 100 employees were deemed unconstitutional in the Supreme Court. Most trucking companies have more than 100 employees so many truckers are overjoyed by the Supreme Court decisions but those truckers who haul freight over the northern and southern border are still being forced to either get vaccinated or tested.
Most of the truckers started their journey in Vancouver and now have made it to their final destination of Ottawa the capital of Canada. The truckers didn't arrive in Ottawa alone but were met in Ottawa by thousands of vaccine mandate protestors who are sick of Prime Minister Justin Trudeau flexing his authoritarian muscles by issuing vaccine mandates for Canadian citizens.
The United States and Canada will learn very fast how much truckers affect the economy. The United States already has supply chain issues so if more truckers are taken off the roads due to mandates then things could get ugly quick.
(10) America is done with the ro by Alex Berenson
A new poll shows 70 percent of Americans have moved on; too bad the rest work in the media. Support for vaccine mandates is plunging too.
[This parallels the poll from Canada showing a 15 percent rise in opposition to mandates since the convoy started]
It's time that we accept that Covid is here to stay and we just need to get on with our lives.
7 out of 10 Americans now agree with that statement, according to a poll released Monday from Monmouth University.
The problem for Joe Biden, of course, is that the remaining 30 percent of the country is pretty much definitionally his base. The bluechecks and teachers unions have eaten their own cooking. They are hoping to "work from home" until the end of time, leaving their Brooklyn apartments only to get booster shots. Hey, maybe Amazon can deliver those too.
Never get high on your own supply. Too late now.
The non-woke (sleepy?) majority of the country has also registered the failure of the vaccines. Support for mandates is melting as quickly as Uncle Joe's approval rating (surely no coincidence). Only 43 percent of Americans support requiring proof of vaccination to work in an office, down from 53 percent in September.
Support for mask mandates has fallen even more quickly over the same period, from 63 percent to 52 percent.
Polls have consequences. I think/hope we have seen the last gasp of Covid hysteria in the blue states. The restrictions will come off bit by bit this spring, as Omicron cases fall (or even if they don't – the Europeans are no longer bothering to wait). Even in blue states, the rules are generally unenforced anyway outside major cities.
The big question going forward will be what harm – if any – the mRNA vaccines have done to the development of long-term post-infection immunity; that is, what level of Omicron or future variant reinfections and deaths will we be forced to live with?
But it's clear that even a thousand or more deaths a day in the United States and the equivalent in big European countries is no longer enough to move the needle on policy, no matter how much the bluechecks and public health authorities scream.
Virus gonna virus, and everybody knows it. Well, 70 percent of everybody, and that's enough.
____________
(11) The Stealth Plan to Force mRNA Jabs on the Public
[This is a good reminder of of how we got here, from Mercola via Undercurrents.

I use Undercurrents as the link because they do the work of editing out all the ads.

It's a good summary, worth reading. It seems like the truth-telling is coming out of the UK, now that mass hysteria has been lifted there. Except the same to follow in the U.S. and Canada now, despite the cover-ups and lies and backpedalling by the MSM and our own inept "leaders"]
The COVID pandemic is rife with cover-ups, starting with China intentionally allowing the outbreak to spread by saying there was no evidence of human-to-human transmission
In 2019, Dr. Anthony Fauci and a former director of the U.S. Biomedical Advanced Research and Development Authority (BARDA) hinted at a pandemic being a perfect excuse for transitioning from conventional vaccine manufacturing into experimental mRNA technology that would otherwise take decades to bring to market
Two of the biggest cover-ups have been the persistent denials of SARS-CoV-2 being the result of gain-of-function research, and that the pandemic was the result of a lab leak (whether accidental or intentional)
Cover-ups have created irrational narratives, which in turn have resulted in a number of irrational beliefs and behaviors, including the excessive dependence on plastic sheathing, plastic barriers, single-directional walking directives, the idea that natural herd immunity doesn't exist but asymptomatic spread does, and the belief that lockdowns lower infection rates
One of the most persistent irrational beliefs spawned during this pandemic is that masks prevent the spread of the virus. A recent U.K. Department of Education report found no evidence that universal mask wearing in schools reduced absences due to illness, and therefore should not be mandated
(12) George Soros Outlines Dangers Posed by CCP Authoritarian Rule in 2022
The year 2022 will be a turning point where much of the world will pivot sharply in the direction of either authoritarianism and repression or openness, and events in China will play a decisive role, said billionaire financier George Soros at a virtual event hosted by the Hoover Institution think tank on Jan. 31.
[This story is ironic since Soros has done more than most people to help the CCP in their quest for world domination. There are two explanations possible here:

(i) a growing power struggle between two evil empires — globalism and Communism. They have been allies in their question to rule the world in recent years, propping each other up, but tension between them is inevitable as they both want to be on top. The globalists were naïve to believe that the CCP — whom they've colluded with and helped so much — would let them rule the world in peace.

The CCP seek world domination by 2049 and have done much to undermine the West through asymmetric warfare. Soros and the Good Club have helped them in countless ways. Soros is really a Communist but one who pretends to prefer democracy (or the pretense of it anyway).

Or (ii) perhaps Soros is just trying to pretend he's not a Communist for appearance sake? He is a fascist, which is pretty much the same thing. And medical fascism is the new ticket to power. Thank God the convoy freedom movement is there to stop their evil empires! I believe God is working through the truckers.

One more point: Soros' Open Society is misnamed since it was taken from Karl Popper's book The Open Society and its Enemies. Popper wrote the book as a warning against fascism. Soros lifted the name. The thing is that Soros has been an enemy of an open society, one based on individual rights and freedoms. He has support the undermining of the United States and human freedoms]
———–
(13) Trudeau Is Creating Societal Rifts That May Take Decades to Resolve (Epoch Times)

It almost felt that the establishment was disappointed with last weekend's demonstrations being peaceful.
In all my years I have never seen a Canadian Prime Minister identify and vilify a large, identifiable group in the way Justin Trudeau did on Jan. 31. While I didn't expect the prime minister to be supportive of the thousands of protesters gathered on Parliament Hill, I was flabbergasted listening to him inflaming the situation and labelling them as racists and extremists.
Despite the protests being remarkably peaceful and respectful, Trudeau chose to focus on the few outlying incidents caused by a handful of individuals when he said: "We won't give in to those who fly racist flags. We won't cave to those who engage in vandalism or dishonour the memory of our veterans."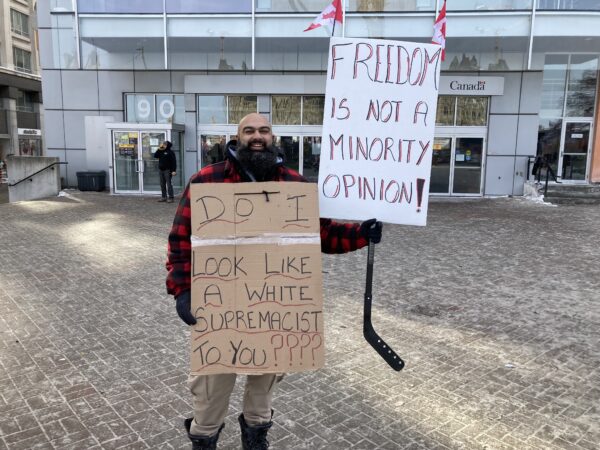 Tens of thousands of citizens came out to those protests supported by hundreds of thousands if not millions of Canadians who couldn't make it there themselves. Even if this still represents a minority of Canadians, it clearly represents a huge number of them and our prime minister has now smeared them as being racists who commit crimes and disrespect veterans.
This was an appalling statement from Trudeau about citizens he is ostensibly supposed to be leading and representing. Many of the demonstrators were people of colour, and doubtless there were many veterans among them. How must that have felt hearing the leader of their nation deriding them this way?
We are seeing an unprecedented protest among normally complacent Canadians. Many people feel they have no representation or mechanism to have their concerns heard so they have resorted to protest. The prime minister doesn't have to support their goals, but he should feel at least a moral obligation to respect them. Trudeau's treatment of these Canadians has been his most egregious lapse in leadership to date—and that says a lot.
Thousands of people remained on Parliament Hill on Feb. 1, and there is no indication of how or when this protest may end. We need cool heads and respectful discourse to resolve what may turn into a protracted standoff. It is going to be very hard to begin any kind of negotiations now.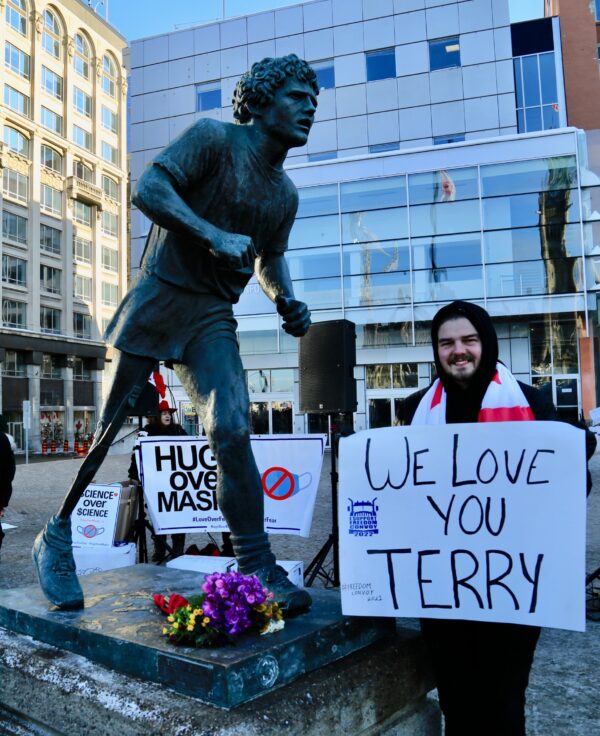 The lapse of federal leadership on the Truckers for Freedom convoy isn't just coming from the Liberals. Conservative Party Leader Erin O'Toole hasn't exactly been a beacon of leadership as the protests have developed. Much like Trudeau did, O'Toole remained silent in the days leading into the weekend protests even though it was clear that something huge was building. Once O'Toole did finally address the event, his statements remained carefully neutral and tepid. I guess he should be credited with not coming out and insulting the protesters, but he has not proven to be inspiring either.
O'Toole is now dealing with a caucus revolt, with nearly a third of Conservative MPs calling for a review of his leadership. He likely will be more focused on saving his political hide than on defending a minority within his constituency.
So who will speak up for the rights of Canadians who want an end to pandemic restrictions? Who will defend these people as the man holding the top office in the country abuses them in an act of political division?
Some individual political figures have come out and spoken up in defence of the demonstrators in Ottawa, but they don't represent the political leadership of the nation.
The protesters now feel isolated, shunned, and politically homeless. This will foster a sense of dejection and could lead to some people trying more desperate acts in order to get their message out.

[No, I don't think so. They have more sense than that. There are two options: the PPC or a reformation of the CPC]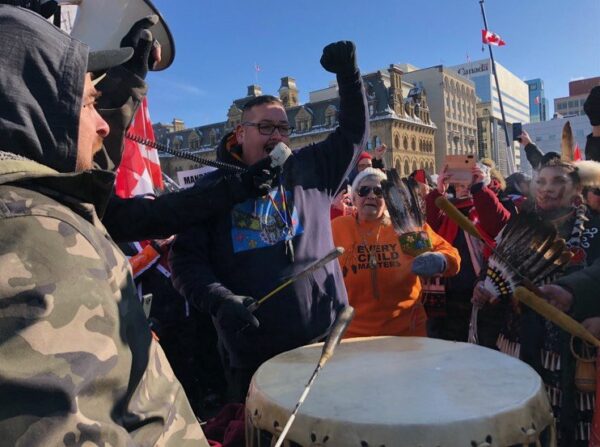 It almost felt that the establishment was disappointed with last weekend's demonstrations being peaceful and not devolving into a "January 6th" type of incident. Now members of the establishment, including most media, appear bent on inflaming the situation and possibly inciting just such an incident as they push demonstrators into a corner.
[That's true. The lying media want violence from us in order to reclaim the moral high ground. But organizers have been adamant about it remaining non-violent and there are many people on the ground working to ensure that]
If the leader of any nation treated an ethnic or religious minority in the way Trudeau did with the protesters and people who have chosen not to be vaccinated, the world would condemn them.
Isolating and demonizing any group in society should never be done by a political leader. Trudeau is fostering societal rifts that may take decades to resolve, if ever. It is the height of irresponsibility to divide Canadians for the sake of political expediency.
Canada needs leadership right now. We need a unifier. We need somebody who can represent the majority while respecting the minority.
[Is the freedom movement a minority position anymore? If so, not for long I believe]
Everybody wants to see a peaceful resolution to the protests in the long run. It is impossible to see how that will happen as the country suffers from a void of political leadership.
Canada is at a turning point. Until we have some national leadership, I am afraid that we will only be turning for the worst.
__________
(14) A comment online: "Oh Canada, you voted for him." (meaning Trudeau)

My reply:

Last September in the federal election. It was just 30 percent of Canadians who voted Trudeau in – but enough for him to win, unfortunately. I'm not sure why Canadians voted for him at all. That was dumb.

Technically we don't get to vote for the Prime Minister directly. We vote for an Member of Parliament (an MP), and the party that gets the majority of MP gets to appoint a Prime Minister. So perhaps people voted for incumbent Liberal MPs because of their local track records without considering the consequences for the country? If so, that was a serious error on their part.
Another problem: low voter turnout. Our elections don't get non-stop coverage as they do in the U.S. and some people didn't even know they were happening. Sad but true. Was there election fraud? Elections Canada is quite rigid, so I'm not sure how that would be possible, thought I won't discount the possibility. See my article on the election here.
Also the state-funded media lie to us here non-stop. And many people in Canada are naïve and have been brainwashed by Leftist ideas through the media and education system.
Canadians have not had a real tyrant until Trudeau. The American tradition of fighting tyranny is missing here. This is dangerous for us. Many people who would tell you they don't want Communism by they vote for Trudeau, who is a closet Communist. They vote for him to virtue-signal to themselves that they have the right views on climate change, etc — but without regard for what he's really up to.
They've been misled by the CBC (and other MSM) to agree with Trudeau's evil agenda. Many of us know he wants Canada to become a Communist country under Chinese rule. I just don't think many Canadians know this — perhaps because they don't want to believe it.
I hope they regret voting for him now that he's divided the nation so much. In a recent poll, 54 percent said they wanted an end to mandate and 40 percent said they wanted them still.
As in the US right now, the governments and media are led by the elites with their 'luxury beliefs', — which fail to represent the view of the people. The people are being subjugated.

Now they're fighting back with protest since they have no voice in government anymore. But I think that will change. This is the start of a revolution for freedom. I am hopeful now. A month ago I was not.
__________
(15) New Orleans Mayor Sued Over COVID-19 Vaccine Passports (Epoch Times)
[This is good to see! The more there are legal actions like this more hesitant governments will be to impose such restrictions against. I would like to see all the governments who imposed mandates be sued in this way.
They had access to information that the mandates would not work and were controversial, from a medical standpoint. There were physicians and scientists saying this from the start — but they were wrongly censored
Governments did this for political reasons to control us. That's both wrong and legally actionable. Let's hope more such cases are initiated.]
A lawsuit was filed Monday against the mayor of New Orleans and the city's health department over COVID-19 vaccine mandates that stipulated anyone aged 5 and older have to show proof of vaccination to enter some businesses. More than 100 plaintiffs joined a complaint (pdf), which was obtained by The Epoch Times, against the city and Mayor LaToya Cantrell. The lawsuit was filed in Orleans Parish Civil District Court.
[You can read the rest of the article here]
________
(16) The CPC Leader [O'Toole] who regularly betrayed the party base and flip-flopped on key issues, lost the Caucus vote by a decisive margin, by Spencer Fernando
Early results indicate that 73 of 119 members of the Caucus voted to remove O'Toole, making this a decisive decision . . . [A contender is Pierre Poilievre] who also strongly supported the Freedom Convoy and pushed back against media spin, has strong support within the CPC base.
[O'Toole was for medical tyranny. He is not a real conservative. So good riddance. But will the new CPC leader actually start to stand up for freedom? If Poilievre is chosen and if he beats the Liberals in the next election, that will be a positive development for Canada]
______
(17) Babylon Bee satire: Trudeau Demands Truckers Get Vaccinated Like He Did So They Don't Catch COVID Like He Did
OTTAWA—As truckers continue to march on Canada's capital to very politely ask for their human rights back, Trudeau is doubling down on his position. In a fiery speech this week, Trudeau demanded truckers follow his example and get vaccinated like he did, so they don't catch COVID like he did.
"Listen, I have COVID right now, and trust me—you don't want this," said Trudeau in his classic Trudeau girly voice. "I know you all are all deplorable evil disgusting racists, and there's no avoiding that. But if you would just get the jab like me, you could at least avoid COVID—something I was unable to do."
With the COVID infection ravaging his thrice-vaccinated body, Trudeau will remain in quarantine, deep in a hole in the ground in an undisclosed location until he has fully recovered, or until the truckers all go home—whichever comes last.
"Be smart, trust the science, and get jabbed, you disgusting racists, it's the right thing to do," said Trudeau before coughing uncontrollably into his sleeve and crying.
__________
(18) Robert Malone: The Truth about the Daily Mail Article Regarding Joe Rogan Podcasts with Dr. Malone and Dr. McCullough.

[Rogan's controversial guests were Robert Malone and Dr McCullough — both of whom have good views on what's happening, medically and politically]
_________
(19) Omicron and Original Antigenic Sin by Eugyppius, Feb 2, 2022
[The ending of this article is interesting. It says that Omicron, like the common cold, will likely be with us for the rest of our existence — and like the common cold, is not serious for most people. Nor was that matter Covid-19 in its original form, but Omicron is milder still.
The point of the article is to argue that the mRNA shots create potentially dangerous variants, so it's completely inadvisable to use them. This is what scientists such as Yeadon, Montagnier and many others said from the start! ADE causes variants, not all of them necessarily benign. Though we're lucky that the variant Omicron was benign.
Omicron, as one doctor said, is the vaccine we should have invented. Nature has done what science could not: create an effective remedy for the original strain. Omicron is contagious and provides natural immunity. The crisis, if there ever was one, is definitely over. Though for many — especially those who profited from it, the mass hysteria continues.]
A small study of breakthrough infections provides further evidence that Omicron likely benefits from immune imprinting, or Original Antigenic Sin, in the vaccinated. The authors, mostly from UC San Francisco and UC Berkeley, conducted neutralisation assays on 144 plasma samples from 81 individuals, 63 of them double-vaccinated, and 18 of them boosted. None of the subjects had been infected prior to vaccination, but 53 suffered breakthrough infections. Thirty-nine of these breakthroughs were probably Delta, and 14 were Omicron.
The authors subjected the convalescent plasma of their vaccinated and infected subjects to live virus and virus-like particle neutralisation assays. Basically, they introduced to the plasma either Delta and Omicron viruses, or synthetic particles with key Delta or Omicron proteins, to see how well the antibodies in the plasma neutralised these variants.
The results are straightforward:
1) SARS-2 vaccination against wild-type Spike, plus Delta breakthrough infection, elicits an antibody response that is about equally effective against Delta and wild-type SARS-2. Against Omicron, however, the combination of vaccination and Delta infection is markedly less effective.
2) SARS-2 vaccination against wild-type Spike, plus Omicron breakthrough infection, elicited an antibody response that was vastly more effective against Delta and wild-type SARS-2 than Omicron. Specifically, vaccinated-plus-Omicron plasma was 2.2 times more effective against wild-type SARS-2 than Delta, and 6.6 times more effective against wild-type SARS-2 than Omicron.
Yes, the numbers are very small, antibodies are merely one aspect of immunity, this is very preliminary work, etc. Note also the figure that the authors don't compute for you: Omicron breakthrough infection yielded plasma that was also three times more effective against Delta than Omicron, even though the Omicron-infected subjects had no exposure to Delta. Delta Spike is more similar to legacy wild-type Spike than Omicron, and it is wild-type legacy Spike that vaccinated immune systems target, even after breakthrough infection with the newest variant.
Note, finally, the overall lower antibody levels in the Omicron breakthrough cases. Vaccination plus Omicron gives you about one-third the neutralising activity against wild-type SARS-2, as vaccination plus Delta. As the authors note (p. 16), this is surely down to the mildness of Omicron infection. A briefer, less severe illness means reduced exposure to the virus and fewer antibodies. Your immune system isn't going to invest heavily in fighting minor threats, and in this it much wiser than our governments and public health establishments.
It is hard to imagine a worse strategy than universal vaccination against a single, obsolete virus protein. Every booster dose just further ingrains this off-target immunity, ultimately assisting Omicron in its spread. Here we are saved only by Omicron's starkly reduced pathogenicity. In causing mild, fleeting illness in most of those infected, Omicron spreads more effectively in virus-paranoid populations, and it provokes fewer antibodies, expanding its prospects for reinfection and continued, endemic circulation.
All of the other endemic coronaviruses that regularly infect us work in much the same way. They are pervasive, they cause very mild illness, and they commonly reinfect their hosts every 1 to 3 years. We are not on the verge of the endemic phase, we are in it. There will be seasonal SARS-2 infection spikes probably for as long as humans walk the earth. The vaccinators, unless they are stopped, will only make these spikes more dramatic and disruptive.
——————

(20) Attorneys Report Spike in Calls for Help From Families of Patients Hospitalized With COVID-19

[This article is quite revealing: if you or a loved one go to the hospital, you're at high risk of suffering medical malpractice because of it. First, there are the "incidental cases" — which could be up to half of them, i.e., you're given a PCR test that produces a false positive.

If you are treated with treated for Covid-19, they don't want to release you even to home quarantine (medical kidnapping), and some hospitals want to put you on a ventilator, which can prove lethal.

Then they want to give something called Remdesivir, which many people don't want for some reason. They wont' give you Ivermectin or HCQ apparently. They may try to force you to take an mRNA injection. Your relative s wont be allowed to see you, and so on.

We hear a lot about how people who are unvaccinated are taking up hospital beds, but its clearly from this report that many of them don't want to be there, but are being heled against there will, due to the mass hysteria and politicizing of this diseases. And that's blamed on not being vaccinated? It's entirely due to hospitals. Are they getting paid by the government to do this I wonder? What is their motive for malpractice?]
_______
(21) Miscellaneous videos
[Below: Why masking children is harmful to them. Dark Horse podcast commentary]
[Below: This is a good coverage of how the ruling elite in the U.S. don't care about the same things that ordinary working-class Americans care about. The ruling elite live in a bubble of "luxury beliefs" while ordinary Americans ware concerned about real life issues such as jobs and crime.

It's the same in Canada, where the people have no voice in politics because the CPCs are as corrupt as the Liberals and NDP and no one is speaking for the people against the mandates and resections which are killing and enslaving us in degrees. Thus the necessity for the trucker protest.

The elites love resections — like masks and travel bands — for us but not for them. They're creating a two-tier society of haves and have-nots, of masters and slaves — the very thing that the American revolution was against.

Ironic that some of them view themselves as "oppressed" – like OAC. Most people would like to be as oppressed as her — with her $174,000 US annual salary she is poised to become a millionaire before long. And good for Tucker Carlson for exposing this hypocrisy. When Dems talk about "democracy" its so disingenuous; it's really a code-word for autocracy]
About a bar owner in the U.S. who is defying the mandates:
Below: Ottawa police supportive of protest
Ottawa Police Officer in Parliament Hill Says Truckers Freedom Convoy "Nothing But Great"
Below: Brand uses he Spotify/Rogan censorship issue to express an important point. The mainstream medical narrative communicated far more misinformation many times but was never censored. Interesting how they're misinformation is never corrected but Malone gets censored.
For more humour on masks go to this link: 1) Fauci; 2) Delta/Omicron (OmiCON) scariants; 3) Bill Gates; 4) COVID Christmas (music etc); 5) COVID logic (testing, cases and more), Part 2, Part 3, Part 4 & Part 5; 6) Best COVID satire videos of 2021; 7) Vaccine logic: What vax'd & unvax'd have in common etc); Vaccine logic from rats, sheep and more, Part 3 & Part 4; 8) Masks; 9) Pfizer; 10) Sandy aka AOC does Florida & then dates COVID; 11) Vaccine boosters; 12) Vaccine side effects; 13) Australia (the prison continent) & Djokovic's deportation; 14) Media propaganda 15) Government; 16) Vaccine passports; 17) COVID "science"; 18) COVID censorship; 19) COVID resistance; 20) Conspiracy theory; 21) COVID and the elite; 22) Spotify cancels Neil Young & Joni Mitchell cancels herself; 23) Blackface Trudeau gets COVID
Below: The Five are sympathetic to the freedom movement. Though Geraldo Rivera seems to be take Trudeau's side; I guess his job is to provide the counterview.
Bakery donates to truckers
(22) The Emergency Must Be Ended, Now; it is time, it is time to bring this to an end
by Paul Alexander
[This is a good statement!]
The time has come to terminate the pandemic state of emergency. It is time to end the controls, the closures, the restrictions, the plexiglass, the stickers, the exhortations, the panic-mongering, the distancing announcements, the ubiquitous commercials, the forced masking, the vaccine mandates.
We don't mean that the virus is gone – omicron is still spreading wildly, and the virus may circulate forever. But with a normal focus on protecting the vulnerable, we can treat the virus as a medical rather than a social matter and manage it in ordinary ways. A declared emergency needs continuous justification, and that is now lacking.
Over the last six weeks in the US, the delta variant strain – the most recent aggressive version of the infection – has according to CDC been declining in both the proportion of infections (60% on December 18 to 0.5% on January 15) and the number of daily infected people (95,000 to 2,100). During the next two weeks, delta will decline to the point that it essentially disappears like the strains before it.
Omicron is mild enough that most people, even many high-risk people, can adequately cope with the infection. Omicron infection is no more severe than seasonal flu, and generally less so. A large portion of the vulnerable population in the developed world is already vaccinated and protected against severe disease. We have learned much about the utility of inexpensive supplements like Vitamin D to reduce disease risk, and there is a host of good therapeutics available to prevent hospitalization and death should a vulnerable patient become infected. And for younger people, the risk of severe disease – already low before omicron – is minuscule.
Even in places with strict lockdown measures, there are hundreds of thousands of newly registered omicron cases daily and countless unregistered positives from home testing. Measures like mandatory masking and distancing have had negligible or at most small effects on transmission. Large-scale population quarantines only delay the inevitable. Vaccination and boosters have not halted omicron disease spread; heavily vaccinated nations like Israel and Australia have more daily cases per capita than any place on earth at the moment. This wave will run its course despite all of the emergency measures.
Until omicron, recovery from Covid provided substantial protection against subsequent infection. While the omicron variant can reinfect patients recovered from infection by previous strains, such reinfection tends to produce mild disease. Future variants, whether evolved from omicron or not, are unlikely to evade the immunity provided by omicron infection for a long while. With the universal spread of omicron worldwide, new strains will likely have more difficulty finding a hospitable environment because of the protection provided to the population by omicron's widespread natural immunity.
It is true that – despite emergency measures — hospitalization counts and Covid-associated mortality have risen. Since mortality tends to trail symptomatic infection by about 3-4 weeks, we are still seeing the delta strain's remaining effects and the waning of vaccine immunity against serious outcomes at 6-8 months after vaccination. These cases should decline over time as delta finally says goodbye. It is too late to alter their course with lockdowns (if that were ever possible).
Given that omicron, with its mild infection, is running its course to the end, there is no justification for maintaining emergency status. The lockdowns, personnel firings and shortages and school disruptions have done at least as much damage to the population's health and welfare as the virus.
The state of emergency is not justified now, and it cannot be justified by fears of a hypothetical recurrence of some more severe infection at some unknown point in the future. If such a severe new variant were to occur – and it seems unlikely from omicron – then that would be the time to discuss a declaration of emergency.
Americans [and Canadians and Australians — and everyone under restrictions] have sacrificed enough of their human rights and of their livelihoods for two years in the service of protecting the general public health. Omicron is circulating but it is not an emergency. The emergency is over. The current emergency declaration must be canceled. It is time.