I get about a hundred emails per day, mostly on Covid-related news, and must scroll through to find what's relevant to share on this blog. Below are some stories and commentary posted over the last week or so. I provide only a few sentences from each one; to see the full piece click on the link (first sentence). Also, I would recommend subscribing to the ones you like.
Publications below:
Undercurrents
CLG News
Peckford42
Rebel News
True North
The World We Live In
Rumble
Off-Guardian
Epoch Times
Babylon Bee
Alex Berenson
Druthers.net
Newsmax
Zerohedge

There are many other good publications not covered here. But this gives you an idea of what's out there. Please recommend other sites in the comments!
____________________________
Recent Undercurrent articles. This blog by "Klevon" is a solid source of Covid news and views. He posts a lot of videos, but also articles, some quite in-depth.
Healthy Children Don't Need the Vax: McCullough: Dr. Peter McCullough believes that healthy children should not be given the COVID-19 vaccine because the percentage of those children that die from the virus is minuscule, but the adverse effects of the vaccine in the same group are of great concern.
Dr. Robert Malone: COVID Dogma, Media Fearmongering, and 'Mass Formation' Hypnosis of Society (Epoch Times)
____________________
From CLG News. This is a good American-based news digest on various issues. Here are some of their recent Covid stories:

Washington State Bill Would Authorize Strike Force to 'Involuntarily Detain' Unvaccinated Families –Gov. Jay Inslee (D) is currently hiring a "strike team" to run the quarantine facilities . . . [they will outline] "Procedures for isolation or quarantine." The measure would allow local health officers at "his other sole discretion" to "issue an emergency detention order causing a person or group of persons to be immediately detained for purposes of isolation or quarantine." …The amended law would also allow health officers to deploy law enforcement officials to assist with the arrest of noncompliant Washington residents.

[Tennis player] Novak Djokovic released from immigration detention after Australian court quashes visa cancellation. And judge asks what more tennis star could have done to prove vaccination exemption — says he is 'agitated' that Australian officials did not accept exemption documents. And Australian Regime Kidnaps Second Professional Tennis Player This Month Both were sent to internment camps, even though they don't have Covid-19.

Biden admin tells hospitals certain COVID patients may qualify for treatment faster based on their race –New York and Minnesota among states prioritizing race in COVID treatment distribution.

Vaccinated and boosted Alexandria Ocasio-Cortez tests positive for COVID-19

_________________________
From Peckford 42. Brian Peckford is a former Premier of Newfoundland and a strong advocate for individual rights and freedoms. His blog shares his own opinions and also current news stories on medical tyranny. He posts several such pieces every day.

Prime Minister of Canada Justin Trudeau Has Private Meeting With Premiers and Territorial Leaders Today, Jan. 10, 2022. Rumours have been circulating online about such a meeting, also saying it is to consider 'war measures act ' like actions like Trudeau's father imposed years ago. There is no agenda given —the meeting being private according to the PM's office website.
My comment: China is hoarding grain. China is massing troops at the Canadian border. China is preparing to invade Taiwan. China is stockpiling weapons. China blames Covid-19 in the USA. China tightens authortarian restrictions. Isolation camps have been set up. Censorship increases. Now Trudeau is having a meeting possibly on implementing the War Measures Act, in order to impose absolute rule. It all reminds me of a Bible verse:

"You will hear of wars and rumors of wars, but see to it that you are not alarmed. Such things must happen, but the end is still to come." – Matthew 24:6
National Post Won't Carry Me, Glad Jordon Peterson Can Get carried ——Jordan Peterson: "Open the damn country back up, before Canadians wreck something we can't fix." . . . Governments are ignoring or The Charter of Rights and Freedoms . Because people need to be made that: A. Governments are rejecting real science
B. Governments are violating the Charter of Rights and Freedoms, part of our Constitution Act 1982. Here are excerpts from Peterson's article: 'The country is growing more authoritarian in response to fear.'
Here In Canada , Its The Charter Of Rights and Freedoms , Notwithstanding Trudeau's Comments, That Must Be Challenged The Most . . . It's the system that has to be changed. It won't change by changing one person, as much as we despise his totalitarian words. We must exhaust the legal avenues. The highest courts have not ruled on the Pandemic Mandates and lockdowns. We have time to influence the highest courts . That's what we need to be doing now. By all means go after the the PM. But don't forget the big prize. We must ensure that the Charter of Rights and Freedoms is honoured , otherwise democracy dies.
Spain's National Security Act. The Spanish government has given the people a New Year's present that could hardly be more totalitarian: On December 31, 2021, the socialist Prime Minister Pedro Sánchez and his colleagues published the Royal Decree (1150/2021) on the National Security Strategy. It has been in force since January 1, 2022.
_____________________

Rebel News on medical tyranny in Quebec (below). Rebel News not only reports the news but also advocates legally for people facing the onerous Covid fines and arrests. The reporters are often arrested for their efforts to tell the truth. Their efforts have been nothing short of heroic. If it were not for Rebel News and True North there would be no real journalism in Canada. The MSM are a joke.
Thousands take to the streets of Montreal to protest latest wave of authoritarian COVID measures. Jan. 8, 2022. Quebec is currently under heavy lockdown, with nearly all 'non-essential' establishments forced to close, including places of worship, and a nightly curfew being strictly enforced by police.
Rebel LIVE: Alexa Lavoie weighs in on Quebec's authoritarian new COVID measures. A perspective on the newly-reimposed police enforced curfew in Quebec, among other new government measures. For Rebel News videos on Rumble go here.
The Rebel News team is on the ground to cover the police-state curfew in Quebec — and we need your help. I was amazed to see the resources deployed to enforce this state of terror when the health-care system is literally falling apart.
And several more stories from Quebec on the lockdown there.
STORIES WE'RE FOLLOWING (posted by Rebel News)
_____________________

True North. This publication, along with Rebel News and Druthers, are the three best independent media outlets in Canada that I know of, if you want to hear the truth and not government propaganda. TN coveres all kinds of stories, from a largely conservative perspective. They write:

They told us they only needed 14 days to flatten the curve, so Canadians obliged by shuttering their businesses and staying at home. Then they told us vaccines would end the pandemic, so Canadians obliged and over 76% got their two doses.

Then they put on the blame on Canadians who chose not to get the vaccine for society's woes, even though hospitals are filling up with both fully vaccinated and unvaccinated Canadians.

Lo and behold – despite Canadians constantly adhering to the government's moving goalposts, Canada is in lockdown again.
The reality is the legacy media and many politicians aren't going to push back against these authoritarian lockdowns or report on the hypocrisy of the government.
They aren't going to ask why Canada's healthcare system is at risk of being overwhelmed again, even though we've been dealing with COVID for nearly two years.

This is why True North is so important. Canadians deserve to know the truth – lockdowns do not work, and the damage they cause is substantial. In case you missed it, check out some of our latest headlines that push back against the government's lockdowns:
_____________________

The World We Live In by Luis T. This is an excellent blog for Covid-related commentary that ties it into the NWO agenda of the globalists. For the full article click on the link (first sentence)
Normieville's "PCR Test" Crime Wave: an Allegory. A "Chain Reaction Lab Technique" (not a "test") — "used to amplify" — "DNA Replication" — "Can produce a billion copies" (of molecules) IN SHORT — PCR CAN MAKE SOMETHING OUT OF ALMOST NOTHING! Once upon a time, in the peaceful and quiet town of Normieville, the crooked Mayor and his minions devised a plot to increase their power and raise taxes — the pretext being to "fight crime" and protect the public . . .
Crushing Dissent Is Essential For Communism (And It's Spreading Rapidly). Here's a news flash: Millions are watching serious cases of medical damage and even death grow and very little efficacy for these still experimental vaccines. If they work so well, why are they pushing booster after booster? Why are the most outbreaks clearly among the vaxxed? Vaxx zealots have now had to admit that the purpose for all this force is that symptoms will be less severe. Really? Former health nuts were more careful about their tap water but now, they dutifully line up to take jab after jab after jab.
The Fall Of The Mainstream Media And The Biggest Lies They Told In 2021. If the past year has confirmed anything it is that the mainstream media is thoroughly dishonest. Yes, most people already suspected this, but the last 12 months have provided more confirmation than the past several years combined. 2021 has made it clear that the mainstream media is a propaganda arm of political and corporate elitists, from big government to big pharma.
Preventing Psychopaths From Getting Into Positions Of Power. Despite a growing resurgence of interest in the science and psychology of narcissistic sociopaths and psychopaths it seems as though society today has lost track of how these people can sabotage the core fabric of a civilization or nation. It is very easy to hyper-focus on collectivist ideologies as the source of our problems and forget that these ideologies do not function in a vacuum; they cannot wreak havoc by themselves, they need psychopathic people directing them to do real damage.
How The Flow Of Money Created The One World Government.
"We are grateful to The Washington Post, The New York Times, Time Magazine and other great publications…. [for] their promises of discretion for almost forty years… [t]he work is now much more sophisticated and prepared to march towards a World Government… The supranational sovereignty of an intellectual elite and world bankers is surely preferable to the national auto-determination practiced in past centuries." David Rockefeller to the Trilateral Commission, 1991.
January 6 Truth – Deep State Media Fears "Epiphany." We can now see where this heading — and so does the worried Fake News. In November of 2020, the newly-elected mask-wearing imposter President-Elect "Biden" — who we maintain is working for the actual Emergency Power President, Donald Trump — made a cryptic prediction that Republicans were going to have an "epiphany"(a sudden and striking realization).
Dr Fauci's Wife Is Director Of Bioethics At NIH On Human Subjects Research. Anthony Fauci's wife is director of bioethics at the National Institutes of Health, and that's a problem . . . Dr. Anthony Fauci, a government bureaucrat since 1968 and head of the National Institute of Allergy and Infectious Diseases (NIAID) since 1984. Dr. Fauci commands a budget of more than $6 billion and also holds a strategic position unknown to many Americans.
US Military – Not Deep State – Oversaw the Vaccine Operation. NYT: "The BEHIND THE SCENES role of the military has been PERVASIVE." While no troops will be administering shots or dropping off doses, scores of Defense Department employees are involved in the effort.
_____________________

Rumble videos. There are hundreds if not thousands of videos on Rumble that appear to be critical of medical tyranny in way or another. Not all are high quality commentaries, but a lot are worth watching. All Rebel News reports use Rumble for example. This is because Youtube is given to censorship.
_____________________

The Off-Guardian. This site prints (online) longer more thoughtful pieces. I have re-posted many of them on this blog. They're by different authors. I would classify it as commentary.
A Pandemic of Bureaucracy. Some compare corona times to the novel 1984, but I thought that perhaps Terry Gilliam's Brazil could be an even more apt comparison. In that movie, the totalitarian nightmare is coordinated by bumbling and incompetent bureaucrats, who nevertheless never give up in their indefatigable pursuit of more paperwork. If there was one thing that this damn pandemic sure increased was bureaucracy. To travel, to meet people, or even to have a cup of coffee somewhere, anywhere, now you need to show your "papers" — or, at any rate, a QR-code in your smartphone.
What they REALLY mean by "living with Covid "Why are media dialing back on the Covid hysteria? Is it because the "pandemic" is really over? Or is it an important part of the gaslighting process? The past few days, even weeks, have seen a definite alteration in the media's attitude to the Covid "pandemic". There have been numerous examples of what, if the media were not so tightly controlled, might be referred to as "dissent". But, since the media is tightly controlled, we must call it an apparent change in the message.
Winning the War on "Misinformation" . . . As we all understand by now, when Minitrue defines the "truth" as 2 + 2 = 5, then 2 + 2 = 4 becomes "misinformation." If you're like me, you've probably had more than a few brushes with memoryholing and maybe even unpersoning as a result of Big Tech's mass censorship rollout. Not that they'd answer, but I'm tempted to ask the censors: What is the danger, if the sources are patently noncredible? Why treat us like infants incapable of assessing the validity of facts for ourselves? If the misinformation is so evidently false, let us see that on our own and the question will be put to rest.
From This Week in the New Normal (Off-Guardian)

Virus infection parties. The Swiss government's health body has said getting infected with Covid on purpose should be a criminal offence. Apparently, this is a response to the rise of "infection parties", where people try to catch Covid deliberately in order to gain natural immunity. If you're found guilty of wilfully self-infecting you could face up to five years in prison.
Australia: Northern Territory leader Michael Gunner announced that NT is going into another lockdown….but only for the unvaccinated. Unvaccinated people are confined to their homes unless they require medical treatment or need to buy food. Yes, they're not even allowed out of their houses to work or exercise anymore. [This is the same as in Austria]

Anti-lockdown protests this week took place in Glasgow, where thousands marched against Nicola Sturgeon's new measures, and Montreal, where they protested vaccine mandates, led by politician Maxime Bernier.
FDA news: In late 2021 the US Food & Drug Administration was asked to release all their data on the Covid19 "vaccines", they responded that they would do so, but that there was so much data – roughly 450,000 pages – it would take 75 years to process it all. But now a federal judge has ordered them to increase the rate at which they release the data from roughly 500 pages per month to 55,000 pages per month, meaning all the data will be public inside 8 months. The ruling could be overturned, and the data could be meaningless, but it's still a legal victory.
Yet another example of scapegoating the unvaccinated: Emily Sheffield, writing in the Evening Standard (UK), is fed up with the unvaccinated ruining everything through their "selfishness and obstinacy". Apparently, 90% (allegedly) of the UK being vaccinated just isn't enough, and it's time to punish those vaccine-refuseniks by implementing a vaccine passport system, just as they have done in Canada, France and Germany. She writes "Maintaining that our 'freedoms' are threatened by vaccine passports is a bogus argument from the conservative Right that has fuelled the mad obstinacy of the unvaccinated." (Note: The quotes around the word "freedom" are hers, and I have no idea what they are supposed to mean.) "We should take people's freedom away unless they do what they are told, but this is not a threat to freedom." is one of the more amusing examples of pure doublethink we've seen recently.
__________________________

Epoch Times. This is the best large print newspaper in the world right now. It is firmly anti-Communist, which I appreciate. The CCP is the biggest threat to humanity right now. Epoch Times has thousands are articles on this topic. Here are just a few recent ones from the Canadian version of the paper:
Thousands of Protesters March in Montreal to Denounce COVID 'Tyranny'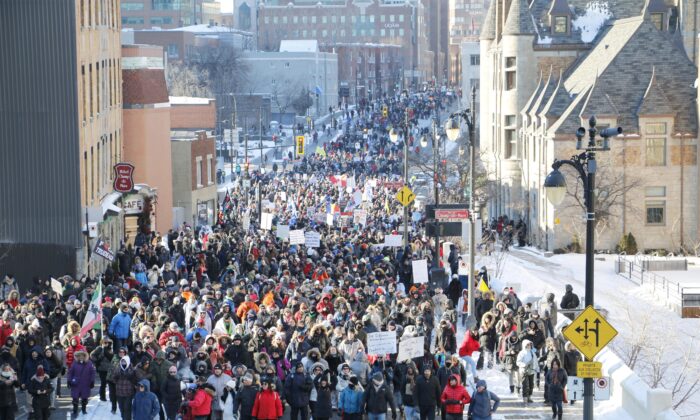 The Shifting Goalposts of Canada's Pandemic Policies: A look at the claims made and consistency—or lack thereof—in imposing various pandemic measures. From flip-flopping on mask mandates, to initially leaving borders unprotected against travellers from the pandemic's epicentre, to applying lockdowns inconsistently, to piling on more conflicting measures amid rising Omicron cases, Canadians have endured a never-ending see-saw of COVID-19 policies since the virus outbreak began in China—in many cases presented in the name of undisputed science.
With the latest set of restrictions announced in different provinces, it seems an increasing number of people are questioning the policies, including parents who have been forced to make a last-minute scramble to figure out how to deal with their children after school openings were postponed. More than 500 doctors signed a letter in late December asking Ontario Premier Doug Ford to keep schools open.
GOP Lawmakers Want DC Mayor to Rescind COVID-19 Vaccine Mandate
'Think Twice Before You Vaccinate Your Kids,' Dr. Robert Malone Warns Parents on COVID-19 Shots
UK's Johnson Under Pressure to Relax COVID-19 Restrictions
NY Hospitals Asked to Make Clear Whether 'COVID Patients' Are Actually Hospitalized Because of COVID
Hunt for the Virus Origin: Lab Secrets, CCP Coverups, and The Next Deadly Pandemic: Exclusive Documentary
_______________________
Babylon Bee (satire)

Sometimes BB publishes a serious story such as this: Stand with Lydia.
At 10 years old, Lydia has already experienced what no American should ever have to experience: fear of punishment for expressing her faith. School officials forced Lydia to remove her "Jesus Loves Me" mask. Meanwhile, other classmates faced no backlash for wearing masks with everything from "Black Lives Matter" to logos of their favorite sports teams.This is an outrageous violation of Lydia's First Amendment freedoms!
The same group joined the legal challege against the Biden mandate: Americans may have different opinions about COVID-19 vaccines, but every American should agree that the government's national vaccine mandate is a vast and unlawful power grab by the executive branch.
______________________

Alex Berenson. He is an indepdenet reporter who has written a book on the subject (Pandemia) and is critical of the dominant narrative and ongoing deception we're all facing. He shares short commentaries by email. I am reporting just the first few sentences. If you want to see the entire post, click on the link (first sentence)

"I think the vaccine fanatics are going to go into full damage control mode very soon…" Much much more to say about this in the next few days but the mRNA data are getting more troubling from EVERY angle on an almost daily basis… and very soon the people who care about and believe in routine childhood vaccinations for measles etc are going to have to decide if they want their effort tainted by Covid vaccine failure. I have a feeling they won't.
Funny story: the Chinese want NOTHING to do with mRNA Covid vaccines. (Xi, I wonder why.) So the Financial Times had another elite media howler last week: the Chinese are desperate (desperate I say!) to get themselves an mRNA vaccine.
Sounds like the NYT is telling its readers the Biden OSHA vaccine mandate is going downI know the liberal judges still seem to have no idea that the vaccines don't end infection or transmission, but they aren't the majority.
Has Covid vaccine efficacy turned negative? Data from highly vaccinated countries suggests strongly that the answer is yes; vaccinated people are at higher risk of infection from Omicron.
On Jan. 6, a warning to my fellow journalists. You fail when you support censorship and ask hard questions only if they are ideologically convenient; you are destroying yourselves by becoming the government's propaganda arm on Covid and vaccines.
More bad news on Covid vaccines and myocarditis in men under 40 – even as more colleges require booster shots for students. A huge new study has found the risk of serious heart problems called myocarditis in men under 40 soars with each dose of a Covid mRNA vaccine – and is sharply higher than the risk from a coronavirus infection itself.
Troubling data about Pfizer's Covid vaccine and children… from Pfizer's own clinical trial. Pfizer's vaccine shows dose-related side effects in children; still, the company is letting five-year-olds receive an mRNA dosage that caused serious fevers in slightly younger kids.
N Hannah Jones is probably the most powerful reporter at the New York Times (and thus in all of journalism)N Hannah Jones supports censorship [NB – she is also behind the 1619 Project, which promotes racial hatred and distorts history]
Information from The New York Times. Weird chart. Looking at it one would almost think that new Covid cases are perfectly correlated with (mRNA) Covid vaccination levels at both the state and national level …
The Atlantic, oh my. As you know, this Stack could be devoted entirely to the idiocy of the elite media's Covid coverage. I generally can't waste the time, not with far more important issues to cover, these days mostly vaccine-related: vaccine failure, vaccine side effects, vaccine mandates, vaccines for kids, vaccine passports, etc. Not to mention the lab leak, censorship, and a dozen others.
____________________
DRUTHERS, Canada's New, FREE, Alternative Newspaper… Because Mainstream Media, Sucks! You can read Druthers online here.
____________________

Two articles from NewsMax and commentary
DeSantis critical of Biden's zero-Covid policy; says treatment is better than masks and vax mandates. (Newsmax, Jan. 10, 2021)

President Joe Biden's vow to shut down the virus and not the country has resulted in raging COVID-19 cases, a return of shuttered schools, staffing shortages due to infections and mandates, and has been a complete "failure," according to Florida GOP Gov. Ron DeSantis . . .Relying on masks, vaccines, and mandates amid the contagious omicron variant has exposed their lack of foresight in focusing on treating the inevitability of infection, DeSantis added. "I think that they just have tunnel vision in terms of how they want to handle this: It hasn't worked, obviously," DeSantis said . . . The vaccines have been exposed as incapable of stopping COVID-19, he concluded."
My comment: This is an important message: the so-called 'vaccine' doesn't work. Masks are pointless. Everyone's likely to get the disease (the "inevitability of infection"), so proper treatment is best, not the zero-covid policy being promoted by the government. If everyone does get it, we'll all have natural immunity, which is good.
Former FDA Commissioner Gottlieb: US Should Be Past Omicron Wave by February (Newsmax, Jan. 6, 2022).
The United States should be past the omicron COVID wave by February, but the variant's ability to mutate heavily and evade immunity that has been acquired took many experts by surprise, former FDA commissioner Scott Gottlieb, who sits on the board of vaccine maker Pfizer, said Sunday.
My comment: At this point does it even matter? Omicron is like a cold. It should not get the attention and panic it's receiving right now, due to the MSM. I think getting Omicron is not a bad idea, if it means getting natural immunity.
____________________________
China Panic Hoards Half Of World's Grain Supply Amid Threats Of Collapse (Zerohedge, Dec. 28, 2021)
About two and a half years ago, ZeroHedge told readers China was panic hoarding food, which was several months before the virus plandemic began to spread worldwide. Beijing has since managed to stockpile more than half of the world's maize and other grains. This has resulted in rapid food inflation and triggered famine in some countries. In August 2019, ZeroHedge asked the question:
"Does China believe that we are on the verge of a major global crisis? The communist Chinese government has always been very big into planning, and it appears that they have decided that now is the time to hoard food, gold and other commodities."
Fast forward today, the answer is most likely "yes." China maintains "historically high levels" of beans and grains stockpiled at COFCO Group's (a major Chinese state-owned food processor) 310 storage facilities in the northeastern part of the country, according to Nikkei Asia.
My comment: This is an important development. It means the CCP is planning something big, such as an invasion of the USA, once that country is sufficiently divided and weakened by asymmetrical war.

Or perhaps they're planning to unleash a more deadly virus on the West, after which the world's economy will collapse — but China will endure due to stockpiling. Whatever the case, it bodes ill. And it means that over-reliance on grocery stores is a weakness. People are well advised to grow gardens.

This relates to medical tyranny insofar as Covid-19 was unleashed on the world as an act of war. So China's preparation for war is consistent with that. They're also returning to greater authoritarianism and stockpiling weapons in record numbers.